Enjoy the Gift of Shopping Local
Park your car and shop in a winter wonderland
To view as a PDF, including a map of downtown West Chester shops, click here.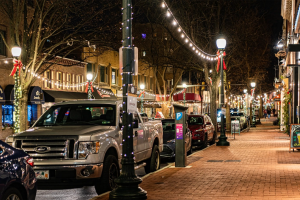 Sure, you can hunker down and get all your holiday shopping checked off by hopping online or stalking the aisles of a big box store. But this soulless experience will make you lose sight of the reason for the season as gift-giving turns into a massive to-do list.
To embrace the joy of giving, you need to add a little spirit into your shopping experience.
How do some twinkling lights sound? Maybe a few dozen garlands of evergreens, expertly designed snow-decked store windows and perhaps a caroler or two?
Downtown West Chester has it all. Delight-inducing gift-buying mixed with the melodic sounds of the Brandywine Singers. Charming brick sidewalks to stroll, gingerbread houses to view and a vast array of stores to help you happily surprise everyone on that list. Plus, if you hang out in town long enough, you may just bump into the big, jolly fellow himself — or at least spot him waving from the back of a firetruck.
Insider's Tip: Don't stress searching for a parking spot along West Chester's notoriously fully-occupied street parking. Instead, head straight to one of three parking garages to easily find a space.
Fashion Finds on Gay Street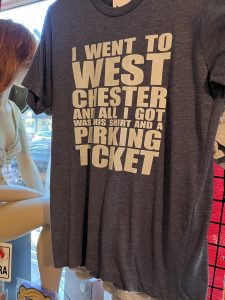 Start your day on bustling Gay Street with the five ladies of West Chester's fashion scene: H. Rose, Blink, Green Eyed Lady, May 23 and Malena's. Each is different enough to ensure you'll find something for every fashionista on your holiday list.
H. Rose Boutique is a mommy-and-me store featuring an inclusive line that that runs from 0–3 months to 5T (for kiddos) and through plus sizes (for mommas). A few doors down is stylish Blink, which will take the mystery out of shopping with their edited collection of contemporary clothes and cocktail party must-haves. "Everything is happy and bright this year," said owner Ilysa Biles of their winter collection. Keep an eye on their Instagram for all the latest arrivals and 12 Days of Christmas sales.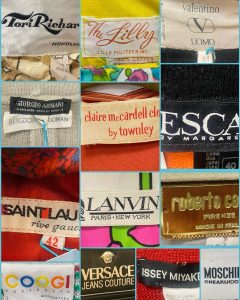 Next door is another West Chester favorite, the Green Eyed Lady, with casual, affordable fashions you won't find anywhere else. Perfect for your little sister — or the "cool mom." Then pop across the street to May 23, and say hello to Atticus Finch, the store's resident canine, while you peruse racks of men's and women's novelty tees. "I Went to West Chester and All I Got Was This Parking Ticket" and Atticus' signature tee are personal favorites. Gifts here may be ironic enough to earn the appreciation of your teenage niece or nephew. Get the Harry Styles celebrity saint candle and know you're killing it.
Another stop on your fashion spree is Malena's Vintage Boutique, West Chester's nationally renowned vintage destination. On Black Friday/Small Business Saturday weekend, there's wine, music and 25 additional showroom racks to browse. The showroom, usually reserved for industry professionals (Netflix stylists and Anthropologie buyers) opens only twice a year to the public. Plus, you'll get 20–50% off your purchase.
Insider's Tip: Ask to have your purchases gift wrapped. It's complimentary at most retailers in town.
Places Old & New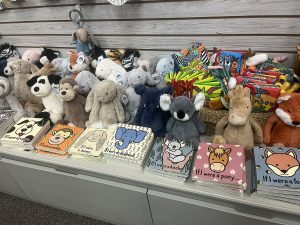 Also on Gay Street, visit Kaly, the borough's oldest boutique, now run by its third-generation owners. Kaly carries women's and some kid's clothing (under 2), plus large jewelry and gift collections. It's a favorite spot for hostess gifts.
"We have some funny things to make people laugh. And people need that now," said current owner Polly Zobel. For a chuckle, check out their silk-screened coaster collection ("This Christmas don't forget to set your scale back 10 pounds").
Insider Tip: Kaly has limited customer parking behind the store.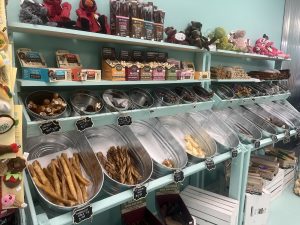 Just a few doors east is a new treat for the dogs on your list and those who love them. Salty Paws, an ice cream parlor with strictly canine customers, opened this fall. The shop takes the "pup cup" to the next level with lactose-free flavors such as Maple Bacon and Blueberry Peanut Butter, along with offering an assortment of treats and accessories. During December, look for holiday-themed biscuits and fun events like dog photos with Santa.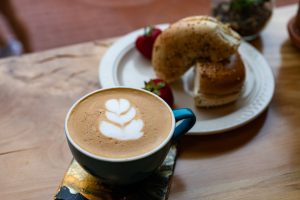 On the far east end of Gay Street, you'll find another new West Chester addition, Tish Kids. West Chester's latest children's boutique comes to you from the same trendy team as the parent location Tish across the street. Find fashions for tiny to toddler to preteen from top brands like Rylee + Cru.
Inhaling the crisp December air as you stroll under the glow of a thousand twinkle lights may make you crave caffeine. Take a brief detour on Church Street to West Chester's newest coffee house, Turk's Head Café. Enjoy a soul-warming mocha latte and perhaps catch a little live music before returning to your shopping mission.
For Foodies and More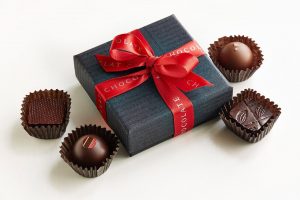 Next head over to High Street to A Taste of Olive, a must-stop for anyone on your list who likes to cook (or eat). Each year, the shop releases a unique gift set featuring a collection of seasonal favorites. After tasting your way through their collection of globally-sourced oils and vinegars, visit Éclat Chocolate, just a few stores away. Warm up with house-made hot chocolate ($5 for an 8 oz. cup), while you decide between delectable flavors of treats like ginger caramel, dark Pennsylvania Dutch pretzel and, new for the season, mulled wine or gingerbread domes.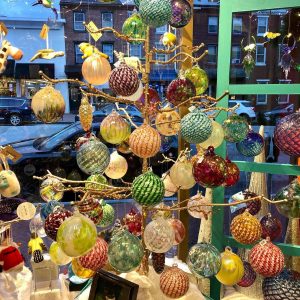 Insider's Tip: For stocking stuffing, grab a few Éclat's molded chocolate Santas, available only at this location.
Next stop is West Market Street at The 5 Senses, an arts and gift shop, where you'll want to grab a little gift for your holiday tree. Each year the store stocks handmade ornaments crafted from everything from felt to handblown glass. While you're there, browse their eclectic gift collections from local and independent artists. The felt forest creature planter covers are particularly adorable, and the ice cream-shaped sidewalk chalk is sure to deliver hours of fun.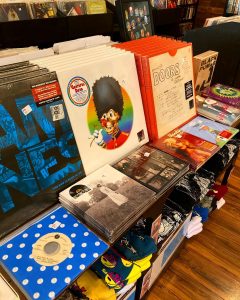 Finally, wind down your day with a pour and some tunes at Hop Fidelity. Acoustic performances by local artists are planned throughout the month, but even without live entertainment, the atmosphere is lively and festive. Browse thousands of new and used vinyl records and you just might spot something for your personal collection. Earlier this season "A Charlie Brown Christmas" was still on the racks.
Hop Fidelity is one of several record stores in the borough, including Creep Records and Electric Avenue Music. If you have a chance, come out on Record Store Day (November 25, aka Black Friday) for an exclusive list of releases available only at independent retailers. "Dream Window," a collaboration between Foo Fighters' Dave Grohl and hard rock guitarist Jim Rota, is already generating a lot of buzz.
Your bag is filled, your gifts are wrapped and your spirits are high knowing everyone on your list is sure to be delighted. Along with the independent shop owners you supported.
Your work here is done. It's time to kick back and celebrate at one of West Chester's more than 60 restaurants. You deserve it.
Cara Corridoni lives in West Chester, is a huge fan and writes the weekly e-newsletter "Hello, West Chester."

West Chester Events
**Through December 17
Santa on a Fire Truck and Making Spirits Bright Holiday Music Series. Local performers entertain with favorite holiday songs on the steps of the courthouse on High Street, 2 to 3 pm. Nov. 26, The Uptown! Singers; Dec. 3, Time to Leap Dance Studio; Dec. 10, Henderson HS Jazz Band, Peirce MS Jazz Band and Fugett MS Chorale; Dec. 17, The Brandywine Singers. Santa arrives on the fire truck at 3 pm.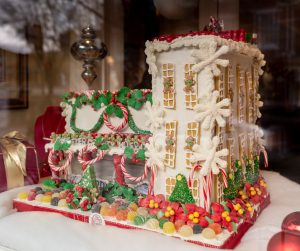 Through December 23
Uptown! Knauer Performing Arts Center — The Butterfingers Angel. Created by William Gibson ("The Miracle Worker"), this touching, funny and highly imaginative retelling of the Nativity story is presented from a fresh and richly creative point of view. 226 N. High St. 610-356-2787; UptownWestChester.org.
**Through January 2
Gingerbread House Competition. Professional builders include Cakes and Candies by Maryellen, Carlino's, John Serock Catering, Kilwins West Chester, Yori's Church Street Bakery and The Master's Baker. To vote, visit display locations and scan the QR code there.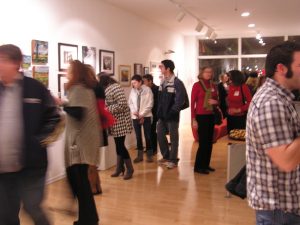 Through January 6
"Gifted" — 17th Annual Holiday Exhibition at The Art Trust. Give the gift of original art. Twenty-two talented artists display and sell their works. Dec. 1, enjoy Bourbon & Bubbles, 5 to 8:30. 16 W. Market St. Gallery hours: Mon–Fri, 9 to 4:30. 484-301-2784; TheArtTrust.org.
**December 3
Santa at the Square. The borough of West Chester will host pictures with Santa at Marshall Square Park, 405 N. Franklin St. 4:30 to 6:30 pm.
December 3
Breakfast with Santa. Come over to the Chester County History Center to meet Santa and enjoy breakfast. 9:30 to 11 am. $15. Preregistration required. 225 N. High St. West-Chester.com.
**December 3
Little Lincolns Gettysburg Address Competition. Middle school students from across the county put on their best Lincoln attire and recite the Gettysburg Address. Presented by the Chester County Community Foundation. Historic Courthouse Steps on High Street. 11 am to noon.
December 3
2022 West Chester Charity Ball. Friends Association celebrates 200 years of serving families in our community, and the Charity Ball has helped in their mission to end homelessness in Chester County. Enjoy dinner, music, dancing, auctions and more. West Chester Golf & Country Club, 111 W. Ashbridge St. 6 pm. For tickets, FriendsAssoc.org/Charity-Ball-2022.
December 3–18
West Chester Public Library Holiday Home Tour and Holiday Door Tour. See "Holiday House Tours."
**December 10
Scrooge. Follow Scrooge's journey to the true Christmas spirit in this dance version of the Dickens classic, "A Christmas Carol." West Chester United Methodist Church, 129 S. High St. Two shows, 1 and 3 pm. Tickets $12, seniors and children under 12, $10. For info and tickets, 610-692-3398.
**December 10
Photos with Santa. Stop by M&T Bank in downtown West Chester for free photos with Santa and free hot chocolate and coffee. Santa will arrive at 3:30 pm after stepping off his ride on the firetruck that afternoon! Hosted and sponsored by M&T Bank. 10 N. High St.
December 10
American Helicopter Museum Presents SantaFest 2022. Santa arrives via helicopter at 11 am ready to hear children's wish lists in the colorful Santa's Workshop. Bring your cameras to take pictures with Santa and Mrs. Claus. SantaFest will feature holiday-themed crafts and movies in the theater. Friends from PAWS for People will be there, too. 1220 American Blvd. 10 to 3. $7–$10. AmericanHelicopter.Museum.
December 16–18
Brandywine Ballet Presents The Nutcracker. Ring in the season with Tchaikovsky's timeless score and be transported with Clara to the magical Land of Sweets. West Chester University, Emilie K. Asplundh Concert Hall, 700 S. High St. Thurs, 10 am; Fri–Sat, 11 am & 5 pm. $25–$45. 610-696-2711; BrandywineBallet.org.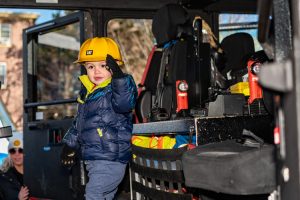 **December 18
Touch a Truck. Head for the parking lot at the corner of Chestnut and Church Streets. See ambulance, police and West Chester Fire Department trucks, along with some construction vehicles. Meet the firefighters, get hands-on with a firetruck and more. This even is being led by the West Chester Business Improvement District.
**Part of the Chester County Hospital Lights Up Holiday Weekends in West Chester, presented by the Greater West Chester Chamber of Commerce.
back to top