Enjoy Nature on the Main Line
The Main Line stretches from Bala Cynwyd in the east to, approximately, Malvern in the west. Realtors and others differ constantly, stretching the western boundaries to include their listings and businesses in this highly desirable designation.
The area, however, does indisputably include five fantastic gardens open to the public to enjoy — no matter where you're coming from. We suggest a drive to the Main Line this summer to visit the Barnes Arboretum in Merion, Haverford College grounds in Haverford, Stoneleigh in Villanova, Chanticleer in Wayne and Jenkins Arboretum in Devon.
Valley Forge National Park, though technically not an arboretum or garden — nor on the Main Line by any stretch — is yet another spectacular nearby place to commune with nature.
Barnes Arboretum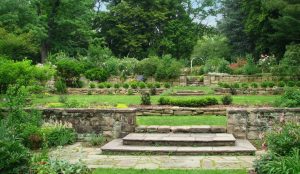 The Barnes Arboretum is a 12-acre oasis near City Line Avenue (the border between Philadelphia and the western suburbs), located at 50 Lapsley Lane in Merion. It's home to more than 2,500 different types of trees and plants, including a fair number of rare specimens.
The arboretum has over 30 Pennsylvania champion trees, along with a collection of hardy ferns that's the largest in the mid-Atlantic region. Some of its peonies, lilacs and ferns are over a century old. The grounds also contain a formal rose and perennial garden, woodland, lawns, pond, stream and a greenhouse. In all, its herbarium encompasses over 10,000 specimens, used for teaching and research. Open to the public on weekdays from 8:30 to 5:30 and on weekends from 11 to 4. BarnesFoundation.org.
Haverford College Arboretum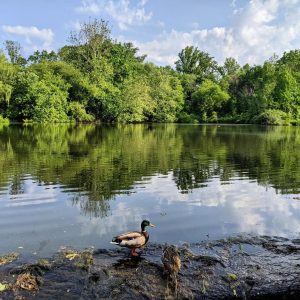 The Haverford College Arboretum covers the college's entire campus, 216 acres located on the south side of Lancaster Avenue (Route 30.) A 2.2-mile Nature Trail — used by runners, joggers, dog-walkers and occasional students — borders the campus, showcasing its trees and shrubs. The trail takes you past sights such as the Duck Pond (but don't feed the ducks), a 108-year-old elm tree linked to early encounters between William Penn and the Lenape natives, and Haverfarm, which produces and distributes food for the community.
Also on campus is the Ryan Pinetum (pine trees and conifers), an 18-acre site which includes four state champions. Located by the dining hall, the Asian Gardens are part of the Arboretum but not visible from the Nature Trail. It's worth a detour. Haverford.edu/Arboretum.
Stoneleigh: A Natural Garden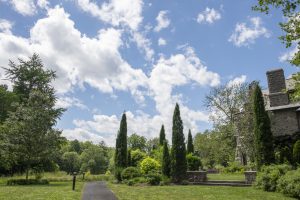 Stoneleigh: A Natural Garden, a 42-acre property with an 0.8-mile walk, is located at 1829 East County Line Road, Villanova. The property was donated in 2016 to Natural Lands by the Haas family, which lived there.
The land has been shaped by a series of landscape gardeners, including Charles Miller, who tended Fairmount Park, Pentecost and Vitale, as well as the Olmsted Brothers, the most prestigious landscape architects in the country (sons of Fredrick Law Olmsted). Now a showcase for native plants and biodiversity, the grounds are open Tuesday–Sunday, 10 to 5, free of charge. Events are conducted throughout the summer. StoneleighGarden.org.
Chanticleer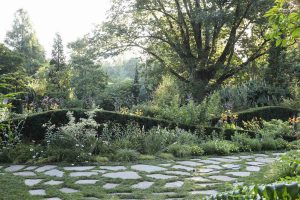 Chanticleer, the former home of Adolph Rosengarten, Sr. and his wife Christine, was left to the public in 1990. The grounds encompass at least 14 individual gardens — the Teacup Garden, Serpentine, Bulb Meadow, Asian Woods, Pond Garden, Gravel Garden, Tennis Court, Ruin Garden, Minder Woods, Orchard, Creek Garden, Bell's Woodland, Vegetable Garden and Cutting Garden — as well as many plantings connecting the gardens and circling the mansion.
The gardens feature seasonal plants, tropical and subtropical plants, perennials and more. Classes are conducted throughout the summer. Chanticleer is open from 10 to 5 on Wednesday through Sunday, until 8 on Fridays through Labor Day, and opens at 8 a.m. on the first Saturday of each month through October. ChanticleerGarden.org.
Jenkins Arboretum & Gardens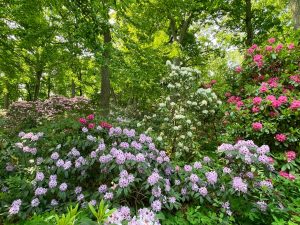 Jenkins Arboretum & Gardens, at 631 Berwyn Baptist Road in Devon, is known for its rhododendrons, azaleas, blueberries, mountain laurels and many selections and hybrids. Some of the rhododendrons and kalmias cannot be found elsewhere in North America.
Many rare plants are also on display, including buttonbush, Franklin tree, pawpaw, strawberry bush, striped maple, white oak. About 5,000 plants — 1,500 taxa — can be seen throughout the arboretum, where you can enjoy seven walks, each about a quarter- mile long.
Jenkins features free tours on weekdays. Join their Wednesday Walkabout and How- To Garden Shop Pop-Ups for free. Open every day from 9 to 8 through August, until 7 p.m. in September, until 5 p.m. in October. JenkinsArboretum.org.
Valley Forge National Historic Park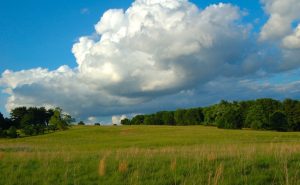 Valley Forge National Historic Park is 3,500 acres of hills, fields and forests with the Schuylkill River and Valley Creek running through it. Known primarily for its role in the Revolutionary War, the park is also a wonderland of plants, birds, insects, fish and mammals. There have been 225 species of birds and about 90 species of other animals identified there.
The higher and drier areas support forests of chestnut oak, black oak, white oak and scarlet oak. The river and creek areas of the park have silver maple, green ash, sycamore, box elder, tulip trees, black walnut, white ash, tree-of-heaven and black locust. Vines, including Oriental bittersweet, Japanese honeysuckle and summer grape, cover many trees.
Along the river and creeks, you'll see skunk cabbage, purple top and little blue stem, as well as wildlife, such as foxes, deer, hawks, meadowlarks and an assortment of butterflies. In the water, smallmouth bass, walleye, carp, catfish, sunfish and an occasional brown trout can be found. NPS.gov/VaFo.
back to top