Discover Delaware
We're sharing a driving tour, photo contest, birders' paradise plus luxurious accommodations in the Diamond State
Brandywine Valley National Scenic Highway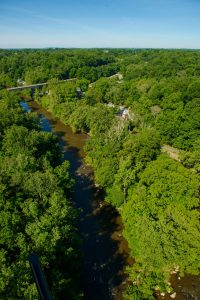 Running from West Chester, PA to Wilmington, DE, scenic Route 52 offers a 20-some-mile road trip with two dozen points of interest throughout the southern Brandywine Valley. Called the Brandywine Valley National Scenic Byway (part of the national system), the PA section was granted that designation in 2021 by the U.S. Department of Transportation. (The official scenic byway spans two states and forms a figure eight, up to Route 162 and along part of Route 100, Creek Road.)
Three centuries of history are encompassed within the Byway, from our nation's settling and early development through the Revolutionary and Civil Wars, including the struggle for freedom along the Underground Railroad, to the creation of world-class cultural institutions by families who settled in what's now called Chateau Country.
Drive south into Delaware through areas of protected views to charming Centreville village with boutiques, unique shops (there's a flyfishing store), legendary wine shop (Collier's) and local watering hole Buckley's Tavern. Narrow, twisting Creek Road traces the Brandywine River beneath tulip trees and oaks, as wildflowers, not billboards, line roadsides.
Museums are also part of the scenery in the DuPont Historic Corridor. Pass Winterthur and the Delaware Museum of Nature & Science on Route 52, plus Hagley Museum and Nemours Mansion and Gardens nearby.
A drive through leafy Wilmington suburbs, past the Delaware Art Museum, terminates at Rodney Square in downtown Wilmington, an urban hub marked by the historic Hotel Du Pont, Free Library and Federal Courthouse. DelawareGreenways.org. BrandywineValleyByway.org.
Delaware Discoveries Trail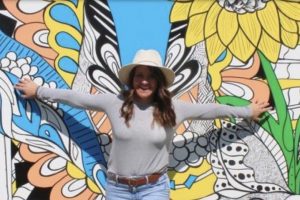 Looking for the perfect Insta-worthy outing? Try a new, one-of-a-kind experience in Delaware and explore 13 unique interactive pieces of street artwork throughout the state. Plus, you can win a prize by submitting your photos taken with any four of the 13 artworks. Strike a pose and send your photos to #DelawareDiscoveries.
Check the online map for locations — from the Chase Center on the Wilmington Riverfront to Mispillion River Brewing in Milford to Firefly Music Festival South in Selbyville. You'll find directions, descriptions of the artwork and fun things to do at each spot.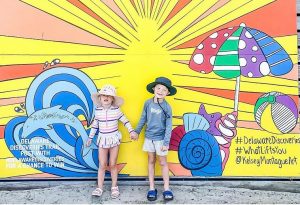 Take a road trip to check out art that's off the beaten path, discover local dining and enjoy outdoor fun. For example, at spot #2, an underwater sea adventure awaits. The artwork you're looking for is on the Lewes terminal, site of spectacular sunset views and delicious dining. While you're there, take a 90-minute scenic ride on the Cape May-Lewes Ferry across the bay.
You might just win the prize of a DIY paint pour kit designed specifically for the trail by the Developing Artist Collaboration group, Dirty Hands. After being inspired on the trail, you can use this simple at-home art kit to make your own piece of art. Don't worry, no skill required. DelawareDiscoveries.com.
Bombay Hook National Wildlife Refuge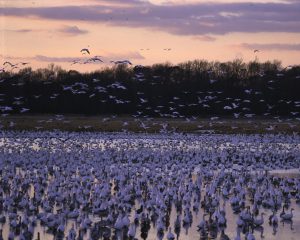 Calling all birders and those who will take a road trip to see one of Travel & Leisure's "Most Beautiful Places." For a trifecta of fun, it also has one of Delaware Discoveries' artworks at the entrance pavilion (look for the giant, colorful wings).
Bombay Hook protects one of the region's largest surviving tidal marshes, which provides excellent habitat for wildlife. Established in 1937 as part of a chain of migratory bird refuges from Canada to the Gulf of Mexico — known as the Atlantic Flyway — it's located on the Delaware Bay, to the east of Smyrna.
Birders of all levels of experience may spot bald eagles, snowy egrets, great blue herons and many more species on their life lists at this designated Globally Important Bird Area. Visitors can hike five miles of prepared trails, take photos of all kinds of wildlife and take a 12-mile self-driving tour through the Refuge's 160,000 acres. 2591 Whitehall Neck Rd., Smyrna, DE. FWS.gov.
Historic Hotel Du Pont
End your journey in the lap of luxury at the iconic Hotel Du Pont. Opened in 1913 in the heart of downtown Wilmington, this 12-story Italian Renaissance landmark has 217 rooms and suites to call home — at least for a weekend.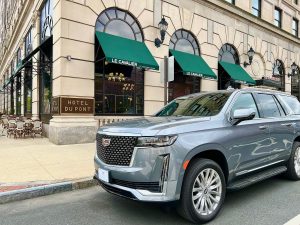 Theater fans are in the same building as the Playhouse on Rodney Square, which just concluded performances of "Fiddler on the Roof," and are within walking distance of the 1817 Grand Opera House, featuring over 100 shows a year, including in July.
Food fans can enjoy the onsite Le Cavelier, helmed by acclaimed local chef Tyler Akin, who's created an upscale brasserie in the renovated Green Room. Another treat is Bardea, an innovative Italian restaurant from James Beard semifinalist Chef Antimo DeMeo.
And for something new, the Hotel offers several Featured Experiences to add to your Delaware memories. Get a before-hours tour of Hagley Museum (the first du Pont family home in the U.S.), train with Wilmington Olympian Anthuran Maybank, or indulge in spa time at an onsite location for Currie Salon and Spa. And savor your time in Delaware. 11th & Market Sts., Wilmington. HotelDuPont.com.
back to top