Developed or Green. There's No In-Between.
Photos by Mark Williams
Crebilly Farm's future depends on November's vote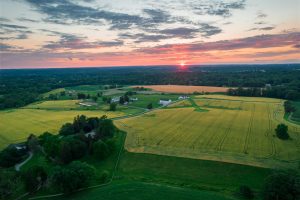 For more than 20 years, real estate developers have been itching to get their hands on Crebilly Farm in Westtown Township, Chester County. Proposals for the 312-acre property have included an assisted living community, an apartment complex and — most recently — a 319-home subdivision. Thus far, all have failed.
The good news is that the owners would like Crebilly Farm to be preserved. But the bad news is that they will sell the property if the conservation effort is unsuccessful.
The future of this key parcel of land now rests in the hands of Westtown Township residents who will vote on a proposed Open Space Tax this November. If the measure passes, the funds generated from the tax would support permanent preservation of Crebilly Farm as a community park with adjacent acreage under conservation easements.
Proponents of the initiative to save Crebilly Farm say this is the last chance to save the property.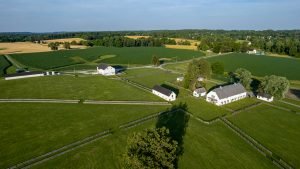 "It's either developed or green; there's no in-between," shared Oliver Bass, president of Natural Lands. Westtown Township hired Bass at the end of last year to apply for a variety of federal, state and county grants to help underwrite the cost of purchasing and creating easement on the land.
"Even if all the grants come through, there will be a gap. The open space referendum is essential to success and will generate about 25% of the cost to preserve Crebilly." He added, "If the referendum does not pass, the plan to save this land will fall apart."
Local open space programs — often paid for through increased taxes — are popular in Chester County and have been an essential tool to help municipalities save the green spaces that are most important to their communities. In fact, half the municipalities in the county have established dedicated funding streams for open space.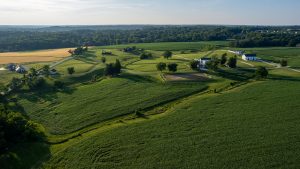 There is strong commitment at a county level as well. More than 30 years ago, as public concern began to grow over suburban sprawl, an Open Space and Environmental Task Force recommended at $50 million funding program for open space preservation. Chester County voters overwhelmingly approved a ballot referendum in November 1989, and funding has continued ever since.
Residents in Westtown Township have expressed a similar desire to see the landscape preserved. Just a few years ago, in the process of updating the township's Comprehensive Plan, they overwhelmingly named their top priorities:
Preserve historical structures and landscapes
Alleviate congestion at the 202-926 intersection
Preserve remaining open space
Protect streams and streamside forests
"Saving Crebilly Farm will serve all of those important goals and more," said Tom Sennett, chairperson of the newly formed Vote Yes to Save Crebilly volunteer effort. "But if the referendum fails, we can expect not only increased traffic, but also higher taxes. I've learned that residential development can cost taxpayers a lot more than open space. This may seem counterintuitive, but the studies and the evidence show that development actually costs communities more in the long run."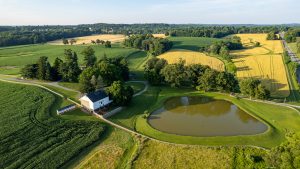 Sennett's assertion is supported by the data. Over the summer, Brandywine Conservancy evaluated the costs for various types of land use in Westtown Township. Their analysis found that the township spends an average of $1.17 on services to support residential developments — services such as police and fire protection, road maintenance, sewer systems and schools — for every $1.00 received in tax revenue.
In contrast, the township only spends an average of 10 cents on services for open space for every $1.00 received in taxes.
The Conservancy took their study even further and determined the cost to Westtown Township taxpayers if Crebilly is developed using the most recently proposed housing scheme — the Toll Brothers plan that saw the developer and the township in a legal battle for several years. The average household in Westtown will pay an additional $185 per year if the Open Space referendum passes.
But if a development of 319 houses is built there instead, that same Westtown household will pay $296 annually to cover the costs of necessary community services a subdivision requires.
"We've long known that saving open space is more than just pretty views, fresh air and reduced flooding," said Bass. "It's good business, too. Communities save money when they save land. And they preserve a quality of life that is integral to the county's economic success."
Vote Yes to Save Crebilly has the study data and other Frequently Asked Questions on their website, VoteYesCrebilly.com.
back to top