Destination Phoenixville
Visit for the food, art, events and community spirit
If you haven't stepped into Phoenixville for a while, you're in a for an exciting surprise.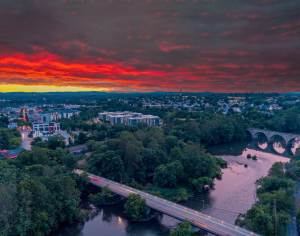 Check the calendar on the wall. Think back to an early Saturday in 2013, when establishments in the sleepy town of Phoenixville were opening their doors for the day. Heidi Sue Variety, a fun and quirky five-and-dime store with old wooden floors, stocked moon pies by the vintage cash register. Coffee brewed at Steel City. Irish pub and restaurant Molly Maguire's was a few years young, and The Colonial Theatre was many years old. A few foodies made evening reservations for Majolica's and Daddy Mim's Creole.
The Phoenix was just a fledgling, but some artists and business entrepreneurs had a vision.
Fast Forward 10 Years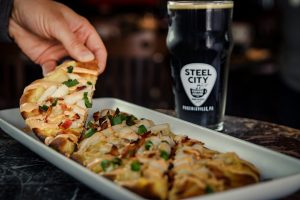 Swipe your phone's calendar. Now it's early on a Saturday in 2023, and the bustling town of Phoenixville is already on the move. Cyclists pedal tree-lined roads past a vibrant library and park to arrive at the town's center. Dogwalkers and early shoppers with bags and backpacks filled with fresh food and flowers return from the farmers market and head up Main Street. Neighbors and visitors on both sides of French Creek watch signs of new construction not far from Borough Hall.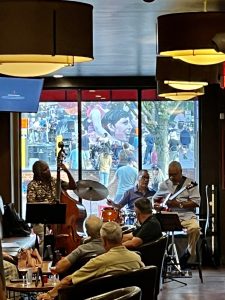 Kids on scooters wind their way along Bridge Street, where many businesses are already open or preparing for the day's later rush. The owners of Steel City are brewing up coffee, beer, food and fun there and at their Mont Clare Deli and Market — where an outdoor stage with exciting live entertainment debuts this fall.
Molly Maguire's has expanded and added The Fenix next door, where cold drinks and cool, live jazz — a recent collaboration of The Fenix and Forever Changes — draw crowds.
Boasting glorious renovations, The Colonial Theatre enjoys yet another heyday in its history since 1903. It was the talk of the town again this summer as a photo of its marquee displaying Barbie and Oppenheimer — and a signature blue lamppost — made it into Forbes Daily.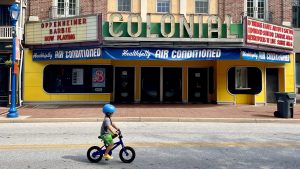 Foodies and fun-lovers have seemingly limitless choices for fabulous fare and their favorite vibe: Avlos, Black Lab Bistro, Bistro on Bridge, Iron Hill, Sedona Taphouse, Paloma's and others. There are even more gastronomic options at dozens of First Fridays, fairs and festivals.
"Phoenixville is now a destination," says Laura Vernola, co-owner of Steel City and Mont Clare Deli and Market. "Blobfest, PrideFest, A Whole Lot of LuLu, Firebird Festival and our endless parades show just how much our town has embraced change and welcomed newcomers."
On the Rise
It's not the first time the town has seen impressive growth. In the 19th century, the railroad, iron, cannon barrels, nails, Majolica pottery and various other mills fired up Phoenixville's expansion. In the early-to-mid 20th century, steel during the world wars, retail and entertainment — four movie theaters including the now iconic Colonial — sent the Phoenix flying.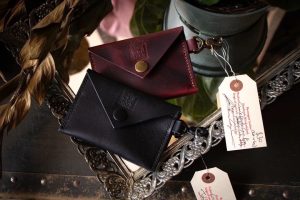 A year ago Phoenixville welcomed a new bird to town — a raven. Ravensgate, that is. The golden logo on the storefront window pulls you in. The shop of leather crafts, tattoos and art and artisans' offerings was started by a husband and wife duo with a love story that began in Mexico and has thus far ended up at Bridge Street.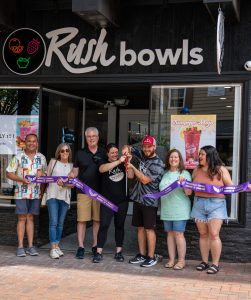 For marvelous flavors of gelato or espresso affogato — a scoop of delicious gelato drowned in espresso — find Gemelli's. In May 2022, they opened the doors of their turquoise shop recognized by fans of their West Chester gelateria. Gemelli's closes temporarily during the deep winter months, so get your goodies now.
Enter new neon-bright Rush Bowls, where young professionals, families with pups or kids and runners just off the trail choose ingredients and wait for custom frozen smoothies. What a selection: fruit (peaches, berries, bananas), leaves including mint and kale, toppings of seeds and nut butters, and additions including soy protein and whey.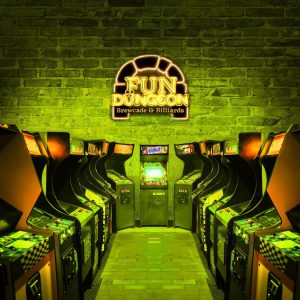 If you're a pinball wizard looking to travel back in time for entertainment, post a lookout for the new Fun Dungeon Brewery Arcade, a medieval-themed establishment with more than 40 old-time arcade games, pool and pinball including the Time Warp machine circa 1979. Opening this October at the former Moose Lodge — in the basement, because a dungeon can't be in the penthouse, right? — owners Clint Weiler and Terry Hughes welcome gamers and revelers. Bring a sense of fun and a thirst for beer. Suit of armor not required.
The Phoenix's Artbeat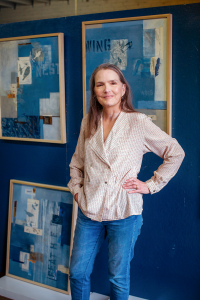 Shawn Cephas, proprietor of the vinyl shop Forever Changes, attributes Phoenixville's authentic, fresh energy to its artists. One of those is Lee Pohlsander.
Pohlsander creates an eclectic body of work ranging from graphic design, illustrations and pieces on exhibit in Ravensgate's window to murals of carousel horses at a historic amusement park. She says she's played a small part in the larger art scene's contribution to Phoenixville's recent rising. Over time, the community has come together to support art and artists. In turn, artists' work has connected the community and inspired positivity, making people want to invest in the town.
One past example: the pretty utility boxes painted by artists on the beautification committee. Coming up, join the October 1st Art Walk featuring 11 stops with collaborations including Jim Weir painting a flower arrangement at Cameron Peters Floral Design while onlookers watch. "Art is an anchor," says Pohlsander.
Cross the Bridge
Both sides of the Schuylkill River are experiencing growth.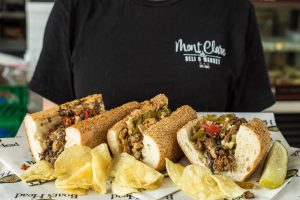 October marks the first anniversary of the ribbon cutting for Mont Clare Deli's outdoor beer garden, celebrated by first responders and neighbors from both sides of the bridge. Adults can enjoy beer at red picnic tables while taking in live music on the garden's new stage. Saturday mornings indoors, kids of any age can hopscotch across the black and white tile floor to twirl at the deli's original stools and white tile counter while watching TV cartoons.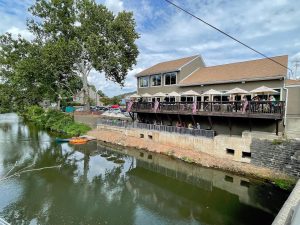 Friendly bar and restaurant Lock 29 is open again after Hurricane Ida's flooding. It's enjoying the influx of new residents and tourists who want to relax with a drink while watching the canal and bicyclists ready to refuel with good food before heading back to the Schuylkill River Trail.
For more and updates, visit PhoenixvilleFirst.org and Phoenixville.org.
Phoenixville Events
37th Annual Phoenixville Run
October 1–28
Oct. 1–28, Virtual Challenge—participate how you want, when you want, where you want. Oct. 28, in-person 5K and 10K events. Benefits Citizen Advocacy of Chester County. Reeves Park, 2nd Ave. & Main St. 8:30 am. $40. Phoenixville.org.
First Fridays in Phoenixville
October 6, November 3
First Fridays will operate within the weekly Bridge Street open-air closure to create the feel of a night market there. 5:30 to 8:30. Phoenixville.org.
The Colonial Theatre
October 4 – December 17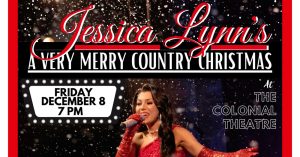 Oct. 4, Rising Sun Presents Henry Rollins: Good To See You Tour; Oct. 14, Miguel Espinoza Fusion; Oct. 20, Rising Sun Presents The Sixties Show; Nov. 7, Rising Sun Presents Nick Lowe's Quality Rock & Roll Revue featuring Los Straitjackets; Nov. 11, WXPN Welcomes & Rising Sun Presents 10,000 Maniacs with Leigh Nash; Nov. 17, Rising Sun Presents A Musical Conversation with Valerie June, Rachel Davis, Thao and Yasmin Williams; Dec. 8, Jessica Lynn's A Very Merry Country Christmas; Dec. 17, City Rhythm Orchestra Holiday Style 2023. 227 Bridge St. Times and tickets, TheColonialTheatre.com.
A Whole Lot of LuLu
October 14
Outdoor semi-annual flea market with local vendors selling handmade crafts, vintage items and more. Live music and kids activities. Bridge & Main Sts. 10 to 4. AWholeLotOfLuLu.com.
Wine, Wit & Wisdom
November 2
Phoenixville Public Library's largest fundraising event will include a silent auction, wine tasting, a sit-down dinner, an acclaimed author and more. RiverCrest Golf Club & Preserve, 100 Rivercrest Dr. 6 to 9 pm. For tickets and registration, PhoenixvilleLibrary.org.
6th Annual Phoenixville Bed Races
November 4
Race teams will build, decorate and race beds on wheels to raise funds for two Phoenixville organizations that provide shelter for the homeless, Ann's Heart and Good Samaritan Services. Start at Reeves Park, 2nd Ave. & Main St. 11 am, race begins at noon. PXVBedRaces.org.
Phoenixville Chamber of Commerce Charity Gala
November 18
A Masquerade at the Opera is the theme this year. Dinner, dancing and silent auction with great items. Rivercrest Golf Club & Preserve, 100 Golf Club Dr. 5:30. Visit website to register. PhoenixvilleChamber.org.
Burn Off the Bird 5K
November 25
Held annually on the Saturday after Thanksgiving, the Jaycees 5K Race & 1-mile Fun Run begin and end at Franklin Commons, 400 Franklin Ave. Benefits the Phoenixville Jaycees Foundation to fund community events. 9 to 10:30 am. Phoenixville.org.
Feel the Holiday Spirit in Phoenixville
December 1–17
Dec. 1, First Friday Holiday Edition and tree lighting downtown, 6 to 8 pm; Dec. 2 & 3, 9 & 10, 16 & 17, Phoenixville Winter Market in the Main & Bridge Street parking lot from noon to 6 pm featuring vendors of unique, handcrafted items and various holiday activities. PhoenixvilleFirst.org.
Annual Candlelight Holiday Tour
December 2
Decorated homes and churches, crafts, music, refreshments. Benefits Phoenixville Area Senior Center. The Tour begins at the Phoenixville Area Senior Center (parking is available) at 153 Church St. and self-guided tour, so you can go at your own pace. $25. 4 to 8. 610- 933-9181; PHXHolidayTour.Weebly.com.
Firebird Festival 2023
December 9
The mission of this annual event is to foster a collaboration of local artistic and creative talent and to enhance the cultural life of Phoenixville. Burning of the Firebird at Veteran's Field, 192 Mowere Rd. 5 to 10 pm. $30–$140. FirebirdFestival.com.
A Taste of Phoenixville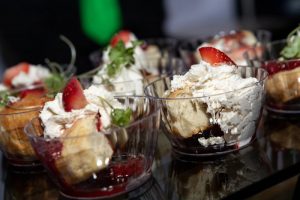 January 2024
A premier food, wine and beer event. Live music. Benefits the Good Samaritan Shelter. Franklin Commons, 400 Franklin Ave. 6 to 10. TasteOfPhoenixville.com.
back to top