Destination Outdoors: A Guide to Local Summer Fun
Biking, hiking, boating and more … all in your backyard!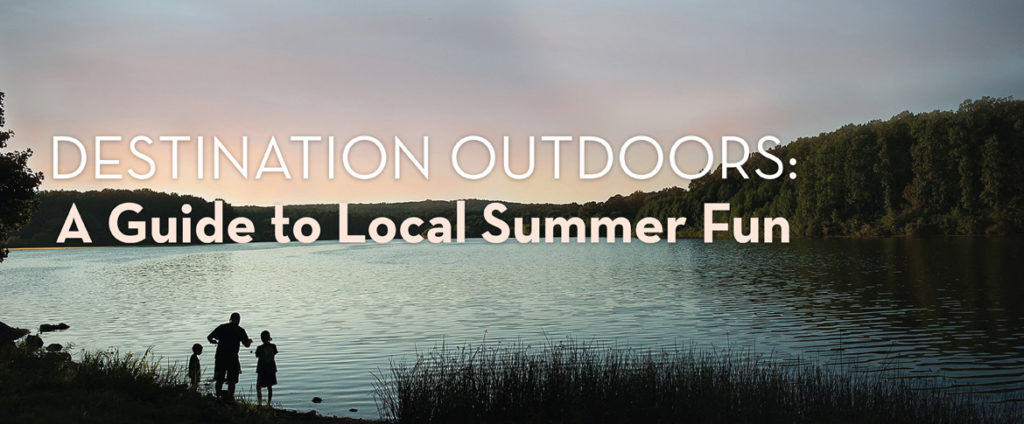 Ah, summer in the Brandywine Valley. There's no need to look much further than our backyard to enjoy the great outdoors. Sure, we may not have mountains or ocean beaches, but our area is teeming with rolling hills, wildflower meadows and lush forests. So don't take the natural wonders around us for granted.
Find some of your summer fun at the many local hiking trails, preserves, nature centers and state parks—all within an hour's drive. Enjoy the great outdoors with birding, mountain biking, picnicking, fishing, boating and camping. Why waste time driving when we have so much to explore in our own backyard?
Trails
Some of the largest trails in eastern Pennsylvania run through Chester County. Hike, bike or skate your way through the area—where wheels are allowed, of course.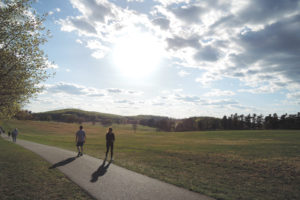 The Chester Valley Trail stretches from West Whiteland Township into Montgomery County. As part of "the circuit"—the 750-mile trail network throughout Greater Philadelphia—Chester Valley trail runs along one of the most highly populated areas outside Philadelphia's Center City. Over 13 miles of trail run through Chester County. Enjoy hiking, in-line skating, biking and scootering, and dog walking from 8 a.m. to dusk daily.
The Schuylkill River Trail, once a popular commerce route, now runs over 130 miles from Philadelphia through Schuylkill County to the northwest of Chester County. The trail follows the route of the Pennsylvania Railroad and crosses several historical sites, such as the 9/11 Memorial.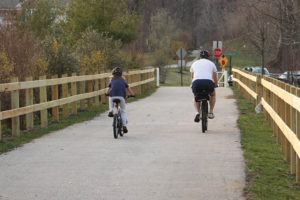 Other sites along this trail include the Philadelphia Art Museum, Fairmount Water Works, Valley Forge National Historical Park and French Creek State Park. The Schuylkill Trail is wheelchair accessible and welcomes visitors to walk, hike, bike and fish.
Not only is Valley Forge Historical Park teeming with history, it's laced with scenic trails. Try the steep, tree-lined Mount Misery trails if you're looking for a work-out on your hike. History buffs and outdoor enthusiasts will appreciate the Joseph Plumb Martin Trail, a hilly, multi-use trail that takes you past several historical sites throughout the park. Valley Forge also boasts 18.2 miles of bike trails open to friends on wheels.
Preserves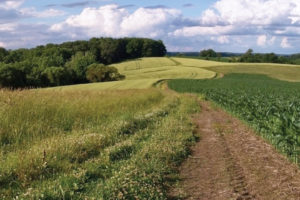 A mosaic of grasslands, farmlands and woodlands sits just outside the borough of West Chester. Nestled among rolling hills and meadows, Stroud Preserve invites visitors to learn about the delicate balance between cultivated and wild areas and how to protect our precious watersheds. Hike up to nine miles, kayak, canoe and learn about key historical features and landmarks throughout the area.
As the largest privately owned nature preserve open to the public in Chester County, ChesLen Preserve offers acres of beauty and space for recreation. Admire meadows of wildflowers and fields of corn and soybeans along nine-plus miles of marked trails on the 17,000-acre tract. Or, spend some time out on the water kayaking and canoeing.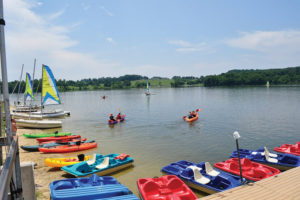 Ashbridge Preserve is a 55-acre mix of woodlands and meadows that showcase the beauty of Willistown's open spaces. Ashbridge, Kirkwood and Rushton Woods Preserve are open to the public year-round and accept donations toward their upkeep from those who love and appreciate conserved land. The preserves are under the stewardship of the Willistown Conservation Trust, which has protected over 7,500 acres of natural landscape.
Parks & Nature Centers
Area parks open up more opportunities for outdoor fun and exercise. Make the most of your experience by visiting park websites beforehand for visitor etiquette—including COVID-19 requirements—and amenities.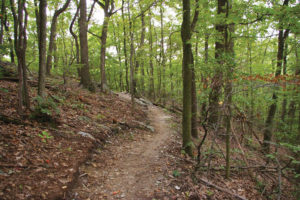 Encompassing over 2,606 acres of Delaware County woods and meadowland, Ridley Creek State Park offers a huge area for outdoor recreation. The park is open daily from sunrise to sunset. Visit the Colonial Pennsylvania Plantation to learn about the area's agricultural history, or take part in the special events, guided nature walks plus environmental and education programs that Ridley offers. Your options include hiking the 13+ miles of trails, picnicking, camping, fishing, wildlife watching, hunting, biking and horseback riding.
Over the hills of north central Chester County, near Downingtown, is Marsh Creek State Park. The park boasts horse stables, environmental education programs and boat rentals for Marsh Creek Lake. Hikers can explore 19 miles of scenic trails covering a variety of terrain, including forest, fields and wetlands. The Marsh Creek trail is wheelchair accessible and welcomes dog walkers, bird-watchers and bikers.
An oasis for people and wildlife, French Creek State Park offers 7,730 acres of outdoor relaxation and recreation. If you're looking to stretch your legs, enjoy 35 miles of hiking trails also open for mountain biking, horseback riding, picnicking, hunting and playing disc golf. There's an even one-mile stretch of wheelchair accessible trail.
Check out French Creek's boat rentals, swimming pool and fishing spots, and see if you can find the park's waterfalls! You can also stay the night and camp out under the stars to get the full summer outdoor experience.
At Brandywine Creek State Park in New Castle County, DE, adventurers can hike, bird watch, fish, picnic or play disc golf beneath the forest canopy. Hike the Rocky Run or Brandywine Trails that follow the creek or take a stroll through the Tulip Tree Woods Nature Preserve. Anglers should head to Brandywine Creek for smallmouth bass, bluegill and crappie or to Wilson's Run for trout. Canoes, kayaks and tubes are available through park programs and local outfitters.
Forests, meadows and wetlands await visitors to Coventry Woods Park in Pottstown. Over 150 species of birds have been observed at this natural park, so be sure to bring your binoculars! Rent the pavilion by the Fernbrook Lane Trail for outdoor celebrations and gatherings. Just remember to pack up your trash before you leave and follow the park's "Pack It In, Pack It Out" policy.
Harmony Trail Nature Area is East Bradford's largest park. Featuring seven miles of natural surface trails, it's easy to enjoy hiking, mountain biking and dog walking here. The trails also have picnic grounds and a bike repair station at the 1200 Skelp Level Road parking area. This is where the Harmony Nature Trail connects to the pedestrian-only Hogs Hollow Trail at Paradise Farm Camps.
It doesn't stop here—there are even more trails, parks and preserves to explore on our website, CountyLinesMagazine.com.
STILL HUNGRY FOR MORE ADVENTURE?
We have you covered with even more local trails and nature areas!
The extensive trail system of Pocopson Township, near East Bradford, offers easy hikes or cycling across hills, streams, woodlands and fields. Take the 1.5-mile Pocopson Walking Trail and you'll pass by the historic Barnard House, which dates back to the early 1880s and was a stop on the Underground Railroad.
The 2.4-mile, multi-use Radnor Trail in Wayne runs from Radnor-Chester Road to Sugartown Road. Park at the Conestoga Road entrance and hike, bike or rollerblade your way down the trail. Dogs on leashes permitted.
Uwchlan Trail is a 2.5-mile stretch primarily following local roads to the intersection of Eagleview and Wharton Boulevards. The south-westernmost segment of the trail features 18th and 19th century relics, including old mills and forges surrounded by woods. Uwchlan intersects with the Struble Trail, another 2.6-mile trail, just past the Dowlin Forge Road crossing.
The Springlawn Trail runs from Chesterville Road (Rt. 841) to Strickersville Road. It's 2 miles of dirt and gravel trail for hikers, bikers and equestrians.
If you're a biker looking for a challenge, try the Bonner Park bike trail. Located at Locksley Road and Creek Road in Glen Mills, this trail features an intense 3.5 miles of steep hills running along a limestone quarry.
Employees and students at West Chester University are probably familiar with the Robert B. Gordon Natural Area for Environmental Studies. The area occupies 126 acres of the university's South Campus and is a sanctuary of mature forest, upland meadow and maintained grassland. Access by the southeastern corner of the R Lot behind Farrell Stadium.
Located at 832 Downingtown Pike, the mown grass paths of the 2.5-mile Timber Top trails are reserved for hikers and equestrians—no dogs allowed. Park on the left of the road, opposite East Bradford Elementary School.
The 5-mile trail network of Harvey Run is located across Baltimore Pike, on the other side of Brandywine Battlefield Park. The 300 acres of preserved open space are available for public use from sunrise to sunset.
Oakbourne Park in Westtown, at 1014 South Concord Road, features a 3.2-mile loop and multiple amenities. Bring family and friends along and enjoy the pavilions, playground, multipurpose field, pond and community garden.
Burke Road Park is a smaller, more private nature area—24 acres—in West Chester with one pavilion and some trails.
Ingram's Mill Nature Area offers access to the East Branch Brandywine Creek. At 680 North Creek Road, this 36-acre park is used for fishing and launching rafts and paddle craft. Paddle 1.8 miles downstream to Harry J. Waite Jr. Nature Area. If you're up for it, paddle another 2.2 miles downstream to Shaw's Bridge Park.
The pedestrian-only Hog's Hollow Trail takes you through woodlands along West Valley Creek for 1.8 miles. Access via 1200 Skelp Level Road at the Harmony Hill Nature Area.
How many places can you visit before summer's end?
---
OUT ON THE WATER
Cool off from the summer heat at these local watering holes.
Marsh Creek Lake
This 535-acre lake in Marsh Creek State Park is a cool spot for fishermen, sailors and waterfowl enthusiasts. Rent row boats, paddle boats and sail boats. Open weekdays, 9 to 8, and weekends, 8 to 7. 675 Park Rd., Downingtown. MarshCreekLake.com
Northbrook Canoe
Located on the west branch of Brandywine Creek, this West Chester boat rental offers canoes, kayaks and inner tubes. "Canoe and Dine" along the Brandywine, on August 8th and 22nd. Paddle 1.5 miles down the creek, followed by a candlelit meal under the stars. Reservations required 7 days in advance. Open Mon.—Fri. 9 to 5; Sat.—Sun. 8:30 to 5.
1810 Beagle Rd., West Chester. NorthBrookCanoe.com
Chambers Lake
Panfish, channel catfish, pickerel and bass are some of the warm-water species you'll find. If you're feeling adventurous, take out your boat and enjoy the lake. You'll likely see bald eagles and other waterfowl.
BYOBoat. Electric and self-propelled watercraft only. 1 Park Rd., Coatesville. ChesCo.org/1743/Hibernia-Park
Struble Lake Recreation Area
Anglers can expect to catch a variety of both warm- and cool-water fish at Struble Lake. Cast your line and reel in a walleye, channel catfish or black crappie. A boat launch ramp is available, as well as parking facilities.
BYOBoat. Electric and self-propelled watercraft only.
Honeybrook Township. Enter via Morgantown Rd. FishAndBoat.com
Hopewell Lake at French Creek State Park
This 68-acre lake comes with a 24,000-square-foot pool, boat rentals and an enviable stock of fish: northern pike, bass, chain pickerel, walleye, muskellunge and panfish. Come swim Mon.—Thurs., 11 to 5:45; and Fri.—Sun., 11 to 6:45. Boat rental is open 10 to 6 weekdays; 9 to 7 on weekends through Labor Day Weekend.
843 Park Rd., Elverson. DCNR.PA.gov
back to top