Dentistry During the Pandemic
It's time to see your dentist. Be prepared for some changes.
For over a year the world has been dealing with COVID-19. Many industries have been profoundly affected by a pandemic that has changed us all.
Recent changes in healthcare generally and dental practices in particular have been far reaching. About 40 years ago, during the AIDS crisis of the 1980s, dentistry as a profession had to pivot, and it's now changing again for another virus, the coronavirus.
First and foremost, please know that it is safe to visit your dentist even for non-emergency care. In our area, most dentists and their staff members have had the opportunity to be vaccinated and have made necessary changes in their practices for the safety and well-being of their patients.
Fortunately, the Centers for Disease Control and the American Dental Association were proactive in the early stages of the pandemic to provide extensive safety guidelines that have been implemented to make your dental visit as safe as possible.
Too many patients have delayed their routine care for too long. It's time to see your dentist again.
Your Appointment
Your first inkling of changes to your normal visit will be even before you come to the office. Dental offices confirm appointments a day or two before the scheduled date and ask you key screening questions: do you have a fever? are you feeling well? do you have any symptoms? have you been exposed to a COVID-positive patient?
Your appointment will be rescheduled if there's any possibility of an infection. You may also be asked to wear a mask and not bring additional people to your appointment.
Next, you may be asked to call the office when you arrive at the parking lot, before coming in. Many patients prefer to stay in their cars rather than in the waiting room. This minimizes crossing paths with other patients and spending time inside the office.
Upon entering the office, you'll be asked the same questions as in your confirmation call. Then your temperature will be checked before you're escorted directly to the dental chair.
These new procedures are part of proper social distancing and screening protocols.
Scheduling
Office staff have become masters at scheduling hygienist and doctor appointments so patients are not coming and going simultaneously. Careful scheduling also provides extra time for each appointment, which can take longer given the additional steps and safeguards required. Plus extra time is needed to make sure all surfaces of each dental room have the recommended proper disinfection and sterilization.
The Dental Office
To protect patients, dentists have invested extensively in new equipment and in the office itself. You may see hospital-grade filtration units to increase air circulation. Staff and doctors wear full hospital gowns, hair covers, N95 or level 3 surgical masks, along with full-face shields.
Most dentists are using high-speed suctions that, when used properly, will remove 90% of aerosols created during procedures. You may see clear barriers installed throughout the office to prevent cross-contamination. And some offices post signs as reminders to wash hands, wear masks and social distance.
Each dental practice is undertaking steps like these to help you feel confident that your treatment is being done safely and with the highest infection control protocols possible. Regular visits to your dentist and hygienist will offset complex problems that can lead to tooth loss, pain and infection.
This past year has been filled with concern, anxiety and stress for all of us, but a light is visible at the end of the tunnel. Please know that we in the dental community are working very hard to make sure your visits to our practices are safe, secure and comfortable.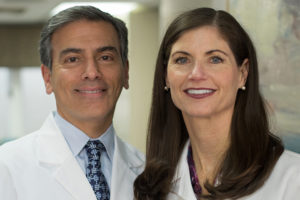 Dr. Smith and Dr. Vila received their D.D.S. degrees from Georgetown University, where they met.
Dr. Smith completed her residency at Albert Einstein Medical Center in Philadelphia, while Dr. Vila completed his residency at Tufts Medical Center in Boston. They married, moved to Chester County and opened their practice in Paoli. They have three grown children–Benjamin, Daniel and Sophia. SVDental.com
back to top