Defining Your Summer Party Space
With the weather warming and restrictions easing, it's time to get your backyard party-ready!
Summertime is finally here, and we're celebrating by prepping the grill, mixing some cocktails and sprucing up our outdoor spaces. Our patios, decks, gardens and yards will host plenty of fun this year—even before that long-awaited July 4th get together.
After spending too many months cooped up inside and socially distanced, we're looking forward to sunny days gathering with friends and family. And if you're planning to start entertaining again, it's time to throw open the doors and bring the party outside.
We checked in with local landscapers and designers on backyard trends to help you define your outdoor entertaining space. Make sure your home is ready to kickstart the summer with these tips below!
Cover Up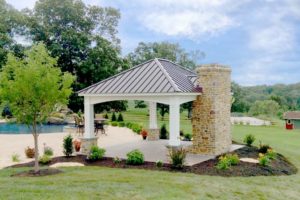 Summer is full of entertaining possibilities but even the most perfectly planned outdoor celebration can get blindsided by unpredictable weather. Don't let an afternoon shower or mid-day blazing sun wreck your weekend. Instead, create a space where your guests can shelter from the elements and still enjoy each other's company.
"From last year to this year, people are looking to create entertainment areas to safely join together," says Randall Spackman of Thornbury Services. "We're seeing a lot of customers looking for specific spaces, like play areas for kids and large covered patios to entertain groups."
Consider building a whole new outdoor space with standing structures like a pavilion or gazebo, perfect for providing shade for extra sunny days or protection from passing summer showers. Use these stand-alone structures to define an intimate outdoor setting for a small dinner party or outfit it with comfy chairs to create your favorite new hangout.
If your patio is already party-ready, just add a pergola for intermediate-level coverage that still lets the sun peak through—best of both worlds!
Light the Way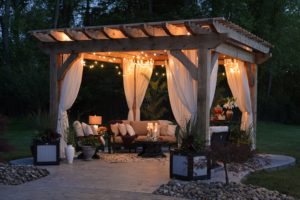 Your summer party shouldn't end when the sun goes down. Brighten up the space and extend your time outside with fun outdoor lighting. Not only can lighting improve your backyard in a practical sense—no more tripping over potted plants or bumping into furniture—but it can help set the ambiance, anything from relaxing oasis to lively party scene.
Highlight the results of hours toiling in your garden with the help of low-voltage lighting using floodlights, pathway lights or spotlights. Place outdoor lighting strategically to spotlight your favorite outdoor fixtures—anything from statues, striking trees or garden designs.
Crazy for color? Give the allusion of a bigger yard by using blue-toned lightbulbs for floodlights and in-ground well lights. Take it a step further by adding in cool-toned colored lightbulbs like purple and blue around the border of your yard to produce a fun party effect while still complementing the greenery.
Then add in pops of warm colors—red, orange and yellow—to excite the brain. Use warm colors in spots where you want people to gather. Think about adding these colors to wall lights, deck lights and garden lights to create an inviting area for guest to come together.
Warm string lights, like twinkle lights, can add depth to an area while also contrasting with the brighter statement lighting. String these lights across covered patios or pergolas to create a "dining under the stars" experience or simply to define and light up a hangout space.
And don't be afraid to experiment with different styles or finishes for your lighting fixtures. Incorporating contrasting shapes and metal finishes can help turn your outdoor lighting into its own artistic garden feature.
Keep Warm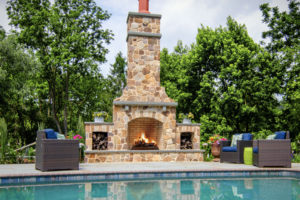 Not all your outdoor lighting needs to be electric. Draw on the timeless attraction of fire and gather 'round the "campfire" with family and friends with an outdoor fireplace or firepit.
A growing trend over the past year is to use heat sources like heat lamps and firepits to keep your space cozy after the sun goes down. And if you're trying to create a backyard party space, what's better than a glowing focal point for guest to gravitate toward.
Designers recommend you go big with a masonry fireplace for a showstopping piece that will remain an attraction for years to come. Customize the shape and size of your fireplace to fit any outdoor area. Many landscapers offer options to incorporate storage and seating areas for a one-of-a-kind feature.
If you're looking for something smaller yet still a good heat source, consider a firepit. This fire feature can fit easily into any backyard design and budget. "We're seeing tons of fire pits," says David Fisher of Dutchie's Stone Works. "We've noticed more customers leaning towards modern and sleek designs and away from the rustic look."
Fisher advises that you stay on trend with a sleek glass fire pit table or go the extra mile by building your fire pit into the ground with symmetrical and straight-lined stonework for a more elaborate finish.
With the fire roaring you can shed the sweaters and get the smores supplies ready instead.
And once the hard work is done (thanks to the professionals), add your own personal touch with fun throw pillows, colorful planters and brightly hued flowers.
Now the only thing left to do is sit back and plan the party!
Backyard Games
No outdoor get together is complete without backyard games. Gather the whole family for competitive fun with some of our favorites! Start with the classics and then try something new.
HORSESHOES
Go back to basics with this classic outdoor game. Measure off 40 feet from your throwing line and drive a stake into the ground. Toss your horseshoes and try to land as close to the stake as possible. The person with the closest shoe to the stake gets a point. Play to 21 points.
CORNHOLE
Beloved by all (and even featured on ESPN), cornhole is a backyard party necessity. Players take turns throwing 16-ounce bean bags at raised boards with a hole in the far end. In the hole counts for 3, on the board for 1 point. Play until a team or player scores 21.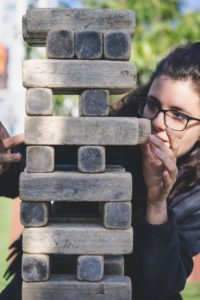 GIANT JENGA
All the fun of the classic version, but with bigger blocks. Each player takes a turn pulling out one of the blocks from the tower while trying not to topple it.
LADDER GOLF (TOSS)
Work on your swing with Ladder Golf. Space the two special game ladders about 15 feet apart and start tossing your bolas (a rope with two balls on either end). The first one to 21 without going over wins!
KANJAM
Show off your frisbee skills with this flying disc game. Using a disc and two large cans 50 feet apart, players try to get their disc in the opposing can without the other team deflecting it. Play to 21 points.
SPIKEBALL
This game is a cross between volleyball and four-square and perfect for those with plenty of energy. A player starts by serving the ball down on the special game net, so it ricochets up at their opponent, who then spikes it back into the net, creating a back-and-forth battle. Again, play to 21.
back to top