Day Trips and Outings 2
Start with the Big Three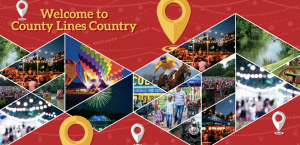 As we've done for many years, we begin our exploration of our area at the three blockbuster local sights—Longwood Gardens, Brandywine River Museum of Art and Winterthur Museum, Garden and Library. There are new reasons to return each year. Here's what to see in 2021.
TIP: We generally suggest buying a Brandywine Treasure Trail Passport for discounted admissions. This year there's a variation on that program: Brandywine Valley Adventure Pass lets you build your own plan for exploring our area's history, culture and gardens. Prices vary on these customized plans. Visit WilmingtonDE.com.
Longwood Gardens
What comes to mind when you think of Longwood Gardens? Pierre du Pont's legacy, top garden spot in the country (or some say, in the world)? Or is it fountains and fireworks? It's the fountains.
Fountains spin and soar during the 12-minute scheduled daily fountain performances in the Main Fountain Garden, featuring 1719 jets and water reaching 175 feet high (through October 31). For the next level of fountain fantasia, visit Thursday through Saturday evenings (through September 26) for the Illuminated Fountain Performances and an extravaganza of water, colored lights and music.
For the ultimate fountain fun, make reservations for one of the six Fireworks and Fountain Shows and a dazzling evening of entertainment (check the website for dates and themes). Each show has a special theme—from Sleeping Beauty to Hip Hop Mixtape, and for Boomers, Start Me Up. All are thrilling to experience. Just reserve soon!
Terrace Café, 1906 Restaurant and Beer Garden are available for a restorative break, and a lovely Garden Shop offers souvenirs for your visit. Open daily (except Tuesdays).
Routes 1 & 52, Kennett Square. LongwoodGardens.org.
Note: Longwood Reimagined, the most ambitious garden revitalization in a century—and that's saying something—closed down parts of the west conservatory area until 2024, but there's still more than enough to see.
TIP: Stop reading and make reservations now—lawn or reserve seating—for Fireworks and Fountains. The shows sell out fast!
Brandywine River Museum of Art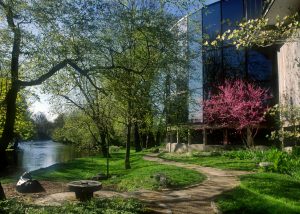 Even while the converted 19th-century mill housing the museum was closed for renovations in February, this riverside home to a distinctive collection of American art—well known for its generations of Wyeth works (N.C., Andrew, Jamie)—continued to provide a treasure trove of on-line resources. We do love the nature videos, with the Brandywine River views still providing that needed moment of zen.
Now reopened, and with a towering entrance sculpture to welcome back visitors, the museum launched an on-site exhibit, "Ralston Crawford: Air & Space & War," through September 19. Trained at the Pennsylvania Academy of Fine Arts and Barnes Foundation, Crawford (1906-1978) created art influenced by his experiences with aviation, including his assignment to document the atomic bomb test in the Bikini Atoll. The 80 works in this significant collection demonstrate Crawford's visual expression of highly abstract concepts.
For an exhibition with a very different look, see "America's Impressionism: Echoes of a Revolution," opening October 9.
Leave time to visit the Millstone Café with restful river views and walk the grounds planted with native flowers and plants, a nod to the Brandywine Conservancy, headquartered there.
Route 1, Chadds Ford. BrandywineMuseum.org.
Winterthur Museum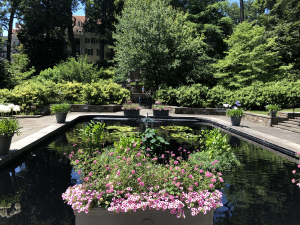 Yes, this stop offers a museum, gardens and a notable library—all superlative. First-time visitors should visit the extraordinary collection of American decorative arts displayed in the former du Pont mansion, then roam the immaculately tended gardens. Kiddos will enjoy the specially designed Enchanted Woods, a three-acre fairy garden.
For a deeper dive, visit this summer's special exhibit, "Outside In: Nature-inspired Design," ending August 3. Join a curator's gallery walk (July 6, August 3) to see how Winterthur's holdings and selections from the Delaware Museum of Natural History's collection (temporarily closed) demonstrate the connection between nature and the decorative arts.
Join the celebration of American artistry and craftsmanship at Winterthur's first Artisans Market (July 17 & 18) on the grounds. The region's most talented craftspeople present examples of modern-day artisanship. Browse and buy antiques and collectibles, including furniture and home décor, up-cycled and architectural salvage pieces, high-quality crafts, vintage clothing and jewelry, original art, garden items and more.
For a different way to enjoy the grounds, try Wine through Winterthur walks featuring cocktails, small bites, live music. You missed Wine and Daffodil Walk, but can join Mixers & Elixirs, held at a pop-up location on the grounds. Botanical Cocktail, July 23, Margarita Madness, August 27, and Nothin' But Shrub, September 24, are just a few to entice you.
5105 Kennett Pk., Winterthur, DE. Winterthur.org.
back to top