Cut-Your-Own Christmas "Treedition"
Picking the perfect Christmas tree can be a challenge. So many shapes, sizes and varieties—from balsam firs to Norway spruces and everything in between.
Share the Christmas spirit by supporting local when you choose your tree. Find a farm near you to pick your tree or find a day in your schedule to visit one of our favorite cut-your-own tree farms.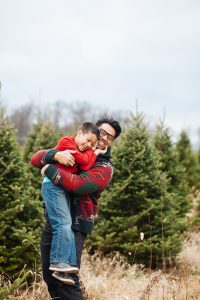 Boswell's Tree Farm has been a family-owned farm for over 70 years, so they know what they're doing. Bring along gloves fit for sawing and pick your tree from their large selection, including Norway, Colorado, blue or white spruce, Canaan or Douglas fir, or white pine. Let this family farm's holiday tradition become a part of yours. 1093 N. Grand Ave., Collegeville. 484-902-0148; BoswellsTreeFarm.com.
Clarks Christmas Tree Farm is the place for variety, décor and more! Get in the holiday spirit with hot cider and treats after you chopped your evergreen and visited the Christmas Shop. Choose from Byers Choice and Jim Shore collectibles, snowmen, snow globes and ornaments for your tree. Find a variety of fir trees here: Fraser, Douglas, Korean and Concolor. 235 Pusey Mill Rd., Cochranville. 610-358-4933; ClarksChristmasTrees.com.
Sitko Tree Farm is here to help! Offering wreaths, window décor, centerpieces and other decorations in the Lil' Country Store, Sitko has your living room covered. Plus their new Home Bound Program can help Grandma and Grandpa with delivery and set up their Christmas tree along with removal at season's end. Cut your own Douglas or balsam fir or blue spruce, or you pick a tree from the pre-cut lot! 1141 Kepler Rd., Pottstown. 610-468-6647; SitkoTreeFarm.com.
Schmidt's Tree Farm adds friendly competition to the holiday festivities on Saturday and Sunday with their Black Bear Special. Find the stuffed Black Bear hidden in a tree and get the tree (and bear) for free! Enjoy the company of their reindeer as you select your tree—Fraser, Concolor, Canaan, Nordmann or Douglas fir, as well as Norway, Colorado or blue spruce. You'll be BEAR-y happy with your decision. 1741 Flint Hill Rd., Landenberg. 610-274-8560.
Spruce Grove Tree Farm is a great place to bring your elves! With a variety of tree species to choose from, train rides, face painting, petting zoos and more, the kids will be bursting with Christmas cheer. Santa visits on Saturdays and Sundays, and refreshments are offered along with the sounds of the Mainliners Barbershop Quartet! Find your Fraser, Concolor, Douglas or Korean firs here! 501 Blue Gill Rd., Oxford. 610-496-6823; SpruceGrovePA.com.
Wiggins Christmas Trees has locations in West Chester and Cochranville ready for your saw! For a few holiday weekends, they also have train rides to the farm on the West Chester Railroad. Board at the Market Street Station in West Chester and enjoy coffee, hot cocoa and doughnuts on your way to your tree. On the ride back, the trees are tagged and sent on the train. Cut your own Douglas fir at either farm or choose a pre-cut Douglas or Fraser fir from their West Chester pre-cut lot. 1257 Westtown Thornton Rd., West Chester. 610-344-7822;WigginsChristmasTrees.com.
Buying a pre-cut tree? Make sure it's freshly cut using these tips to help you pick a fresh one!
Needle Bend: Take a fresh needle in your fingers and bend it in half. For a fresh pine, the needle should bend in half. But for a fresh fir, the needle should snap.
Hand Test: See if the needles stay on the tree after you run your hand along a branch. Just say no if too many needles fall.
Sticky Trunk: Check for a sticky trunk! That sappy base shows the tree isn't too dry to last through your holiday season.
Look and Sniff: Avoid musty trees, discolored foliage or wrinkled bark and you'll have the freshest of the lot.
back to top