Crush Cancer Wine Tour 2020
Sip Local Wine and Beer while Supporting a Great Cause (Through October)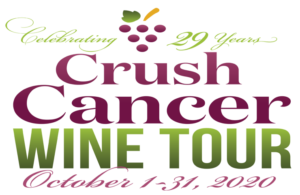 For the past 28 years, the Crush Cancer Wine Festival has been held at Dilworthtown Inn as an autumn tradition to look forward to. But, like many events this year, this fundraiser also looks a bit different.
The festival has been reimagined to keep supporters safe, thanks to the efforts of its sponsor, The Women's Auxiliary to Chester County Hospital. This year, you'll use a passport to the Crush Cancer Wine Tour to enjoy great wine and spirits along with beautiful Chester County scenery as you sip your way through more than 20 stops during October. (Proceeds support services for cancer patients at the Abramson Cancer Center at the Chester County Hospital.)
What better way to relax than happy hours and weekend afternoons at wineries and breweries in Chester County? Help the hospital by visiting participating wineries, breweries and restaurants while giving back to a great cause.
Check out our blog post below for a taste (and look) of what to expect of these local spots!
Galer Estate Winery
My first stop was at the scenic Galer Estate Vineyard & Winery in   Southern Chester County, not far from Longwood Gardens. You can enjoy a complimentary wine tasting (using your passport) on their outdoor deck overlooking the chardonnay vineyards with a background of changing autumn leaves.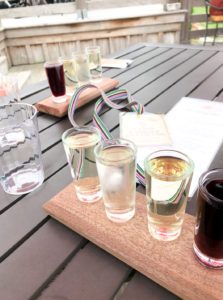 I recommend starting with their wine tasting flight, featuring 4 wines—2 from their Red Lion Vineyard and 2 from their Home Vineyard. I enjoyed the Red Lion Chardonnay's flavors of lemon zest, apple and pear (my favorite) and the Huntress Vidal Blanc's hint of tropical flavors like pineapple and mango. My guest and I finished the tasting with the Reserve Chardonnay, with light flavors of hazelnut and vanilla and the Huntress Red, a Bordeaux style blend with notes of black currants, white pepper and violets. All wonderful, especially on a sunny afternoon!
Taste them all and find your favorite. Order a glass or two to sample, then take home a bottle to enjoy later.
Other passport holders recommended stopping by Stargazer Winery in Coatesville and Paradocx Vineyard in Landenberg.
Spend a relaxing afternoon at Galer Estate or the other participating locations to take in the views and sip local wine while supporting the Chester County Hospital's work to crush cancer. Mark your calendar – just two more weeks left!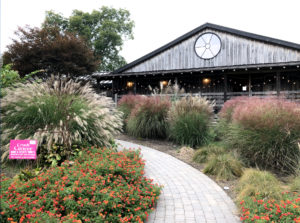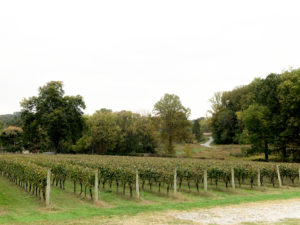 Locust Lane Brewery
There's no better fall combo than a tall glass (or pitcher) of craft beer and Sunday football.
This past Sunday I used my Crush Cancer passport to stop in to Malvern brewery, Locust Lane, to spend a Sunday afternoon sipping beer and cheering on my favorite teams. Since it was such a beautiful fall day, my guest and I decided to take advantage of Locust Lane's beer garden—complete with spacious seating for social distancing and outdoor TVs for game watching.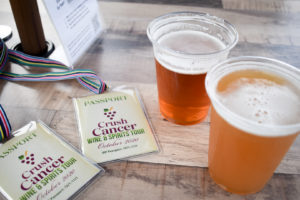 With our passports in hand we were able to choose any beer off their menu as our complimentary drink. Since I'm still exploring craft beers, I tend to choose lighter and fruiter options. Their Fluffy Sunshine was the perfect choice—a hoppy pale ale with flora aromas and flavors of citrus and grapefruit. I loved it so much I decided to buy a 4-pack for a happy hour next weekend!
My guest chose the Amber Lager, a reddish amber-colored beer (no surprise there), perfect for a crisp fall afternoon. This lager featured a malty-sweet flavor and was made with malt locally sourced from the Deer Creek Malthouse in Glen Mills. So double local good!
The $1 hotdog special was perfect for snacking while sampling a few more of their delicious beers. If you find one you really love (like me!) make sure to pick up a 4-pack to take home and support local businesses. As well as supporting the Crush Cancer fundraiser!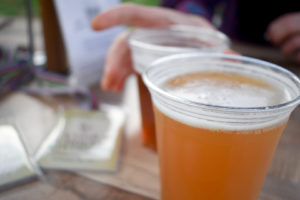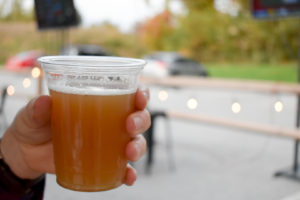 back to top