Creating New Beer Flavors…
Photos by Brian Trosko
Beyond the simple IPA
If you've followed the craft beer scene during the past 15 years, you've likely noticed seismic changes. The sheer number of breweries has altered the landscape of tap handles in bars and options in coolers wherever alcohol is sold. The range of national and local brands available has grown by an order of magnitude, and the beers produced by these brands vary even more widely.
Just where do all the varieties of beers come from?
You may have noticed when a brewery releases a stout, the bourbon barrel-aged version is sure to follow six months later. Their new IPA? The double dry-hopped version will be coming out later that year. And if you liked the blueberry kettle sour, be sure to sample a pour of their version with lactose, vanilla and … marshmallows.
Who comes up with this stuff? Sometimes, I do. Here's some insight into how the magic happens.
BREWERY AS LABORATORY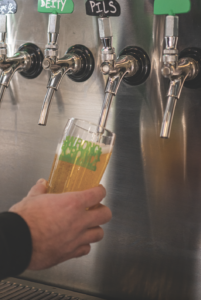 Folks open breweries for any number of reasons. And many watch as their carefully laid business plans get covered with circles from over- flowing beer mugs and the breweries evolve in unexpected directions.
At Wrong Crowd Beer, we started operating as a nano-brewery, along with pop-ups, plus offering kegs of draft beer to local bars and beer stores. Brewing was initially done on a very small scale, in two barrel batches (62 gallon) using what was essentially home- brewing equipment.
While not exactly a sustainable business model, there were advantages to the nano-operation. Being able to sell an entire batch to a handful of bars definitely allowed us to experiment.
So until we upped our game in 2020 and started producing 30-barrel batches at a new production facility in West Chester, we never had to ask ourselves tough questions like—"How much of this can we expect to sell in a crowded market?" or "Can we afford to dump this batch if the idea was a bad one?"
It's not surprising that one goal that guided our recipe creations was never to brew something craft beer fans could already find. We simply couldn't compete for tap handles at bars and shelf space in beer shops against breweries with professional equipment and econ- omies of scale.
For us, the question was simple: why spend all that time and effort brewing, if not to be original?
This journey resulted in some weird beer flavors. And, truth be told, those early experiments didn't always take us to the end of the rainbow, even when the execution was perfect. A Bloody Mary New England-style IPA is just a bad idea, no matter how close the end product came to hitting the intended mark.
WAYS TO INNOVATE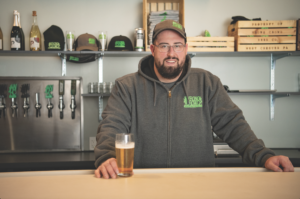 Today in the craft beer scene, very rarely is a new idea entirely orig- inal. If brewers are not riffing on an idea from another beer brand, inspiration may come from popular culture, like a favorite food or dessert from the local restaurant scene.
Talented chefs and bakers are sources of ideas as they also explore flavors. And most are acutely aware that, when we're chatting, I'm picking their brains for concepts for beer recipes. A common way to create a new beer recipe is to brew with an unusual ingredient. Or take it to the next level and use that novel ingredient along with a flavor that harmonizes but isn't obvious. For example, Wrong Crowd recently released a sour ale pairing Italian plums and fresh rosemary. Savor that for a moment …
Another way brewers innovate is to create a recipe inspired by one or two recipes they know but want to take in a new direction. Our flagship pilsner, The Borough, for example was a mix of a traditional German-style pilsner, but with a lower alcohol content.
Yet perhaps the most brilliant innovations in brewing lie in creating new techniques or using old techniques in new ways. For example, using Norwegian kveik yeast allows brewers to produce a range of styles faster and without costly temperature control unleashing creativity.
And then there's the veritable flavor of the month.
FAD OR TREND?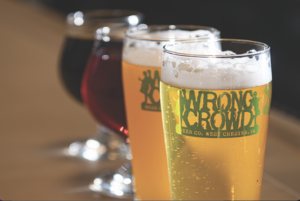 Every year or so, the beer scene sees a new hot variation on the IPA style. One by one, breweries take their crack at it. Think of the stream of these variations—Belgian IPA, Black IPA, Brut IPA, India Pale Lager, White IPA and Lactose IPA.
These experiments, or style variations, are brewed once, customers order one or two out of curiosity, but then the recipe is promptly discarded, never to be brewed again.
Yet a few versions transcend mere fads and become bona fide trends. Think of beers like Double IPA, Session IPA and New England-style IPA. Each provided something craft beer drinkers actually desired, whether they knew it or not.
The first Double IPAs provided more hops, more alcohol, more intensity of flavor than anything beer drinkers had encountered before. This big brew was welcomed by the emerging hopheads searching for more flavor.
The Session IPA, pioneered by Founders Brewing with their All Day IPA, gave hopheads the intentionally unbalanced hop character they craved from an IPA, but in a low-alcohol, low-body beer they could enjoy without immediate intoxication.
And New England-style IPA provided craft beer drinkers with more hop-derived citrus and tropical fruit aromas, without the accompanying bitterness or caramel malt flavor typically found in West Coast-style IPAs. The massive spike in popularity of New England-style IPAs in the last five years showed this was what many really wanted in their glass all along.
NEW BEER VARIETIES
The process of creating new brewing recipes could begin in many ways, but eventually each new beer goes through some version of recipe formulation, recipe testing and brand development.
Recipe formulation requires a set of skills that can take years to develop. The brewer needs to decide things like the selection, pro- portion and timing of ingredients. This is the art part of the process.
For recipe testing in an entirely new arena—producing hard seltzer, for example—we use our smaller pilot system to get feedback for next steps and refinements. Further testing happens on-site at the taproom, where visitors are often treated to samples of our experi- ments. Usually though, a new recipe has enough in common with a previous brew that we'll produce a full-size batch.
WHAT'S IN A NAME?
Finally, there's the brand development step, the fun part of names and label designs.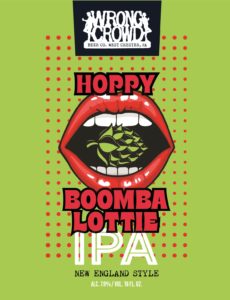 The right name can happen on brew day, while tasting samples during production, or even close to the release date. Like many brewers, we lean heavily on puns, like our chocolate stout Robert Brownie Jr., or our kettle-soured ale Big Dogs Guava Eat. Inside jokes are fair game, too, if they're easy to explain so everyone is in on it.
Labels are also fun to create and fortunately we've found a graphic designer who gets our style and our humor.
Anyone at Wrong Crowd might come up with the concept for a recipe, name or can label. The acid test is whether we'll have fun talking about it to our customers.
And the best new beer concepts express why we started brewing— for the love of craft beer and beer fans.
Wrong Crowd Beer was founded as a nano-brewery in 2017 by Dan Shaw and Bob Bagonis. They partnered with industry veterans Kara Dougherty and Kelly McGonagle in 2020 to bring a production brewery and taproom to downtown West Chester. Visit at 342 Hannum Ave., West Chester and taste what's new. WrongCrowdBeer.com.
back to top