Cooking for Comfort in the New Year
Need some inspiration in your kitchen for 2021?
As we begin this fresh new year, there's never been a greater craving for comfort food. Has there?
With everything our community and beyond has endured in 2020, it's time we allowed ourselves to indulge in the meals that bring us the most peace. If we've felt deprived because we weren't able to spend time with our families, then the best we can do for now is emulate the comfort and security our loved ones provide within the heart of our dinner plate.
But what happens when we've run through all of Grandma's recipes? Or that well-used recipe card slid behind the fridge or accidentally dropped into the spaghetti?
That's why we need a curated list of new cookbooks designed to recreate that comfy food feeling and satiate every taste bud.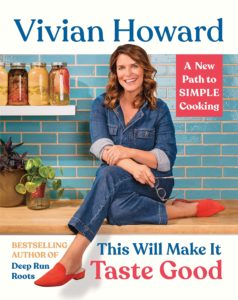 Here are a few to consider adding to your collection to join that copy of Ina Garten's Modern Comfort Food you probably got for Christmas.
This Will Make It Taste Good by Vivian Howard is a great place to start. With charm and wit, Howard guides us through home-cooking basics with the ease of a seasoned chef. With over 125 recipes, Howard breaks down food to make it exciting and accessible. She introduces 10 different "kitchen heroes" into these recipes—including spiced nuts, fruit preserves and caramelized onions—that serve to enhance and enliven your dishes.
All Howard's recipes are designed to be made quickly, effortlessly and without having to find unfamiliar ingredients. What's more comforting than a fast, delicious home-cooked meal that was easy to prepare?
Did you fall into the bread-making trend of 2020, but didn't have the right guidance? Or perhaps you didn't hop on the bandwagon at the time, and now you feel like you've missed all the fun? No need to worry either way because Mastering Bread: The Art and Practice of Handmade Sourdough, Yeast Bread, and Pastry by Marc Vetri (yes, Philly's Marc Vetri), Claire Kopp McWilliams and David Joachim, has arrived.
Filled with easy-to-follow, step-by-step instructions, this cookbook leads you through the art of breadmaking, no matter what type of bread you want to bake. You'll learn how to make Red Onion Foccaccia, Cinnamon Raisin Pan Loaf, basic English Muffins, Panettone and more. From that sourdough we all envied on Instagram during lockdown, to simple yeasted loaves, you'll be a bread master by the time you're done with this book.*
Can vegetables be a part of your comfort routine? Some may scoff, but New York Times bestselling author Yotam Ottolenghi is up for the challenge. In his latest cookbook, Ottolenghi Flavor, he teams up with Ixta Belfrage to bring over a hundred new ways to level up your veggies.
The authors divide the cookbook into three parts—process, pairing and produce—that allow you to look at those vegetables going bad in your fridge in an entirely new way. You can try your hand at delicious recipes such as Asparagus and Gochujang Pancakes, Romano Pepper Schnitzels, and Brown Rice and Shiitake Congee, and learn how to work with all of these vegetables and others in wonderfully flavorful ways.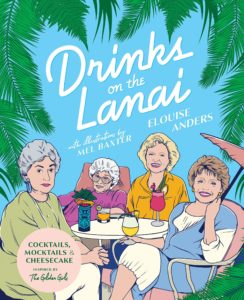 For those of us of age and fond of imbibing, is there anyone more comforting than Dorothy, Blanche, Sophia and Rose? Drinks on the Lanai by Elouise Anders is a "Golden Girls"-inspired recipe book for cocktails, mocktails and cheesecake, all to be enjoyed on your own lanai (porch, patio, whatever outdoor space you have).
Each of the Golden Girls has a whole chapter of recipes dedicated just to her, such as Dorothy's Tall and Sassy chapter featuring the Rum Runner and the Bitter Mai Tai, or Sophia's Short and Boozy chapter with the Barrel of Rum and the Beachside Manhattan. With illustrations of the girls by Mel Baxter sprinkled through the pages, this recipe book will have you craving cocktails by the beach with your best friends, or just craving binging "The Golden Girls."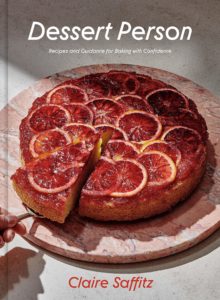 Perhaps this list is too presumptuous, and all you really want for comfort food is some good, old-fashioned dessert. That's where Dessert Person by Claire Saffitz comes in. Saffitz is a YouTube and Buzzfeed institution, famous for her Gourmet Makes series and loveable personality.
In her debut cookbook, Saffitz shares over a hundred recipes to make even the most reluctant novices into confident bakers. With yummy recipes such as Spiced Honey and Rye Cake, Marcona Almond Cookies and Cherry Cream Cheese Danishes, you'll feel like you're at an upscale Parisian restaurant, while in the safety of your own home.
No matter what kind of food brings you the most comfort, what's important right now is just to enjoy it. We don't know what the future will bring, but we do know that happiness and comfort are some of the best ways to beat feelings of fear and uncertainty.
So order your New Year cookbook from your favorite independent bookstore, and cook/bake/mix your latest culinary masterpiece. Then bask in the comfort of your culinary creations.
Margaret McCampbell is assistant manager at Reads & Company, an independent bookstore in Phoenixville featuring a curated inventory, author events (virtual for now), book clubs, staff picks, kids section and more. Visit inside, outside, curbside or schedule private browsing. Follow them on Facebook and Instagram. 234 Bridge St., Phoenixville. 484-920-3695; ReadsAndCompany.com.
*Editor's Note: For breadmaking fans, we also recommend the Brandywine Table column "Kneading Comfort" in our September 2020 issue, at CountyLinesMagazine.com.
back to top