Concerts in the Park
Go out, have fun, and by all means, listen to a concert in the park! You'll love it!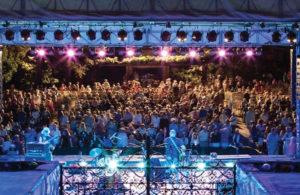 First Fridays, Swingin' Summer Thursdays, concert Sundays … any day of the week is a good day for kicking back, packing a picnic and listening to great local (and some nationally known) musicians.
The list of talent at each of the following events is too long to fit here. To find out more, visit the concert websites and ours, for the complete July lineup.
In addition to weekly concerts, you'll find festivals from Bethlehem to Wilmington and Camden to Coatesville featuring top-notch performances, great food and activities for all.
Through August 31
Summer Music Series in Phoenixville. Every Friday (other than First Fridays) enjoy a variety of music throughout downtown Phoenixville. 6 to 9 pm. PhoenixvilleFirst.org.
Through September 6, Thursdays
Swingin' Summer Thursdays. Great food, live music, clowns, artists, magicians, jugglers and more. Gay St., West Chester. 6:30 to 9. DowntownWestChester.com.
July 1–29
Delaware County Summer Festival. Here are just a few in July: July 5, John Hoey Orchestra; July 6, The Cat's Pajamas; July 7, Van Halen Nation; July 8, Boat House Row; July 11, Sensational Soul Cruisers; July 12, Beatles in Bossa Nova; July 13, Dirk Quinn Band; July 14, Upper Darby Summer Stage Shooting Stars; July 15, Charlie Gracie; July 18, July 19, Zydeco A-Go-Go; July 20, Papa Sez; July 21, Class of 84; July 22, Lights Out: Tribute to Frankie Valli; July 25, Jimmy & The Parrots; July 26, Musician Impossible; July 27, West Chester Swing Kings; July 28, US & Floyd; July 29, The Plants. Concerts through Aug. 12. Rose Tree Park, Rt. 252 & Providence Rd., Upper Providence. 7:30 unless otherwise noted. Free. Co.Delaware.PA.US.
July 1–29
Long's Park Summer Concerts. July 1, U.S. Army Band, "Pershing's Own, fireworks follow concert;" July 8, Lords of 52nd Street; July 15, Birds of Chicago; July 22, Lawrence; July 29, Curtis Harding. Concerts through Aug. 26. Amphitheater, 1441 Harrisburg Pk. at Rt. 30, Lancaster. 7:30 pm. Free. LongsPark.org.
July 4–26
Summer in the Park Concert Series at Wilson Farm Park. July 4, Chester County Concert Band, fireworks follow at dusk; July 12, Fusebox; July 19, The Big Band from the Valley; July 26, The Open Road Band. Wilson Farm Park, 500 Lee Rd., Chesterbrook. 7 pm. Free. Tredyffrin.org/Departments/Parks.
July 4– August 5
Upper Merion Concerts Under the Stars. July 4, Fourth of July Celebration with Mango Men; July 8, York Street Hustle; July 15, Andie Case with Jeffrey Gaines; July 22, Scythian with Ren; July 29, Craig Bickhardt's Friends and Family. Concerts through Aug. 5. 6 pm. Township Bldg. Park, 175 W. Valley Forge Rd., King of Prussia. UMTownship.org.
July 4–August 8
Summer Concerts at Anson B. Nixon Park. July 4, The Hoppin' John's Orchestra; July 11, Hurricane Hoss; July 18, Matt Cappy Quintet; July 25, Will Power. Concerts through Aug. 8. Waterworks Dr., Kennett Square. 7 pm. Free. AnsonBNixonPark.org.
July 6–28
Bryn Mawr Twilight Concerts. July 6, Brian Filone's David Bowie Tribute; July 7, David Bromberg/Mark Schultz; July 14, Trespass: Genesis Tribute Band/We.Are.Understood; July 21, Dar Williams/Bruce Rits Gilbert & Matt Lyons. Concerts through July 28. Bryn Mawr Gazebo, 9 S. Bryn Mawr Ave. 7. $15. BrynMawrTwilightConcerts.com.
July 6–August 4
Longwood Gardens Summer Concert Series. July 6, Justin Roberts and the Not Ready for Naptime Players; July 8, The Delaware Symphony Orchestra with Jennifer Koh; Aug. 14, Ladysmith Black Mambazo. Concerts through Sept. 23. 1001 Longwood Rd., Kennett Square. LongwoodGardens.org.
July 8–August 5
Miller Park Summer Concert Series. July 8, Chico's Vibe. July 21, Exton Community Day concert and fireworks at Exton Park, 800 Swedesford Rd., Exton. Concerts through Aug. 5. Albert C. Miller Memorial Park, 220 Miller Way, Exton. 6:30. Free. WestWhiteland.org.
July 10–31
Eagleview Town Center Concerts on the Square. July 10, Cabin Dogs, Matthew Rineer; July 17, Molly Tuttle, Jesse Terry; July 24, Kids Night with Jump Jive and Jam and Dirk Quinn; July 31, The Ruen Brothers with Matt Spitko. Concerts through Aug. 28. 540 Wellington Square, Eagleview, Exton. 7 pm. EagleviewTownCenter.com.
July 13
Friday Night Lights at ChesLen Preserve. Bring a blanket or chair and wear sturdy shoes. ChesLen Preserve, 1199 Cannery Rd., Coatesville. Adv. reg. req. 8 to 11. $35–$45. NatLands.org.
July 15
36th Annual Turk's Head Music Festival. Great bands, crafters, kid's activities, vendors. Everhart Park, 100 S. Brandywine St., West Chester. Noon to 8 pm. Rain date, July 22. TurksHeadFestival.com.
July 19, August 16
Music at Marshall Square Park. Come to the gazebo in Marshall Square Park for these picnic concerts. Visit the website for performers. 248 E. Marshall St. 6:30 pm. Free. 610-436-9010; MarshallSquarePark.org.
July 20–21
Ladybug Music Festival. All-day block party with lots of entertainment and great fun at 2nd & Loma. Free. TheLadyBugFestival.com.
July 20, August 9, 24
Brandywine River Museum of Art Concerts. July 20, Black Horse Motel; Aug. 9, Englewinds; Aug. 24, Sparkle Pony. 1 Hoffman's Hill Rd., Chadds Ford. 6 pm. $18–$25. Brandywine.org.
July 27–29
Xponential Music Festival. Three stages, 30+ performers and a line-up of established and up-and-coming artists heard on WXPN. Wiggins Park, BB&T Pavilion, 2 Riverside Dr., Camden, NJ. XPNFest.org.
July 28
24th People's Festival—Tribute to Bob Marley. A celebration of music and arts to honor Bob Marley's legacy. Tubman-Garrett Riverfront Park, Rosa Parks Dr. 12 to 10 pm. PeoplesFestival.com.
August 3–5
The 21st Annual Riverfront Blues Festival. The blues are back! An outdoor music festival at Tubman-Garrett Riverfront Park, Rosa Parks Dr. Check website for a complete lineup. $25–$80. RiverfrontBluesFest.com.
August 3–12
Musikfest. A huge, free, non-gated music festival in Bethlehem, PA, offering all genres of music. Tickets are required for national headliners. Visit Musikfest.org for a lineup and to purchase tickets.
August 4
Connective Art and Music Festival. Festival aimed at bringing the community together through a fun day of arts and music. Held on the streets of Downtown Oxford. 10 to 10 pm. $5–$20. ConnectiveFestival.org.
back to top