A Community Created, Another Updated
Newtown Square & Paoli are Changing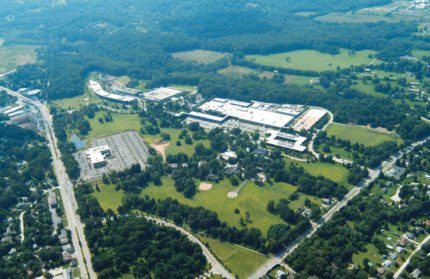 In 1742 the Square Tavern, the little inn at the intersection of what was Darby and Goshen Great Roads in Newtown Square, was the center of social, political and business life in the hinterlands west of Philadelphia and the childhood home of Benjamin West, the colony's finest painter. Two and a half centuries later the Square Tavern still stood but the outlying pasture and farmland had become a suburban ghost town, almost a million square feet of abandoned office buildings and laboratories.
Today the old tavern stands unchanged, but the nearby fields and woodlands have been transformed. When Equus Capital Partners acquired the former ARCO Chemical property at the intersection of Route 252 and Goshen Road, there were some 125 souls toiling in splendid isolation, with 218 acres of sprawling countryside all to themselves.
What's Up at Ellis Preserve?
Ellis Preserve, as the new development is called, is now home to 35 different corporate headquarters. "This is a true 'mixed use' community," says Stephen Spaeder, Equus senior VP. "We're attracting more and more companies like Sunoco and SAP, the international software and high tech company. Others include investment firm Graham Partners, ever-expanding Main Line Health, and Trinity Health and Pet Plan, which provides insurance for pets. Every day we have 6,000 people coming here to work."
Some will have a short commute. Toll Brothers is following up its vast Liseter development, just north of Goshen Road, with 76 new luxury townhouses at Enclave at Ellis Preserve. For a different take on campus living, Madison Ellis Preserve Apartment Homes offer 215 luxury apartments on the grounds.
Visitors from overseas will soon be invited to stay at the 136-room Hilton Garden Inn, set to open some time this summer. "Hilton is the world's biggest commercial travel hotel group so that will plug us into a global business network of over 550 hotels," Spaeder says.
The grounds are laced with multiple walking, running and dog walking trails with embedded exercise stations spanning the campus. Ellis Athletic Center offers a full size gymnasium, personal training, weight room, cardio and aerobics rooms and a juice bar. For the kids, there's childcare at Chesterbrook Academy, a state of the art 12,000-square-foot facility designed with an eye to early childhood education.
During your run, you might spot a wedding happening at the Ballroom at Ellis Preserve. This historic Greek Revival building is finding a new life as an elegant venue for corporate retreats and more.
Newtown Square's new hot spot, Firepoint Grill has indoor seating for 250, with more room outside.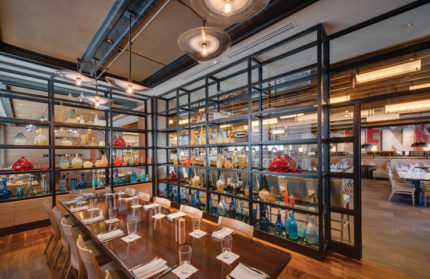 New Shopping and Dining
After working up an appetite, there are plenty of fast-casual options nearby in Newtown Square. Healthy, hearty breakfasts are the thing at First Watch, a "daytime café" (with other locations in Villanova and Wynnewood), while Mediterranean cuisine and healthy options abound at Zoe's Kitchen (find them in Wayne and Glen Mills, too). Mod Pizza (also in Wayne and Glen Mills) lets its clientele get creative with a selection of over 30 exotic toppings, while Chipotle (Wayne, Ardmore and more) tempts with tacos and burritos.
For a big night out Firepoint Grill—winner of County Lines' 2017 Buzzworthy award—offers fare from an open kitchen with a wood fired grill and seating for 250 indoors and 150 more on its outdoor patio, perfect as the weather warms. Their martinis are said to be excellent.
For turning heads while dining out there's nothing like having your locks crimped, colored, glazed or curled at the Salon at ULTA. Other retailers at The Shops at Ellis Preserve include Pennsylvania Fine Wine & Good Spirits, AT&T, FedEx, Luxury Nails and the Franklin Mint Federal Credit Union.
One of the region's most eagerly awaited changes is the new Whole Foods Market, set to open this summer and sure to add to the buzz.
More to Come
Maybe it's a ripple effect but Ellis Preserve isn't the only sign of revitalization in the neighborhood. To the East, there's another new development, the Penrose Carriage Homes, an upscale retirement community of 40 cottages ranging up to 4,000 square feet.
And there are even more developments in the offing, some which will tie the property to its Colonial roots. "We're thinking of restoring the Square Tavern and somehow putting it back in business," says Spaeder. A fitting finishing touch.
Today, strolling the campus grounds—former home of the Ellis School (see sidebar)—visitors might conclude the new community is what the property should have been all along.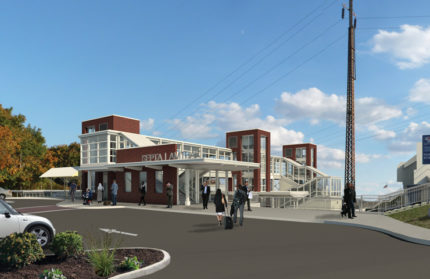 Paoli Local Renaissance
Barely ten minutes up the road from Newtown Square is Paoli, a town with no village green, town center or pedestrians strolling along scenic trails—not even the historic Paoli Battlefield, which is in Malvern. Some may know the town as part of the duo from SEPTA's Paoli/Thorndale Line (formerly known as the R5)—the train route that runs to Philadelphia.
We'll start our visit at the humble Paoli Train Station. Once described by a Chester County commissioner as the ugliest along the Main Line, the station, built in 1953, is (finally) undergoing a $36 million makeover—to become the "Paoli Intermodal Transportation Center." When complete the station—which currently serves some 740,000 SEPTA passengers annually—will have a more traveler-friendly platform, a pedestrian overpass, elevators and ramps, and expanded parking lot.
Groundbreaking for the project led Tredyffrin Township Board of Supervisors Chairman Trip Lukens to say, "This is the beginning of a renaissance for Paoli."
New Spots to Check Out
Nearby and much more attractive is The Van Cleve Pavilion, which welcomes an elegant clientele in new surroundings. Formerly housed farther west on Lancaster Ave., the wedding pavilion moved into the former Paoli Design Center (or Ethan Allen store, if you're a local) and hosted its 30th anniversary in January. The 7500-square-foot space—with chandeliers and blush pink walls—showcases well-known fashion designers' wedding gowns plus other formalwear and accessories for the mother-of-the-bride, maids of honor and prom-goers.
Another new addition just down the road is ANEU Approach Café, the latest from Meridith Coyle, formerly of Meridith's Market, Binnie & Flynn's II, Fresh Ideas Market and ANEU Catering. Stop in the 60-seat café for an organic breakfast or lunch and sample scratch-made goodies like gluten-free pancakes, avocado toast plus organic smoothies, fresh pressed juices, teas and Golden Valley Organic coffee. We suggest their Cauliflower pizza crusts, made with the new white veggie miracle. Got an event? Next door there's ANEU Catering and Events, with 25 years of customized catering expertise.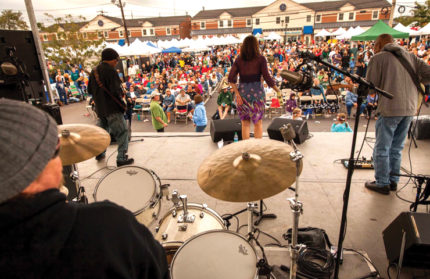 A short stroll from the junction of Routes 252 and 30 you'll find the new-ish EatNic, an "urban farmhouse" eatery from former Saladworks CEO John Scardapane. EatNic features new American fare, a farm-to-fork mission and a vegan menu, all in a rustic setting open seven days a week from 9 to 9.
Culinary Institute of America-trained chef Tim Courtney heads the EatNic team that serves up whatever you want from the menu whenever you want it—like lobster risotto for breakfast.
Another claim to fame for Paoli is its annual tribute to music and community. Eating, dancing, shopping and fun are a few of the attractions at the Paoli Blues Fest & Street Fair, set for the first Saturday in October. This year there's a new location—Paoli Presbyterian Church on South Valley Road—less than a mile from the original location, with plenty of room for the stage, blues musicians, dancing, vendors galore, KidZone and more.
Several reasons to visit now and return this fall.
Who was Charles Ellis?
Charles E. Ellis was born in 1835 to a wealthy Philadelphia family and compounded his fortune in the horse drawn trolley business. A long-time admirer of Stephen Girard, Ellis set out to create a female version of Girard College, which educated orphan boys.
With this in mind Ellis wrote a will that outlined his idea. But in April 1909, he was found dead in bed and so never saw his girls' school come to fruition.
Nonetheless, as dictated by his will, Ellis's plans for a school for orphaned girls proceeded, and in 1922 the school admitted its first girls. From the outset it was an impractical business model, with hundreds of acres of prime real estate accommodating a few dozen students.
In 1977 the school was sold to the Atlantic Richfield Company. And later the land became Ellis Preserve.
back to top