Coming-of-Age Novels
Revisit Coming-of-Age Novels. Find A Title That Speaks To You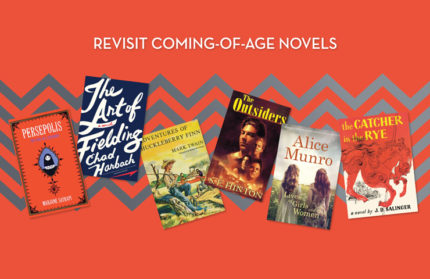 Coming-of-age novels follow the protagonist from youth (typically starting in the teen years) to adulthood. As teens face overwhelming physical, social and societal changes, the novels range from heartening to devastating. The best of these stories capture the zeitgeist—the spirit of the time explored in the novel.
And since everyone must grow up—even droids in science fiction novels—the universal nature of this stage of life ensures the genre survives. As you'll see from the recommendations in this article, the best coming-of-age novels stay relevant for generations. In fact, the Germans even have a special word for this type of book—Bildungsroman.
Many of us overlook the genre because we're removed from teen angst—and frankly may not want to relive our own. Great writers, though, provide a lens through which we may assess our own stumbling journeys and growth, even in adulthood.
These books carry lifelong lessons that aid us in moving forward in our lives. They emphasize the universality of discovery and the fortuitous nature of learning. Here are a few to consider reading or rereading.
Contemporary Choices
Among contemporary works, these three books show a range of sometimes shattering experiences.
The Art of Fielding
by Chad Harbach (2011)
Henry Skrimshander, a superb college baseball player whose name calls forth the inexorable engraving process of life upon our hearts, makes one errant throw during a game and injures a friend. That one haphazard act is the pivot point for the novel and breaks Henry, but then sets him up to be put back together as a very different young man.
Persepolis: The Story of a Childhood
by Marjane Satrapi (2000)
In this graphic autobiographical novel, Satrapi, a bright Iranian girl, sees the beginning of the Iranian Revolution, the overthrow of the Shah, and the settling in of a terrible repression. She discovers her capacity for courage and her cunning under very dangerous circumstances. We follow her as she matures and settles with her family in France.
Lives of Girls and Women
by Alice Munro (1971)
A young woman, Del (perhaps a stand-in for Munro herself), is a wise, clever observer of rural life in Ontario, Canada. The book's title comes from a short speech by Del's mother—"There is a change coming in the lives of girls and women … All women have had (until) now has been their connection with men." This statement certainly rings true in the 1971 setting of the story. In her quest for selfhood, Del encounters vital older women whose failures, toughness and hard-won joys show her that life must be met with tenacity and energy.
Classic Choices
For choices with real staying power, these classic works focus on teens in crisis and the journeys they take to reclaim their lives.
The Adventures of Huckleberry Finn
by Mark Twain (1884)
In this favorite, Twain chronicles the development of Huck Finn from an immature boy who loves playing tricks on others to a thoughtful and moral young man. Originally steeped in the mentality of bigotry and narrow-mindedness—the result of his upbringing—Huck has experiences that teach him the importance of flexibility in handling moral choices. One example of his growing maturity is his decision to help Jim, an escaped slave, to avoid bondage rather than to turn him in, which is what Huck originally intended to do.
The Outsiders
by S.E. Hinton (1967)
In a gang world divided between the haves and the have-nots, Ponyboy is the protagonist living in a hellish social climate defined by his family's poverty and limited circumstances. He's a member of the Greasers, the sworn enemies of the SOCS (short for Socials and higher up on the food chain). The SOCS attack Ponyboy, nearly killing him. By the end of the book, Ponyboy has witnessed senseless violence and murder, but as he works through his grief and frustration, he finds a way to lead a better and purposeful life. You may remember the 1983 Coppola film based on the book.
The Catcher in the Rye 
by J.D. Salinger (1951)
Holden Caulfield may be the classic of classic teenagers in literature. He is walking angst, lacking in focus and direction. He finds no meaning in the reality in which he lives. Towards the end of the book, Holden gives us insight into how he envisions a role for himself:
"Anyway, I keep picturing all these little kids playing some game in this big field of rye and all. Thousands of little kids, and nobody's around—nobody big, I mean—except me. And I'm standing on the edge of some crazy cliff. What I have to do, I have to catch everybody if they start to go over the cliff—I mean if they're running and they don't look where they're going I have to come out from somewhere and catch them. That's all I'd do all day. I'd just be the catcher in the rye and all. I know it's crazy, but that's the only thing I'd really like to be. I know it's crazy."
This passage rescues Holden for us and serves as an example of how, as young men and women, we might find our enduring natures in visions of rescue and goodness.
Find the Wellington Square Bookshop on Facebook, Instagram and on Twitter at WSBookshop. The Bookshop hosts a café, monthly fiction and nonfiction book clubs, author events with book signings and an Avid Reader podcast available on Podomatic. 549 Wellington Square, Eagleview Town Center, Exton. WellingtonSquareBooks.com.
---
Other Coming-of-Age Novels:
The Goldfinch by Donna Tartt (2013)
The Kite Runner by Khaled Hosseini (2003)
Ender's Game (science fiction) by Orson Scott Card (1985)
A Separate Peace by John Knowles (1959)
A Tree Grows in Brooklyn by Betty Smith (1943)
Native Son by Richard Wright (1940)
Of Human Bondage by W. Somerset Maugham (1915)
Great Expectations by Charles Dickens (1861)
Emma by Jane Austen (1815)
back to top