Christmas in the Two Cities
Light up the holidays with visits to Philadelphia and Bethlehem
The holiday season serves as a time not only to meet with friends but to take advantage of exploring nearby places and enjoying a different perspective. To the east, Philadelphia beckons. To the north, the Christmas City, Bethlehem, offers a variety of Christmas cheer.
Philadelphia Festivities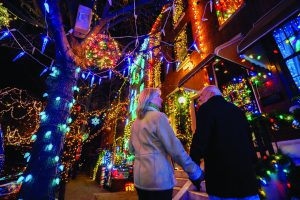 Philadelphia has long had a love affair with electrifying moments, and the  holiday season is no exception. Sure, the Phillies and Eagles provided their share of electrifying moments in the fall, but we're talking about real electricity, the kind Ben Franklin tinkered with using kite and key.
Of course, Macy's at 13th and Market Streets presents a spectacular light show concert, dating back to 1956 at the Wanamaker's Building, and the 15th year of the Christmas Village at LOVE Park will light up the night sky. But let's try something different, shall we?
South 13th Street
South Philadelphia has cultivated a unique perspective on life over the years, and nothing illustrates that more than the Christmas Celebration, Miracle on South 13th Street. Take an evening stroll down the 1600 block between Tasker and Morris Streets and prepare to have your senses dazzled (from Thanksgiving and New Year's Day).
There are about 50 homes along this stretch of 13th Street, and almost all are decorated for the holiday season. Some go for simple; other go all out and over the top. Taken together, every house on the street shines, thanks to efforts that grew more organized with time and now encompass several blocks.
There are two good ways to see the Miracle on South 13th Street. Drive up 13th Street from Morris (the street isn't blocked off). Driving will keep you warm and also provide an overview. For a closer look, park your car on an adjacent street — if you can find a parking space — and stroll the neighborhood. Or be green and take the Broad Street Subway to the lights.
For more on this and other festivities in Philadelphia, VisitPhilly.com.
Franklin Square
You've heard of Rittenhouse Square and Independence Square, but neither holds a candle this time of year to Franklin Square, which has established its own corner at 6th and Race Streets.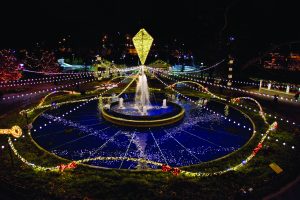 Trip the light fantastic with the incredible Ben Franklin-themed Electrical Spectacle Light Show. The square glows with more than 200,000 lights, centered around the historic Franklin Square Fountain. The production features "Feliz Navidad" and "Dance of the Sugarplum Fairies," among other festive tunes.
Shows run every 30 minutes from 5 p.m. to closing. Try a round at Chilly Philly Mini Golf, with Philly landmarks, or take a spin on the Parx Liberty Carousel. Add comfort food, local beers and hot beverages (including spiked hot chocolate) at Franklin's Winter View. Outdoor fire pits and an indoor heated tent rounds out the festivities.
Morris Arboretum
Electrifying in its own way, the famed Morris Arboretum excites the senses with its annual Holiday Garden Railway through January 4. A quarter mile of track features seven loops and tunnels with 15 different rail lines and two cable cars, nine bridges (including a trestle bridge you can walk under) and bustling model trains, all set in a winter garden.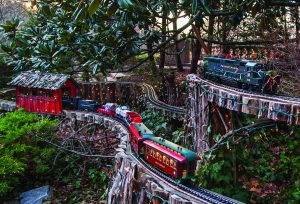 The display and buildings are made of natural materials: bark, leaves, twigs, hollow logs, mosses, acorns, dried flowers, seeds and stones. The holiday installation creates a miniature landscape complete with small streams.
In a program dubbed "Friday Night Lights," white lights sparkle along the train tracks and around the accompanying landscape. Miniature greens adorn miniature buildings, including local landmarks like Independence Hall.
Advance tickets are required. Morris Arboretum is located at 100 E. Northwestern Avenue. Visit MorrisArboretum.org for more information.
Not So Little Town of Bethlehem
Think Bethlehem. Think Christmas. Think Christmas City. Think … wait. We need context.
On Christmas Eve in 1741, Count Nicholas von Zizendorf founded a small Moravian settlement on the banks of the Monocacy Creek and named it Bethlehem. Fast-forward to 1937. The Bethlehem Chamber of Commerce, mindful of Bethlehem's first Christmas, declared: "Why not make Bethlehem the Christmas City for the entire country?"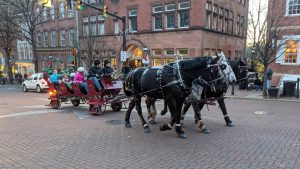 Just like that. We declare these truths to be self-evident. Bethlehem is the Christmas City. And to cement the declaration, there's a star on the hill, shining down from South Mountain, above Lehigh University, reminding us all of the Biblical guide of the Magi. And just an hour-and-a-half drive from West Chester.
At the time of the Chamber of Commerce's declaration, the steel industry in the U.S. was in its heyday. If you didn't work for Bethlehem Steel, you worked for businesses that supported Bethlehem Steel. But when the steel industry fell onto hard times and Bethlehem Steel shut its gates in 1998, the company left a large, unsightly, dirty acreage.
Not everyone in Bethlehem saw an eyesore. An umbrella organization known as ArtsQuest saw a way to turn the land into a sort of artists colony, a purveyor or music, comedy, film and other performances under the moniker of the SteelStacks. Visit ArtsQuest.org to learn more.
Start your visit with a holiday tradition. Take a horse-drawn carriage ride through downtown North Bethlehem. Catch the ride in front of Central Moravian Church, 73 West Church Street. Offered weekends through the end of the year.
Christkindlmarkt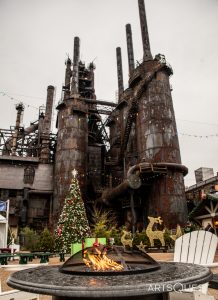 Come Christmas season, ArtsQuest brings a tented, open-air market, Christkindlmarkt, for five weekends, through December 18. On the culinary side, the market showcases a variety of holiday fare like strudel, German bratwurst, German roasted almonds, German mac and cheese, piping hot poutine, mashed potato balls and more.
The market also features handmade works by more than 50 of the country's best artisans. Or make your own holiday-themed crafts at the Crayola Creativity Station or glass artworks at ArtsQuest Hot Glass Experience.
Twice recognized as one of the country's best holiday markets by Travel + Leisure and USA Today, Christkindlmarkt takes place at PNC Plaza at SteelStacks, 101 Founders Way.
A new addition to the holiday landscape, the Ice Rink at SteelStacks is located at the base of the historic blast furnaces, open from Thanksgiving through the holidays. It's also the only outdoor, authentic ice rink in the area.
PeepsFest
The holiday season and the year close out on December 30 and 31 with a celebration of the decorative marshmallow yummies known as Peeps, made in Bethlehem at Just Born Quality Confections since 1953.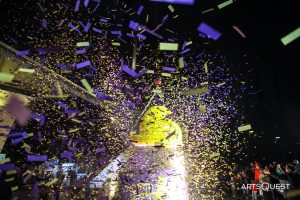 The city takes out the old year not with a ball drop but with the dropping of a 400-pound lighted Peeps chick. And it happens twice from within SteelStacks. Tickets are $5 and include Just Born goodie bags for kids under 12, a coupon for a free s'mores kit for kids, and access to live music and entertainment.
Not enough Christmas cheer? Nazareth is less than a half-hour drive father north!
back to top