Choosing a One-of-a-Kind Gift
Support the arts this giving season
Gift giving—often a major challenge at this time of year—can become a pleasure when a unique work of art is presented to someone special in your life. Choosing to mark a holiday or event with an expressive gift of art means you've done more than scroll through the latest list of "top electronic gifts for 2021."
And deciding to give a gift of art can become its own memorable occasion if you involve the recipient in selecting something that will become a permanent part of their life.
Fortunately for those searching for that one-of-a-kind gift, our area offers many options at both art events and art galleries. And the search for that perfect gift can be as much fun to give as to receive.
Art Markets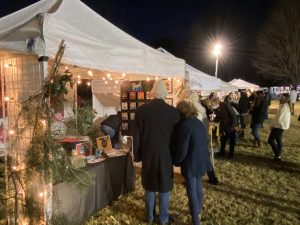 Let's start first with two popular seasonal art events sponsored by the Chester County Arts Association, offering opportunities to explore original works of art priced with every budget in mind.
Christkindlemarkt, a traditional German outdoor/indoor holiday marketplace, lets you browse artworks by a variety of local artists and artisans who offer paintings and handmade pottery, each with the personal touch only an artist can give. Held over two days—December 3 from 5 to 9 p.m. and December 4 from 10 a.m. to 7 p.m. at the Arts Association—the market embodies the spirit of the holidays, with live music, lighted Christmas trees, food trucks and artisan food vendors. Much more enjoyable than looking for parking at the mall!
Next, on December 9 through the end of 2021, is the "$300 and Under" exhibition, where you'll find exquisite original art works by Arts Association members on display—all priced, not surprisingly, under $300. Choose a favorite without worrying about busting the bank. Enjoy the exhibit, pick out a special piece and share a lifetime of smiles as a reminder of that time. Chester County Arts Association, 100 N. Bradford Ave., West Chester. More at ChesterCountyArts.org.
Local Art Galleries
            We've rounded up ten of our favorite galleries, studios and art centers with something special this season. Have some fun and create your own tour.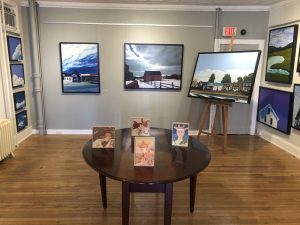 Jump-start your holiday shopping in West Chester's local galleries beginning with the David Katz Gallery. David Katz, a.k.a The Sky Painter, transforms favorite Chester County landscapes into stunning works of art. For the holidays, stop in and browse twenty 14×18 original framed works—perfect for gifting. 128 E. Gay St., West Chester. DavidKatzGallery.
Then visit John Hannafin Studio and Gallery for impressionist oil paintings with uplifting colors and energetic brushstrokes. Gift a painting unique to someone special on your list with custom orders this holiday season. And watch for a grand re-opening of the renovated art studio coming soon. 19 S. Church St., West Chester. JohnHannafin.com.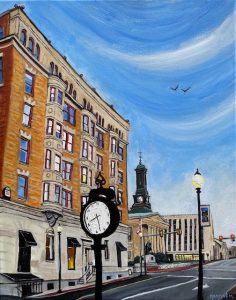 Practice the art of thoughtful giving this holiday season at The Art Trust's "Gifted" exhibit through January 7. Discover original art priced anywhere from $45 to $500 and ranging in mediums from paintings and sculptures to ceramics and jewelry. 16 W. Market St., West Chester. TheArtTrust.org.
A full-service gallery specializing in local art, Visual Expansion Gallery displays art ranging from realistic paintings to flower sculptures. Keep it festive and purchase Christmas ornaments featuring paintings and photographs of West Chester holiday scenes. You can also find fine art photos of the Borough and beyond by one of our favorite photographers, Timlyn Vaughan. 132 N. High St., West Chester. VisualExpansionGallery.com.
Let your holiday shopping continue while supporting artists with disabilities at Bryn Mawr Rehab's Art Ability Exhibit and Sale through January 30. Artists from around the world with cognitive disabilities submit their work, ranging from paintings and photographs to fiber arts and stained glass. 414 Paoli Pk., Malvern. MainLineHealth.org/ArtAbility.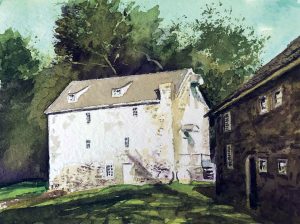 Next, head to the Wayne Art Center's 26th Annual Craftsforms Holiday Shopping Weekend, December 10–12. View works from over 100 artists who create jewelry, apparel and accessories, home décor in wood, glass, textiles and wax, as well as unique gifts, cards and books. 413 Maplewood Ave., Wayne. WayneArt.org.
Mark your calendar for the Community Arts Center in Wallingford's holiday sale of fine crafts and pottery on December 3–11. The sale features one-of-a-kind handcrafted objects by members of the Potters Guild and other local artists. Shoppers can pre-register for a one-hour time slot during the first two days. 414 Plush Mill Rd., Wallingford. CommunityArtsCenter.org.
Shopping for a novice art collector? Visit Barbara Moore Art Gallery for their 5th Annual "Christmas in Miniature Art Exhibit and Moore," featuring original works from over 40 artists that are, well, in miniature. These small pieces are perfect for giving and starting the love of art collecting. 1609 Baltimore Pk., Bldg. 400A, Chadds Ford. BarbaraMooreFineArt.com.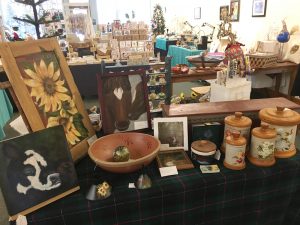 When in Kennett, visit the Square Pear Gallery for their holiday show "Wrap It Up" on display through January 9th. Explore featured works including paintings, pottery, glass art, jewelry, art prints and cards. You're sure to find something for everyone on your list. 200 State St., Kennett Square. SquarePearGallery.com.
Wrap up your holiday shopping at the Oxford Arts Alliance and their annual Artisan Gift Shop through December 18th. Shop local artisan goods and wares including modern macramé decorations and wall art, watercolor paintings and traditional pottery. 38 S. Third St., Oxford. OxfordArt.org.
Whether you're just beginning to appreciate collecting artwork, are seasoned collector or buying for an art lover, you'll want to take advantage of this chance to truly engage with the best of Chester County area artists.
Malcolm Johnstone is a Community Engagement Officer for Arts, Culture, and Historic Preservation at the Cultural Alliance of Chester County, an initiative of the Chester County Community Foundation.
Madison Meinel contributed to this article.
back to top