Brews and Beyond
Local beer and wine scenes continue to flourish, so drink up!
Raise a glass to new beers, new spots and a happy New Year! The Chester County beer and wine scene is thriving with drink releases, expansion plans and socially distanced events to keep us entertained throughout the winter. So, ring in the New Year all month long with a delicious craft brew or a glass of local wine and take a closer look at some things we think you'll want to know.
Coming Soon
If you're yearning to bring the brewing experience home, check out Iron Hill's plans for a new large-scale production facility in Eagleview in Exton. The brewery is expanding into off-premise sales for the first time with beer available for purchase in Delaware and sales in Pennsylvania and South Jersey coming soon. They're kicking off this new venture with year-round crowd favorites like Sweet Leaf IPA, Hipster IPA and Philly Phavorite IPA. So, keep an eye out for your favorite coming to retailers near you!
Iron Hill isn't alone with expansion projects. Downingtown-based Victory Brewing also has plans afoot. The brewery set a new target date for a taproom and brewery on the Ben Franklin Parkway—marking their first move into Philadelphia. The location will feature three bars, a full kitchen, an outdoor space, a 10-barrel production brewing system, and of course plenty of great Victory brews. The new target date is mid-2021.
And the Exton beer scene is expecting more changes with Stolen Sun Brewery and Roastery. The brewery is expanding into the warehouse, formerly a UFC gym, right next door, adding around 6,500 square feet of space. The new space will allow more room for the brewery to operate while also accommodating COVID restrictions (well-timed for the colder months coming up). Renovations will include an indoor beer garden, all planned for early 2021.
New in West Chester
Wrong Crowd Beer has landed in West Chester and is bringing their craft brews to their new location on Hannum Ave. This small but mighty operation is the result of hard work between two friends and brewers, Dan Shaw (former manager of Pinocchio's Beer Garden) and Bob Bagenis. The duo has upgraded their business with this 15-barrel brewhouse and 30-barrel fermenters for customers to enjoy creatively named brews, like Robert Brownie Jr. (a chocolate oatmeal stout) and Kid Presentable (a grapefruit and juniper sour ale).
What's on Tap?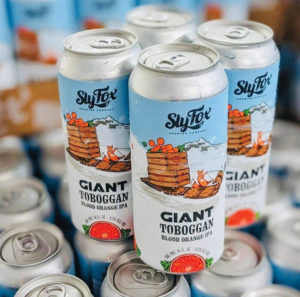 Many local breweries have been busy creating new brews during the past couple months to keep customers engaged even while at home. Phoenixville-based Sly Fox Brewing recently teamed up with Giant to release its Giant Toboggan IPA. Sly Fox is the latest brewery to partner with Giant as part of the PA Preferred program that highlights local food and beverage producers. The collaboration between the two teams resulted in a blood orange IPA, available in 4-packs of 16-oz. cans.
Phoenixville's Root Down Brewing Company introduced their milkshake IPA, Sticcy Thiccy. This lactose-based IPA is brewed with mixed berries (blackberry, raspberry, blueberry), milk, sugar and vanilla for a smooth and creamy milkshake finish. Now available in 4-packs and draft so you can satisfy your ice cream fix as you imbibe.
Bourbon fans will love Malvern-based Locust Lane's Bourbon Barrel-aged Imperial Stout. This brew, aged in a Makers Mark barrel for four months, has bold flavors of roasted coffee and chocolate along with a classically dark sheen.
And adding to their family of New England hazy IPAs, Braeloch Brewing in Kennett Square announced their new Helluva Haze IPA. Loaded with El Dorado, Citra and Mosaic hops, this brew is full of citrus and tropical fruit flavors. Add a little sunshine this winter with flavors of pear, watermelon and stone fruit in each sip.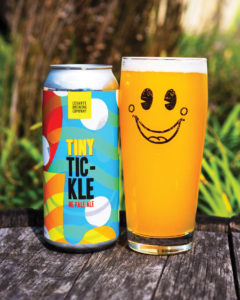 For another lighter option, head for West Chester and try Levante Brewing's Tiny Tickle. Featuring a honey-crisp malt profile filled with Citra hops, this New England pale ale will tickle your tastebuds with its delicious flavor.
Sterling Pig Brewery, with pubs in Media and West Chester, collaborated with Glen Mills-based Deer Creek Malthouse on a series of recipes inspired by PA farmers who grow grain. Using high quality, flavorful and local ingredients, the team created a satisfying and delicious Dark Lager full of notes of roasted malt.
And Victory Brewing saw an unexpected boom in sales of their classic lagers from their newly introduced brews, as many customers reached for comfort foods and beverages. Dark lagers and amber ales provided beer enthusiasts with the comfort of tried-and-true beers.
A Night Out
The pandemic may have postponed many events, but local breweries have gotten creative when it comes to keeping customers coming in for a good time and great drinks (safely of course). Stable 12 Brewing Company held events like Drinks Well with Others, which helped bring together local businesses, like wineries, distilleries and restaurants. One of their recent events featured a whiskey flight tasting from local distilleries with cheese boards from the Grand Fromage in Skippack and truffles from Phoenixville's Bridge Street Chocolates.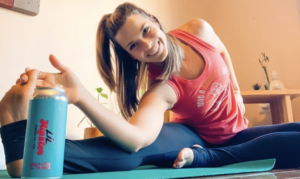 La Cabra Brewing has been hosting Trivia Night with the Tredyffrin Public Library. You can test your trivia skills while tasting delicious food and beer. The brewery also hosted the less competitive event Nah, Imma Stay at La Cabra Brewing—Beer Yoga. Participants enjoyed some lighthearted yoga flow along with their favorite beverage for a relaxing afternoon.
Some spots have moved their in-person events online. Steel City Coffeehouse and Brewery hosts online open mic nights on Zoom. You can sign up to play or just hang out and listen to talented performers from the comfort of your home.
Kennett Brewing Company features live music on their Facebook page for everyone to enjoy. Pick up your favorite crowler, sit back and enjoy a live concert from your laptop.
Wine, Dine and More
If you're looking to switch it up from beer to wine, stop by local wineries for a glass, a tasting session or a bottle to go.
Get out of the house for a bit and check out Black Walnut for their Painting Under the Influence event. Sip a glass or two while painting a wine glass to take home with you. Or maybe try a weekend afternoon at Chadds Ford Winery for their Reserve Tasting. Tour their newly renovated barrel room while sampling several wines paired with artisanal snacks.
If you'd rather have a wine tasting from home, head to Penn's Woods Winery's Instagram page for their virtual Happy Hour. Follow along as they discuss different types of wine and the best pairing for each.
Many local wineries held outdoor wine tasting (until the weather got too cold), complete with food trucks, fire pits and live music. We're excited for the weather to warm up so we can enjoy a glass of wine while gazing at the many scenic vineyards in the Brandywine Valley again.
In the meantime, we hope you'll continue to support the many local breweries and wineries that have worked hard to keep us close (even while distanced) through good drinks and good company. Next time you're out, shop local by picking up a 4-pack or bottle of wine for your next happy hour. Cheers!
back to top