Brandywine Valley
Deliciously Rich, Overtones of Laughter, Hints of Adventure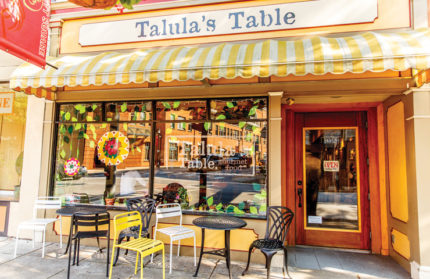 Brandywine Valley: a multi-varietal blend of eating  and drinking establishments with complex and sometimes surprising flavors —sweet, savory, bright … even  a bit nutty. Best tasted with friends.
When it was time to explore great establishments in the Brandywine Valley, I called my fun-loving, adventurous pals: "Rev up the engine. We're heading south."
Escapades began with Va La Vineyards in Avondale. Checking out the website, we were laughing before we'd hit the road. "Before setting out please call to verify hours in cases of inclement weather, holidays, or apocalyptic end of days scenarios." It also cautioned: "Trying to contact Va La has been likened to attempting to contact the dead. We are in the field … " We scanned the sky, gambled that apocalyptic events weren't imminent and pressed on.
The gamble paid off handsomely. For all the mirth, the wine and tasting experience were seriously good. Really seriously good. Va La deserves every accolade as one of The Daily Meal's 101 Best Wineries in America.
We tasted five suberb wines: Prima Donna, Zafferano, Silk, Barbera and Mahogany. The pairings were delightful, including property-grown pears and the winemaker's grandmother's homemade focaccia. My biggest thrill was discovering Zafferano—rich butterscotch-colored wine with a hint of honeysuckle taste—paired with honey-drizzled goat cheese.
We carried away wine, cheese and stories that tickled our funny bones, including one about an old gentleman who rolled down his Cadillac's windows, surveyed the vineyard and pronounced, "No grapes can grow in Avondale. You people CRAZY." As we left the winery, we watched New Garden Air Show overhead. The entire experience soared.
Dessert First
Our travels continued, now in the pursuit of desserts, for the sake of research, of course.
When contemplating dessert first, consider the Kennett Chocolate Lovers' Festival's first place award winners: Lucy B's Chocolate Hazelnut Cake and Charlie's Chocolate Cupcakes by The Gables of Chadds Ford.
For fun, order an artisanal cheese flight at Sovana Bistro. Sample gems from Italy (don't miss creamy La Tur and a glass of bubbly), France, Holland or stay local with Seven Sisters by Doe Run. Go rogue with Rogue River Smokey Blue from Bonanza Dairy in Oregon … with truffle honey and paired with dark red wine, it's the loop-de-loop of the flight.
Ice cream lovers, hurry to Michoacana's before the season's end. Bravely sample dubious-sounding flavors that traditional parlors wouldn't dare—corn or avocado. You might hear yourself say, "I'll take two scoops of the avocado." Everyone there will understand.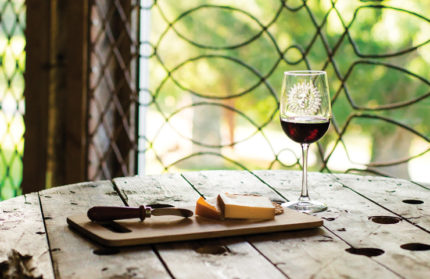 Imbiberies
For an outing sure to conjure notes of I Love Lucy episodes at the candy conveyor belt and grape-stomping in Italy, call Galer Estates. Ask for an invitation to a sorting table party—an uproariously good time complete with background music, but an event with a serious purpose. Ten people inspect grapes to ensure that no stem, bud or other detritus makes it into the wines … all to the tempo of a conveyor belt. Don't dilly dally or shilly shally if you want to participate. The season's last grapes are sorted in October.
Too timid to face a conveyor belt? Galer Estates offers tastings of their award-winning wine, concerts and other exciting events at the vineyard. Or enjoy an evening unwinding in beauty, sipping wine in the gorgeous tasting room or on the deck overlooking rows of grapes at sunset.
Artist Lele Galer worked magic with stained glass, Art Deco doors from an old New York City bank and a marble bar; every view inside and out is memorable.
Beer lovers, where else will you find an ale described as "black as night, damn near chewy" besides Kennett Brewing Company? This fall, raise a glass of stout aged in Whiskey Hollow Farm's barrels that once held maple syrup. Or opt for Pie and Beer Flight Night that pairs beers with dinner from Kennett neighbor, Nomadic Pies.
For a different treat, pack straws for you and your adventurous friend. Drive to Baily's Dairy. Turn at the sign with the cow, wind your way up the pasture lane, and mind the chickens while parking. Step into Baily's market and, gloriously, back in time. Pick up a bottle of scrumptious creamy chocolate milk; if no one is at the register, deposit payment in the metal box and record your purchase in the notebook. Unpack your straws and thank cows Shelby, Priscilla and Camille.
Eateries
For those who insist on other courses, the Brandywine Valley has distinctive eateries. In fact, I daresay you won't find such eclectic and great food anywhere else outside of whomping big American cities.
When locals boast about having a seat at the table, it may be at Talula's Table. Set your alarm to make reservations one year in advance for the Farm Table. If you sleep through the alarm, visit the shop on State Street for pastries, hickory-smoked bacon, homemade soup and the perfect cheese—their words. Or visit LaVerona, where Vice President Biden dined, or Lily Sushi, if it's a Tuesday, for their all-you-can-eat special, both also on State.
Junto's has a chef's tasting menu at dinner that we've always found superlative and features locally sourced ingredients. Chef/ Owner MacGregor Mann is also now behind the menu at the Brandywine River Museum's Millstone Café, so we gave it a whirl.
After finishing my potato leek soup (plus a spoonful of my friend's mushroom soup) and fresh salad, I was as happy as Helen, the smiling 400-pound sculpted bronze pig in the garden between the river and museum. To avoid resembling Helen, I strolled the riverside trail starting at the path where she relaxes.
Fancy some chips? Meander the county's scenic roads to The Whip Tavern, local British pub for fun, food and ale. Relax with a pint. Warm up by the fireplace on chilly nights, and in warm weather get your Bangers and Mash, Bubble and Squeak, and Fish and Chips with a side of mushy peas on the patio along Doe Run.
Got room for more good food, drink and adventure? Cross the line. To Delaware, that is. Minutes away from Winterthur's exquisite food for thought is Collier's wine cellar—brimming with bottles and conversation. Visit the Delaware Art Museum, where Chef Dan Butler operates the Museum's Thronson Café.
Or there's always second helpings.
back to top