Brandywine Valley Home & Garden Tours
A guide to local tours, plant sales and festivals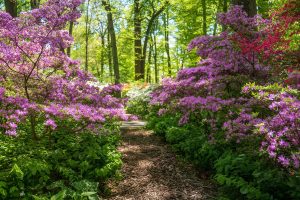 Follow us on our journey to explore the magic of spring. We'll visit gardens and nurseries, museums and homes, arboretums and preserves, all offering the best of the season. You'll be inspired to bring some of the magic home with you … Enjoy!
Through December
America's Garden Capital Passport. This passport is an exclusive guide to exploring the region's public gardens — 30+ gardens in 30 miles. Visit them all! To see the complete list of gardens and download your passport, visit AmericasGardenCapital.org.
April 28–30
Wildflower Weekend at Mt. Cuba Center. Enjoy three days of live music, gardening activities, outdoor family programming and more. A variety of food selections and native plants will be available for purchase, while supplies last. 3120 Barley Mill Rd., Hockessin. Register at MtCubaCenter.org/Wildflower.
May 5 & 6
Arasapha Garden Club's 80th Anniversary May Market in Historic New Castle. Garden experts help you choose from annuals, herbs, perennials, houseplants and a great selection of native plants. Home Treasures Sale includes antiques, art, linens, household items, jewelry and decorations. Market Square, 201 Delaware St., New Castle, DE. Fri, 10 to 5; Sat, 9 to 3. Arasapha.org.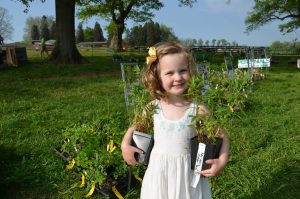 May 5 & 6
DE Nature Society Native Plant Sale. More than 300 rare varieties of native wildflowers, trees, shrubs, ferns and aquatic plants for sale. Many species that attract wildlife. Coverdale Farm, 543 Way Rd., Greenville, DE. Fri, 2 to 7 (member day); Sat, 9 to 3. DelNature.org/NPS.
May 6
Azaleas & Bluebells at Winterthur Museum & Garden. Enjoy the spectacle of thousands of azalea blossoms and acres of wildflowers. The day's events include plant sales, staff-led and self-guided tours of Azalea Woods and more. Included with admission. Rt. 52, Winterthur, DE. 10 to 3. $5–$20. Winterthur.org.
May 6
Stoneleigh: A Natural Garden—Spring Flowering Tree Tour. Join Stoneleigh staff and explore the fascinating collection of early- blooming trees, from dogwoods and redbuds to silverbells and serviceberries. 1829 E. County Line Rd., Villanova. 10:30 to noon. $15. StoneleighGarden.org.
May 6 & 7
Jenkins Arboretum & Gardens Plant Sale Weekend. A large sale co-sponsored by the Valley Forge Chapter of the American Rhododendron Society and featuring rare and unusual rhododendrons and azaleas, plus a large selection of native trees, perennials and shrubs. Jenkins Arboretum, 631 Berwyn Baptist Rd., Devon. 9 to 4. JenkinsArboretum.org.
May 7
Scott Associates Garden Day Tour. Stroll through gardens in the Lansdowne and Drexel Hill area to become inspired, learn about plant combinations and get gardening tips. 1 to 6. $25. ScottArboretum.org.
May 7
Chestnut Hill Home & Garden Festival. Explore plants, crafts, handmade furniture and artwork from over 150 vendors as home and garden design and supplies take the spotlight. Live music and dining at restaurants on Germantown Ave., Chestnut Hill. 11 to 5. Rain date May 21. ChestnutHillPA.com.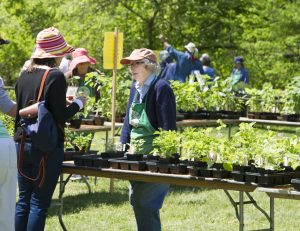 May 11
84th Annual Phila. Herb Society of America Herb Sale. Culinary and fragrant herbs and many rare and unusual scented geraniums and salvias will be featured. The Made By Members boutique highlights herbal specialties. Cash or check only. Historic Yellow Springs, 1685 Art School Rd., Chester Springs. 10 to noon, rain or shine. HSAPhiladelphia.org.
May 11
Showcase of Homes at Hershey's Mill. See May Picks in this issue.
May 11–13
Wilmington Flower Market. Benefits dozens of nonprofit Delaware children's agencies. Carnival rides, art, gifts, entertainment, flowers and plants of all kinds are available. Rockford Park, Wilmington. Thurs–Fri, 10 to 8; Sat, 10 to 7. Free. WilmingtonFlowerMarket.org.
May 12 & 13
Landis Valley Museum Herb & Garden Faire. Featuring plants from Landis Valley Museum's Heirloom Seed Project plus heirlooms, natives and other hard-to-find varieties from vendors spread out over the historic village area. Food and drink available onsite. 2451 Kissel Hill Rd., Lancaster. 9 to 5. LandisValleyMuseum.org.
May 13
Uwchlan Garden Club Plant Sale. Find a beautiful selection of vegetable and herb plants, garden crafts, something for the birds and bees, perennials, shrubs, trees and gifts. Benefits the 1756 Uwchlan Meeting House. 5 N. Village Ave., Lionville. 8 to 2. UwchlanGardenClub.org.
May 13
Garden Walk at Winterthur—Azaleas and Spring Flowers. Join the director of Winterthur on a special walk highlighting interesting and seldom seen parts of the landscape. 5105 Kennett Pk., Winterthur, DE. 1 to 2:30. $8–$22. Winterthur.org.
May 13 & 14
Brandywine River Museum of Art Wildflower, Native Plant & Seed Sale. Shop for a wide variety of native grasses, ferns, vines, shrubs and trees. Staff and volunteers will be on hand to answer questions and provide planting information. Rt. 1, Chadds Ford. 9:30 to 4:30. Free. BrandywineMuseum.org.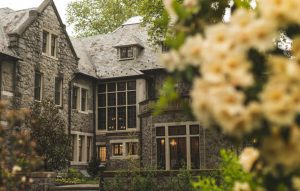 May 13, 27, June 10, 24
Home and Garden Tours at Stoneleigh: A Natural Garden. Dazzling displays of native plants, ancient trees and landscape designs are highlighted, along with a tour of the spectacular Tudor Revival Main House. 1829 E. County Line Rd., Villanova. 10:30 to noon. $15. StoneleighGarden.org.
May 14
Mother's Day Open Gardens at Welkinweir. The gardens, with azaleas at their peak, will be open to visitors to walk and hike. Bring a picnic to enjoy in the garden. Free. 1368 Prizer Rd., Pottstown. Welkinweir.org.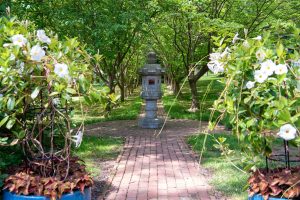 May 17
Shipley School Secret Gardens Tour. Explore magnificent properties located in Main Line neighborhoods with an optional luncheon. Tour and lunch, $95; tour only, $50. 9 to 3. ShipleySchool.org/SecretGardens.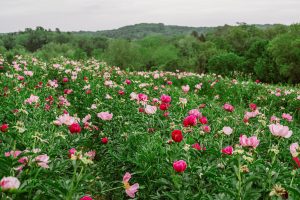 May 18–29
Festival of the Peony. Walk through 25 acres with more than 55,000 peonies and cut your own to take home. May 19, 26, Tailgate Nights—bring a tailgate picnic to enjoy at sites throughout the fields set up with table, chairs and a floral arrangement of peonies. Bring a vase to take the peonies home. 4313 S. Creek Rd., Chadds Ford. Daily 8 to 6. $15/person or $30/car. StyersPeonies.com.
May 20
A Day in Old New Castle. An 18th-century market fair where you can take a rare and exclusive look into the private homes and gardens, historic landmarks and museums in Old New Castle. Enjoy historical reenactments, entertainment, artisans, children's games, tours of the Kalmar Nyckel tall ship, food tents and vendors. 50 Market St., New Castle, DE. 10 to 5. $16–$25. HistoricNewCastle.com.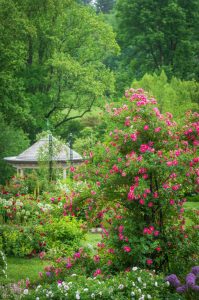 June 2
Moonlight & Roses at Morris Arboretum. Dining and dancing under the stars, surrounded by the beauty of roses in bloom. The annual fundraising event supports all aspects of the Arboretum's mission. 100 E. Northwestern Ave., Philadelphia. For info and to purchase tickets, MorrisArboretumGala.org.
June 3
Garden Day at White Horse Village. The senior living community showcases the talents of resident gardeners. Self-guided tours, 10:30, complimentary lunch at noon, registration required. 535 Gradyville Rd., Newtown Square. Free. Rain date, June 4. WhiteHorseVillage.org.
back to top