Brandywine Valley Art Gallery Roundup
April Showers brought May flowers — along with new art tours, shows and exhibits to explore
Spring adds new life and beauty to the world, and the Brandywine Valley art scene does the same to our community. This month and beyond, explore our local art scene, from studio tours to gallery walks to art shows that are sure to brighten your spring — and maybe your home with a new piece of art.
Mark your calendar for these art events in this year's spring roundup.
49th Yellow Springs Art Show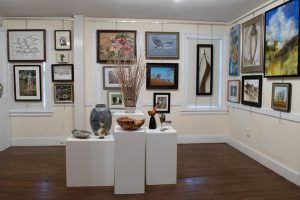 Bring color to your day with a visit to the 49th Yellow Springs Art Show, running through Sunday, May 15. The show features over 4,000 works in a wide range of media including sculpture, watercolors, pastels and oils. Coupled with the charming setting in the village of Historic Yellow Springs, this show is a special treat every spring.
As a bonus, this year's art show also has your Mother's Day plans covered. "Art Around the Village," on May 8 from 10 to 4 p.m., provides a host of outdoor activities like plein air painting, a pottery demonstration, Mother's Day basket raffles and live music on the Lincoln Building's porch. Savor fresh wine and cheese for a lunchtime snack at their pop-up shop. Plus, 35% of proceeds from the day's art sales go to Historic Yellow Springs to maintain its historic buildings and support educational programs and community events. YellowSprings.org.
West Chester Gallery Walk
What sounds better than an evening stroll through Downtown West Chester viewing art? Explore the vibrant art scene at this Spring's Gallery Walk, showcasing the work of a thriving community of artists in West Chester. Presented by Sunset Hill Jewelers and Fine Arts Gallery and hosted by the West Chester Business Improvement District, this annual event takes place on Friday, May 6 from 4 to 8 p.m. and includes free, on-street parking — always a bonus in West Chester.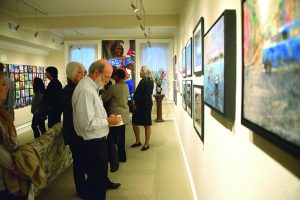 Browse art on display at 18 stops — in local galleries, including Church Street Gallery and Visual Expansion Gallery, and in one-night-only venues throughout downtown. Extend your evening with drinks and dinner at one of West Chester's many restaurants. Get a map of art stops on the BID website to plan your tour.
Mark your calendars for Fall's Gallery Walk scheduled for October — double your art fun! DowntownWestChester.com.
 14th Annual Wayne Art Center Plein Air Festival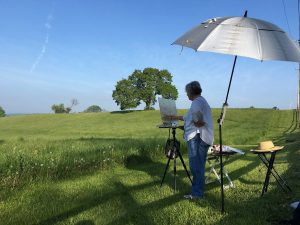 Get ready for art and fresh air! Wayne Art Center celebrates its 14th annual Plein Air Festival from May 9 to May 14, fully embracing the practice of painting en plein air ("outdoors" in French). Over 30 professional artists from around the country can be found all around Wayne, painting the town's landscapes and buildings as members of the public look on.
On May 14 from 6 to 10 p.m., guests at the Collector's Preview Party get a first glimpse of over 250 landscape paintings created by these artists. Enjoy live music paired with hors d'oeuvres and drinks from the open bar at this ticketed event. Starting the next day, the artwork goes on display and sale at the festival's exhibition, running through June 25. WayneArt.org.
Chester County Studio Tour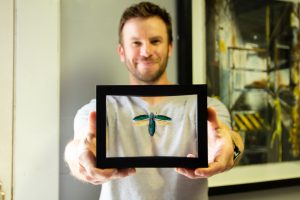 Interested in seeing where local artists hone their craft? Visit 66 studios used by 165 local artists as part of this year's Chester County Studio Tour, on Saturday and Sunday, May 14 and 15. During this self-driving tour, you'll meet artists all around the county happy to discuss the paintings, sculptures, photography, glass, pottery and even jewelry they create.
Check the website for hours (they vary) and suggested routes. For example, click the website's Find 5 tab, put in your location, and see which five local studios are closest to you. The over 600 signs scattered around the county will help guide your tour. CountyStudioTour.com. 
Craft + Mercantile – Eagleview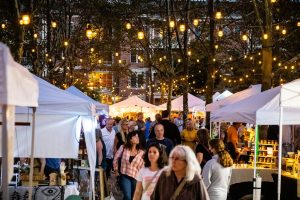 Support local makers and artisans at Craft + Mercantile on two Fridays evenings, May 20 and June 17 from 5 to 8 p.m. Browse over 20 stalls filled with unique, hand-made products displayed under the stars and string lights in Eagleview Town Center. For dinner, head to the night market's food trucks or a nearby Town Center restaurant, and sip cocktails or beer while enjoying live music.
Bring the whole family along for an evening of fun. While parents shop and grab a bite to eat, kids 12 and under can enjoy doing arts and crafts. GrowingRootsPartners.com. 
Art Gallery at Devon
Alongside equestrian fun at the Devon Horse Show, the Art Gallery at Devon displays a fine selection of art. See the Devon Horse Show article in this issue for more.
At the Museums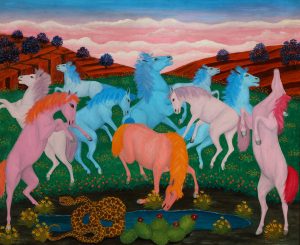 Art and poetry make for a magical museum trip. The Delaware Art Museum celebrates the Distinguished Artist exhibition, "e. jean lanyon: The Magic Language," through August 7. Delaware-native lanyon weaves visual art and poetry together to convey a powerful story of nature and the human experience. View nearly 70 objects dating from the 1950s through 2021, including illustrations, paintings, prints and books. Entry to the exhibit is included with museum admission, $6-$14. DelArt.org.
Want to learn how early 20th-century, self-taught American painters changed the art world? Brandywine River Museum of Art opens a new exhibit, "Gatecrashers: The Rise of the Self-Taught Artist in America," from May 28 through September 5. Explore over 60 works that offer a fascinating perspective on how these artists were perceived for "gatecrashing" the art world during both World Wars. The exhibition showcases two dozen painters, including Anna Mary Robertson "Grandma" Moses, John Kane and West Chester's own Horace Pippin. See how these works shaped American art as we know it. Admission, $6-$18. Brandywine.org.
Smaller Galleries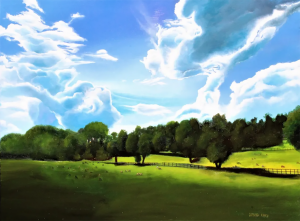 Nestled in Downtown West Chester, David Katz Gallery is one of West Chester's only artist-owned galleries, opened in 2020. Katz paints scenes capturing the county's beauty in landscapes set below vivid backdrops of blue skies. Make sure to visit during West Chester Spring's Gallery Walk on May 6. DavidKatzGallery.com.
Also part of Gallery Walk, Gingko Arts is West Chester's newest art collective, dedicated to creating a supportive community of artists of all kinds. Check out their two large exhibition spaces where artists can connect with buyers and discuss their works during open studio events. You can catch a glimpse of art in the display windows facing High Street where artwork rotates each month. GinkgoArtsWC.com.
Swing over to Malvern to visit Gallery 222, which offers a host of events for May. Attend the Show Opening and Artist Reception for artists Stefanie Lieberman, Rachel Altschuler and Jan Wier on May 4 and 5. Bring the kiddos for face painting during Malvern's "Here Comes the Sun" event on May 14, and stroll along Malvern's King Street and discover their plein air artists at the May 19 Art Stroll from 5:30 to 7:30 p.m. Gallery222Malvern.com.
Multi-Artist Galleries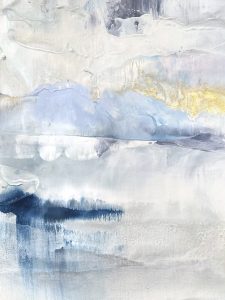 Although the pandemic took a toll on our lives, some artists transformed those challenging times into moving works of art. The Art Trust Gallery at Meridian Bank's "Reflections" exhibit displays works by seven local artists and their self-portraits in response to their experience during that time. Visit through June 10 or during the Artist's Talk on May 19 from 7 to 8 p.m. and closing reception on June 9 from 5 to 8:30 p.m. to celebrate this evocative exhibit. TheArtTrust.org.
At West Chester University, you can view the works of young artists at the annual Senior BFA Exhibition through May 24. Visit the John H. Baker Gallery in the University's E.O. Bull Center of the Arts and explore the art of multi-disciplinary students through drawings, paintings, sculptures and ceramics. On the University's website, enjoy a virtual tour of the past exhibitions. WCUPA.edu.
back to top