Big Season For Spring Sports at Independent Schools
Local Athletes Commit to Major Colleges.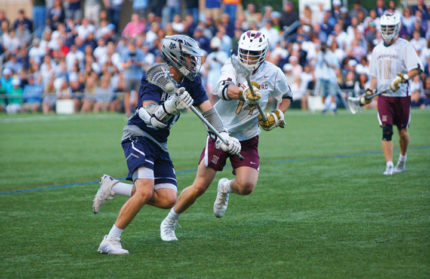 This season was marked by intense competition, both in boys' lacrosse and baseball. Girls' lacrosse was heated, too, with a three-way fight. One school also vied at the state level for both softball and boys' lacrosse.
Local sprinters topped all others in the 100- and 200-meter dashes. And Delaware schools were successful in spring tennis, one with an 8th-grader on the team!
Boys' Lacrosse
It came down to which team wanted the title more. In Pennsylvania, Haverford School was #1 and Malvern Prep #2 … or vice versa throughout the season. Haverford won during the season, but Malvern beat Haverford in the championship in double overtime play.
Malvern Prep has a host of graduating seniors headed for premier institutions. Goalie Will Petit has committed to University of North Carolina, Jackson Powers to Catholic University and Sean Rushton to Lafayette College. Eight others will continue at major college programs.
Two Haverford School middies, Mac Costin and Peter Garno, are going to University of Utah and University of Virginia. Attacker Adam Salvaggio is headed to Colgate, defender Ryan Niggerman to Lehigh, and Gavin Burke to Villanova University.
Not far behind was Episcopal Academy. Quinn Chambers and Gabriel Furey, two middies, will continue their careers at Johns Hopkins University and University of Pennsylvania. Attacker Rowan Brumbaugh heads to Hamilton College and defender Collin Loughead to Boston University. You'll see Jack Henderson, a face-off specialist, at Penn State University.
At 23-1 for the season, Bishop Shanahan High School beat Hershey High School and won the State champtionship in Class 2A of the Pennsylvania Independent Athletic Association. Three attackers, Bryan Rafferty, Kyle Gucwa and Parker Childs, will attend St. Bonaventure University, Manhattan College and Bowdoin College in the fall. Connor Whalen, who plays long stick middle, committed to University of Maryland.
In Delaware, Archmere Academy was 13-5 for the season, finishing 1st in the Diamond conference. Midfielder Cole Bauer will attend Washington College next year. Tatnall, 15-2 overall, is sending goalie Cole Hiller to Roanoke College.
Girls' Lacrosse
Three area schools were rated 1-2-3 in Pennsylvania by Inside Lacrosse, with a spread of only 1.3 points out of 100. At 16-1, Episcopal Academy's girls were ranked 1st. Two of it middies, Olivia Dirks and Isabelle Rohr, head to Penn State and University of Pennsylvania this year.
Agnes Irwin School was ranked 2nd at 21-8. Attending Loyola University Maryland next year will be its attacker Emily Wills, while defender Emily Coyne attends University of Pennsylvania. Defender Abby Rhodes heads for the University of Colorado.
And, at 18-3, Adademy of Notre Dame de Nemours was ranked 3rd. Attacker Hannah Gillespie has committed to Northwestern University, defender Lily Allen to Fairfield University, and middie Maggie O'Brien to University of Richmond.
In Delaware, Archmere Academy was 15-3 for the season. Tower Hill School finished 13-3, winning the Delaware Independent Schools Conference.
Baseball
What was true in boys' lacrosse was also true in baseball: it was Malvern Prep and Haverford School, head-to-head.
Friars outfielder Chris Newell was outstanding, with a batting average of .395 and 5 home runs. Named an All-American, next year he'll join University of Virginia. Two pitchers, Patrick Durkan and Liam Dabagian, will also be moving on. With an ERA of 1.45, Durkan will go to Catholic University. Dabagian, whose fastball was clocked at 84 m.p.h., has committed to Elon University. And shortstop Grant Burgess is headed to Franklin & Marshall College.
At 15-7 overall, Haverford School will bid farewell to several of its stars. Pitcher Calvin Costner committed to the University of Rhode Island. Outfielders Luke Kania and Logan Keller will go to Villanova University and Salisbury University. Joe Bonini, who played 3rd and 1st base, is headed for Montgomery County Community College.
Episcopal Academy won half its games with the help of Jack O'Reilly, who played 3rd base, batted .352, scored 12 runs, and committed to the University of Notre Dame.
Bishop Shanahan broke .500 for the season. Their twin-brother pitchers, Matt and Anthony Bertolami, have committed to Catholic University and Penn State University. Kenny Kunzman pitched 24 innings—his fastball clocked at 80 m.p.h.—and played 1st base. He's heading to Moravian College.
Softball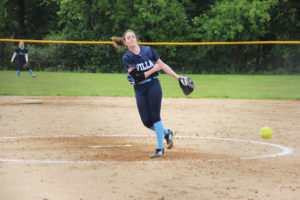 Villa Maria Academy was 12-5 and successful until losing to Upper Merion in the round of 8 in the District One tournament. Star pitcher Alyssa Viscardo committed to the University of Hartford. Another star, Riley Miller, batted .490 and was also the school's salutatorian, swimming and diving captain, editor of the yearbook, on student council, and will attend University of Notre Dame.
Bishop Shanahan, with a record of 16-6, lost the championship game of the Ches-Mont league, and was eliminated late in the State championship. Pitcher Devon Miller made school history with 1000 strikeouts. She pitched 135 innings, had a 1.25 ERA, batted .384, 3 home runs, and a .578 slugging percentage. She's been recruited by Fordham University.
Shanahan's slugger and 1st baseman Hannah Kelper batted .396, had a .636 slugging percentage, and committed at University of Rochester. And 3rd baseman Alexa Peterson batted .483 with a .639 slugging percentage and will attend West Chester University.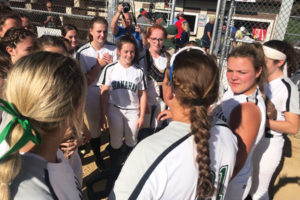 Tennis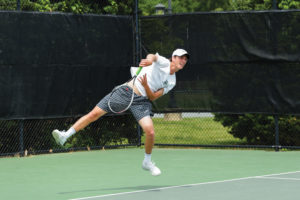 The Delaware Interscholastic Athletic Association (DIAA) boys' tennis tournament ended with Tower Hill on top. The team was 13-1 for the year, and Robby Ward at first-singles was spectacular. It was the third time he championed the DIAA first-singles position. He'll attend Middlebury College next year.
On the girls' side of the tournament, Aubrey Nisbet, just an 8th grader, of Wilmington Friends was first-singles champion. We'll look forward to four more years of watching her play!
Track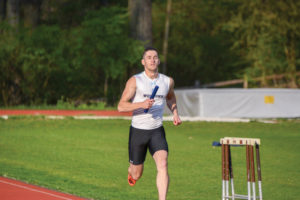 At the Henderson Invitational, Julian Klenner, running for Westtown School, sprinted 200 meters in a blazing 21.32 seconds. It was the best time in Pennsylvania this year. He also ran the 400-meter in 47.48 seconds, the 2nd best time in the Commonwealth this year.
At the Inter-Ac Championship, Daiyann Hawkins, an 11th grader at Haverford School, clocked the best time in Pennsylvania this year for the 100-meter dash —10.46 seconds.
We applaud these fine performances, and wish the graduates well as they pursue their college careers
back to top