Barns & BBQ Tour is Back
Willistown Conservation Trust's annual tour lets you see inside iconic Chester County barns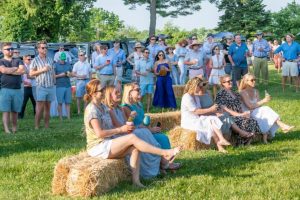 If you've ever secretly Zillowed your neighbors' house, curious to see the improvements they made before it went on the market, don't worry. You're not alone. Zillow views have jumped since the beginning of the pandemic, Instagram accounts like @ZillowGoneWild have amassed over 1.4 million followers, and this act of peeking behind the curtains has become so normalized we've turned Zillow into a verb.
And here in Chester County, we have our own variation on getting a peek inside. The many charming colonial barns and quaint farmhouses hidden behind rows of trees only add to our curiosity when we pass them on our country drives. What histories and stories exist behind the closed doors of those lovely houses and farms? And how do we get to see inside?
See Behind the Curtains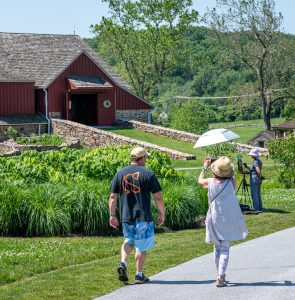 Well, on June 4, 2022, you can discover answers to those questions and more if you join Willistown Conservation Trust for their annual Morning Barn Tour and Barns & BBQ celebration. History buffs, conservation enthusiasts, design aficionados and curious neighbors alike are invited to peek behind the curtain — or trees — of some of the stunning properties that dot the Willistown countryside.
Both tour options — the budget-friendly Morning Barn Tour and the traditional Barns & BBQ bash, complete with an evening of live music, dinner and fun — will lead visitors on a unique and intimate sight-seeing journey through a handful of conserved properties and the barns that complete them.
You'll learn about the fascinating history of these properties and how they came to be protected in partnership with the Trust, in addition to enjoying stories and see design trends in the fabulous barns.
To inspire you to join this year's upcoming tour through the countryside, you're invited to take an advance look at two of the 2021 tour stops—Bryn Clovis and Duckett Mill. These properties include intriguing facets of history gleaned from "Acres of Quakers: An Architectural & Cultural History of Willistown Township, Chester County, Pennsylvania, From First Settlement Through 1990."
Bryn Clovis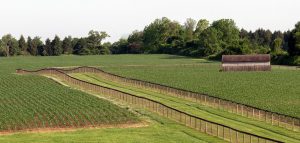 Horses are not the first animals to occupy the magnificent Blyn Clovis Barn, built in the early 20th century. Formerly devoted to dairy production, this barn once housed the legendary Ardrossan beagles. A more recent renovation provided the present-day layout of horse stalls, supply rooms and tack rooms.
Next to the barn stands a run-in shed set into the hillside, designed by John Milner Architects to complement the barn and the sweeping hilltop views. With its signature eyebrow dormers and thoughtful design, this run-in shed was the 1994 winner of the Main Line Builders Association Honor Award.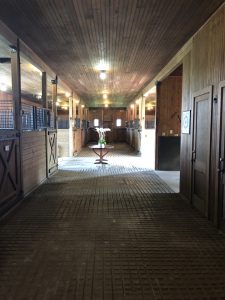 A small plot of land marked by the stump of a 300-year-old oak that used to tower over the original Hundred Acre Field is the resting place for many beloved racehorses, including Creme Fraiche, owned by Bryn Clovis's former owner, Mrs. Betty Moran. "He [Crème Fraiche] always loved it here, and now he can enjoy this spot forever," said Mrs. Moran. Thanks to her commitment to conservation, so too can future generations of horses and people alike.
Sadly, Betty passed away in January 2020, though leaving behind a lasting legacy of philanthropy and land protection. Over the past 40 years, she played a significant role in helping maintain Willistown's rural character, having participated in numerous land protection partnerships that saved beautiful parcels of land from development.
Duckett Mill Farm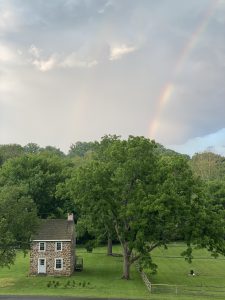 Across the Garrett Mill Road bridge and at the end of a long dirt lane, sits Duckett Mill Farm, a property where history abounds. The Joseph H. Duckett House (c. 1840), the Duckett Paper Mill (c. 1839) and several outbuildings transport us to a working farm and business in the early days of Willistown.
In 1838, Joseph H. Duckett purchased 38 acres on which he built a paper mill, a bleach house, and a water house with a wheel, the ruins of which can be seen today. At the time of its construction, the 30-foot water wheel was the largest in Pennsylvania.
Unfortunately, Joseph suffered many financial setbacks while building the mill, resulting in several liens from unpaid contractors. This ultimately led to a sale of the property to John B. Duckett, who renamed the mill Forest Mills Paper Company.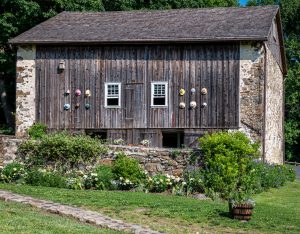 By 1850 the mill produced a variety of products including writing, printing, wrapping and envelope papers. Most notably, Forrest Mills Paper Company made 30 tons of special paper used to cover the roof of Horticultural Hall, erected in Fairmount Park for the 1876 Centennial Exposition. Sadly, 25 years later, a disastrous fire forced the temporary closure of the paper mill and its subsequent sale.
In 1927, a severe drought hit the area, resulting in Ridley Creek being pumped dry to satisfy the water needs of the Borough of West Chester. This brought about the ultimate demise of Duckett Mill.
Not far from the Mill sits the 2.5-story, fieldstone "Miller's Cottage" that's been lovingly restored to its humble roots with the help of Warren Claytor Architects.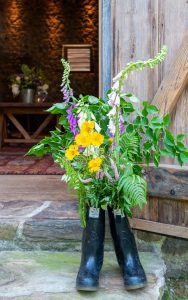 Stepping inside, you can imagine what life was like in an early Chester County home. Corner fireplaces on each floor provided warmth, and the curved window jambs added interesting texture — along with additional light — to the otherwise boxy structure. The north-side window on the first floor features one of the few remaining pay drawers — once used to distribute payroll to workers — in Chester County.
Additionally, a timber-framed, stone bank barn with its closed forebay overlooks the adjacent fields bordered by Ridley Creek. Once home to horses, mules, cattle and swine, the barn's residents now include two donkeys, two driving ponies, a former competitive show hunter, and antique pony carriages.
Proceeds from the Morning Barn Tour and Barns & BBQ support Willistown Conservation Trust's continued effort to preserve and protect the scenic beauty and natural resources that make Chester County the hidden gem it is today. For more information and to purchase tickets for June 4, visit WCTrust.org/Barns-BBQ. 
Photos courtesy: Jeanette Carr, Jennifer Mathes, Monica McQuail
Willistown Conservation Trust focuses on 28,000 acres within the watersheds of Ridley, Crum and Darby Creeks in Chester and Delaware Counties. Since 1996, the Trust has permanently conserved over 7,500 acres, including three nature preserves open to the public: Ashbridge, Kirkwood and Rushton Woods Preserves. The Trust also offers nationally renowned programs for public engagement and research: Bird Conservation, Community Farm, Education and Outreach, Land Protection, Stewardship and Watershed Protection Programs. More at WCTrust.org.
back to top