Autumn in America's Garden Capital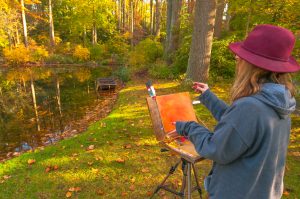 The return of autumn holds the promise of vivid fall foliage, crisp air and earthy scents, harvest activities, spooky fun and chrysanthemums everywhere. Experience the best of the new season at over 30 public gardens, historic landscapes and arboreta in America's Garden Capital — right in our backyard.
Fall Color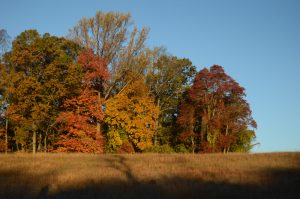 In the Philadelphia area, peak time for fall foliage is typically the third week of October through mid-November, depending, naturally, on the weather. A rainy or dry summer can delay or quicken the color change.
Bright sunny days followed by cool nights from late September into October are required for the best hues. Of course, there's plenty of color before and after this period, so plan your visit and know it will include incredible eye candy.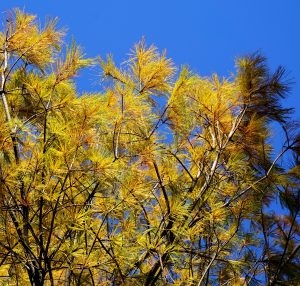 A great place to start your leaf peeping is Mt. Cuba, where you'll find picture-perfect, bright yellow, orange and gold leaves falling from beech and tulip poplar trees.
Nearby, Winterthur's oak trees will soon be ablaze with russet and deep orange hues. And at Stoneleigh: A Natural Garden, discover the Eastern white pine 'Hillside Winter Gold.' The needles of this cultivar turns gold as fall's temperatures drop, proving that not all evergreens are, well, ever green.
Autumn brings about lovely change to lesser-known plants as well. At Chanticleer, vistors look forward to autumn color. Near the Pond, clouds of pink and white flowering bunch grass, known as big muhly (Muhlenbergia lindheimeri), emerge from pink muhly, a perennial sedge-like plant (Muhlenbergia capillaris), creating a painterly effect at the Rock Ledge. Another fall favorite is the white flowered groundseltree or sea myrtle (Baccharis halimifolia) surrounded by conifers in the Pond Garden that appear even brighter after summer colors fade.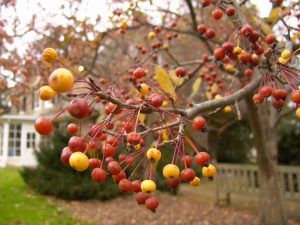 Adding more interest to the season are plants with seasonal berries and scents. At the Scott Arboretum at Swarthmore College, you'll find an abundance of fall color, including colorful crabapple trees.
While most trees have an earthy aroma as bacteria decomposes plant matter in the soil, the katsura tree, found at Chanticleer and Morris Arboretum, has a different chemical reaction in the leaves that invokes the scent of cotton candy. Make this a must-see, er, smell while visiting both gardens.
Gardens for Children and Families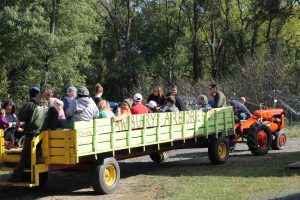 In addition to stunning foliage, there are several autumnal events planned at your local arboreta to treat the varied interests of the whole family.
Outdoor Storytime at Tyler Arboretum continues into autumn on October 5 and 12, 10 to 11 a.m. Designed for ages 3 to 6, "A Chest Full of Stories with Miss Karen" focuses on nature-based stories followed by an activity to spark creativity, such as a walk along the garden's scenic loop to collect and identify leaves.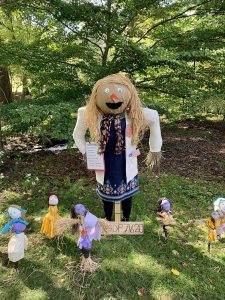 The Farm at Awbury Arboretum holds their season-ending Sunday Fun Days with Harvest Fest on October 30, 1 to 4 p.m. Bring the whole family to the garden for hayrides, a pumpkin sale, live music, a farmers market, workshops and, of course, a visit with the goats and chickens. Stay late to visit the garden's English Landscape and Haines Field for views of golden beeches and deep red tupelo trees.
Another harvest-related event is Morris Arboretum's Historic Springfield Mill Days on October 16, 1 to 4 p.m. Here guests may learn the process of grinding and sifting corn to produce meal and, rumor has it, sample muffins made with fresh-ground ingredients.
And harvest isn't complete without a scarecrow. With their fresh crop of artisan scarecrows, Morris Arboretum's 15th Annual Scarecrow Walk returns October 1–31. Make a game of finding all 30+ scarecrows displayed throughout the garden's brilliant hues, and then vote for your favorite to determine the winners.
Fright Fun
With several Halloween-related events offered, Laurel Hill Cemetery is the place to visit to get into the spirit of the season. Don your most comfortable costume to race through the cemetery among headstones and falling leaves at the Rest in Peace 5K Run on October 1, 5 to 8 p.m.
Interested in discovering more about the history of Laurel Hill's residents? Register for one of several daytime walking tours, or try an evening outing for a slightly spookier experience. This event is perfect for the teenager in your family. But beware, real apparitions have been seen.
Flowers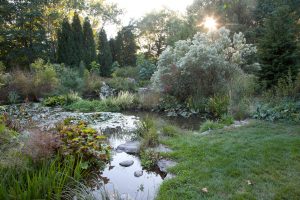 Mums are the de facto flower of autumn, and Longwood Gardens is giving this bloom its due during the annual Chrysanthemum Festival from October 1 to November 13. With nearly 40 rare cultivars and more than 80,000 blooms, Longwood artists create living sculptures, contorting mums into designer forms not to be missed. Also planned for display is the Thousand Bloom Mum, with more than 1,500 arranged flowers.
With maples, sweetgums, cypress, oaks and dogwoods in vibrant hues of deep red, bright orange, gold and purple, the gardens of America's Garden Capital offer spectacular leaf peeping with equally brilliant events to enjoy the season.
Learn more and plan your visit at AmericasGardenCapital.org.
Chanticleer has been called the most romantic, imaginative and exciting public garden in America. It's a garden of pleasure and learning, relaxing yet filled with ideas to take home. Open through October 30, Wednesday–Sunday, 10 a.m. to 5 p.m., and set to reopen March 29, 2023. 786 Church Rd., Wayne. Visit ChanticleerGarden.org to plan your visit.
back to top