Athletes Graduate from Independent Schools to College
A large group of student athletes are headed to Division I
At fields, gyms and pools, we watch our kids play. But are they just playing? Or are they competing? Not so much to win, but for spots in good colleges?
Parents wonder, can my child go pro? Can he or she at least land a position at a Division I college? Maybe score a scholarship? It's not unheard of.
Basketball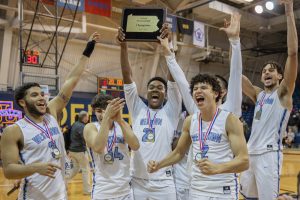 Dereck Lively graduated from Westtown School this year and is headed for Duke University, possibly for the NBA afterwards. Westtown has been turning out pro players recently — Cam Reddish, Mo Bamba. And Lively is over seven feet tall, after all.
Yet, basketball may not only be for giants. Westtown's Jameel Brown is only 6'3″. Quin Berger is just 6'2″. Brown has signed on with Penn State; Berger with St. Joe's University. That may not be outside the range of possibility for your child.
Plus, Westtown's basketball prowess seems to be rubbing off on its girls' teams. This year, the girls won the PAISSA title. Meliah Van-Otoo, at 5'4″, will play for Loyola University next year, while 6'0″ Kaylene Smikle will play for Rutgers. Clearly, Westtown is a school to watch.
The Hill School also had a basketball star, Gabe Moss. He's 6'8″ and headed for the University of Delaware.
At Notre Dame de Namur, Maeve McErlane, 5'10", a McDonald's All-American, will join DePaul University.
Football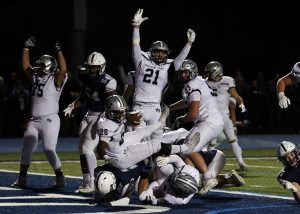 Malvern Prep or the Haverford School may be a strong pick if your son dreams of a football career. Malvern Prep is  particularly successful at developing skills for football. Eight of its graduates landed admission to D-I programs. Two, quarterback Jack Capaldi and Jayln Evans, are headed for Fordham. Max Bowman, its 6'6″ offensive tackle, is headed for Harvard. And Jake Reid is going to the Naval Academy as a kicker.
Haverford graduated two football players. This fall, Isaiah Boyd, a defensive lineman, will join Tulane, while Finn Bonner, its kicker, will join the Naval Academy.
Field Hockey
Many sports offer a path to college admission, if not to riches as a pro athlete. And several of our independent schools are providing entry to that path.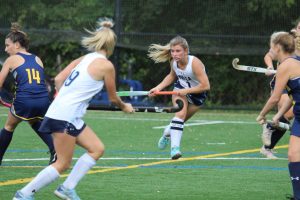 Villa Maria Academy, for instance, has an outstanding field hockey program and is sending five of its girls to D-I institutions. Caroline O'Brien heads for Wake Forest and Lindsey Roberts for Ohio State.
Episcopal Academy is also excellent in field hockey. Two of its girls, Gianna Cilluffo and Macy Szukis, ranked #9 nationally, are headed for Columbia and Duke University, respectively. Mia Garber will play for Boston College.
Four from Notre Dame de Namur were recruited to great D-I teams. Evelyn O'Neill is headed to Villanova, Emma Steel to Lehigh University, Madison Frank to Georgetown, and Caroline Doyle is destined for St. Louis University.
The Hill School contributed six of their players — Madison Orsi, Hayley Gable, Rease Coleman, Emma Gray, Sophia Coan and Nicole Moran — to D-I schools. Orsi played with the USA Field Hockey World Cup team and next year will join university of Virginia. Coleman is going to Cornell, Gray to Eastern Michigan, Gable to Kent State, Coan to Xavier University and Moran to Bucknell.
Lacrosse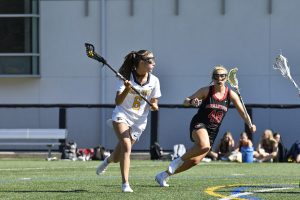 Agnes Irwin was strong in lacrosse, with eight players headed for D-I schools. Marissa White is going to North Carolina, Colby Macaione and Cate Parsells are both going to Georgetown, while Sydney and Carly Wilson will both head for the University of Florida. Katherine Ernst and Jackie Heinerichs will go to Vanderbilt and Drexel, respectively. Dartmouth has landed Jordan Healy.
Other schools have also contributed to lineups at D-I colleges. From the Baldwin School, Clara Page will go to UC Berkeley and Josie Stockett, her teammate, will head to George Mason. Episcopal's Bella Piselli will be playing for Villanova.
On the boys' side, five of Haverford's graduates have signed to play D-I lacrosse in college. Teddy Malone at Harvard, Chuck Caciutti at UPenn, Will Costin at Penn State, Pat Gillin at Delaware and Avi Mehl at the U.S. Military Academy at West Point.
Three graduates from Malvern Prep are continuing with D-I lacrosse. Joe Sheridan will join Richmond's team, Kyle Traynor is headed for High Point and Jack Irish will go to Lafayette.
Will Schaller of the Hill School was designated an All-American. Next year, he'll play for Maryland. And Westtown is also making a mark, with three of its athletes graduating to D-I schools.
Crew
Six athletes from the Haverford School signed at D-I schools for crew. Wyatt Johnson and Jake Brewington will attend UPenn, John Benson is going to Notre Dame, Steve Walker to Davidson, Jack Payne to Colgate and Will Morris to Georgetown.
From Malvern Prep's rowing team, Vijay Ramakrishnan declared for Brown and Matt Miller for Loyola. Jace White of the Hill School will row for Columbia University next year.
On the girls' side, Ryan Murphy from Baldwin will join UPenn's team. Mia Durante from Villa Maria is going to Duquesne. From Agnes Irwin, USC recruited Chloe Saulnier and Cornell got Julia van der Swan.
Wrestling
For years, Malvern Prep's team has been at the top of high school wrestling. From the class of 2022, five will join other alums: Andrew Connolly at UPenn, Caden Rogers at Lehigh, Colton Deery at Maryland, Ryan Aquilani at Kent State and Nicholas Feldman at Ohio State.
Track and Field
Friends' Central School has had a strong girls' track team for years. Micah Trusty was a leader this year. Among other accomplishments, Trusty finished first in the 800-meter run at the Nike Indoor Nationals and will attend Villanova University in the fall.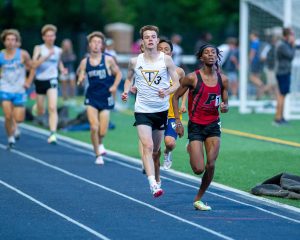 The Tatnall School's Nicolas Pizzarro has consistently won the 800-meter and 1,600-meter run. His 800m time was 1:52.57 at the DIAA Meet of Champions. Next year he'll run for UPenn.
At Archmere Academy, Simi Edeki will go to University of Chicago. Winner of the DIAA Indoor Track Award, she is also the class co-valedictorian, a National Merit Scholar and a semifinalist in the U.S. Presidential Scholars Program.
Bishop Shanahan's mid-distance runner Carlyn Segrave-Daly will go to St. Joe's. Caroline Bell of Villa Maria, another mid-distance runner, will go to Marist College.
Marcel Steward will run track and cross country at Marist College. He graduated from Wilmington Friends School, where he specialized in long distance. Max Leffler also ran long-distance at WFS and next year will run for Lehigh.
In the field events, Pat Donaher of the Haverford School will put shot for Bucknell. He finished first at the PAISSA Championship with a throw of 55'7″.
Swimming and Diving
Like track, swimming and diving are primarily individual sports. On the women's side, Anye Mostek from Baldwin will join Harvard's swim team. She set records for Baldwin in the 100-meter freestyle. Agnes Irwin's Reilly Brennan is headed to Colgate for swimming.
Notre Dame's swim team graduated two of its stars — Natalie Stuart to Richmond and Ashley Kolessar to UCLA. At Villa Maria, two are graduating to D-I pools. Hannah King will swim for Bryant University and Morgan Kelly will dive for Towson U. Kiersten Dagg of the Hill School will swim for William and Mary next year.
On the men's side, Malvern Prep placed John Romano at Penn State in water polo, Nick Harris at the University of Texas for diving and Kevin Cary at Seton Hall for both swimming and diving.
Many other athletes in other sports — baseball, softball, volleyball, beach volleyball, tennis, squash, hockey, soccer, rugby, golf and cheer — have also earned admission to D-I programs at fine schools. Because of space limitations, we cannot include them here and instead listed them on our website.
All should be applauded for their performance. And their schools and coaches awarded for building their teams.
back to top