Apple-solutely Top Picks
Sweet, tart, juicy, crunchy ... we've found them all
Green, yellow, red—and that's just the leaves! So much to learn about apples. Like, if an apple a day keeps the doctor away … what happens if you have a bushel?
Apple picking can be another fun way for the whole family to enjoy these healthy treats. Head out and enjoy the crisp autumn air as you pick juicy Honeycrisp apples, or bring Grandma along in search of the perfect Granny Smith.
Here are some of our favorite orchards for a perfect day of PYO apple picking.*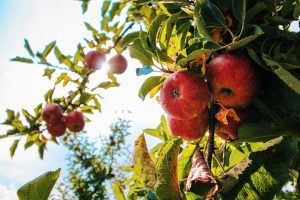 Barnard Orchard Greenhouse. This fourth-generation orchard considers its community and customers its most prized resources. Pluck plump apples in their orchard for your homemade pies, and if you're lucky there may be time to pick other seasonal fruits and vegetables. 1079 Wawaset Rd., Kennett Square. Facebook.com/Barnard-Orchards.
Frecon Farms. Head to this orchard to pick pears, pumpkins and apples to prepare tasty fall dishes. When you're done, reward yourself by heading to the cider and espresso bar and listen to live music. Growing fruit since 1944. Orchard at Poplar Rd. & Edgehill Rd., Farm Market & Bakery at 501 S. Reading Ave., Boyertown. FreconFarms.com.
Glen Willow Orchard. With 15 different varieties of apples to pick from, your family can showcase cooking and baking skills like the pros! After autumn passes and you've filled your bellies with apple treats, come back to find your fresh Christmas tree here. 1657 Glen Willow Rd., Avondale. GlenWillowOrchards.com.
Indian Orchards. Pick your peck of apples from the orchard, and then take a break to enjoy the view while sipping some steaming hot cider. Extend the fun and stay for a weekend at the Inn at Indian Orchards, the farmhouse B&B on the grounds. 29 Copes Ln., Media. IndianOrchardsFarm.com.
Mariner Farms. Start your picking at Mariner Farms with a tractor ride out to the orchard. If your recipe calls for other fruits and veggies, keep searching for a bushel and a peck of other sustainably raised seasonal produce in the field. 1594 Broad Run Rd., Downingtown. MarinerFarmsLLC.com.
North Star Orchard. Variety is the spice of life, so let the 200+ types of apples (including heritage varieties) add something extra to yours. Get an "Apple Passport" to make tasting notes on your flavor adventures throughout the apple season. Plus on-site cooking classes and an art gallery. 3232 Limestone Rd., Cochranville. NorthstarOrchard.com.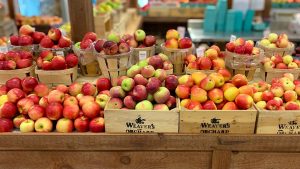 Shady Brook Farm. Enjoy the apples, flowers and fruit Shady Brook has to offer. After your personal harvest in the orchard, refuel at the deli or rest your legs at the Stone's Throw Pub. Plenty of activities for the kiddos—corn maze, bonfires and fallfest. 931 Stony Hill Rd., Yardley. ShopShadyBrookFarm.com.
Weaver's Orchard. Open year round, Weaver's Farm Market offers fresh-grown produce and fruit, local dairy products and meats, plus a bakery. This orchard is a child's dream, filled with farm-themed rides and face painting to keep the little ones happy. Cap the day with a visit to the café. 40 Fruit Ln., Morgantown. WeaversOrchard.com.
back to top