Aladdin: A Musical Panto
Photos by Timlyn Vaughan
At Peoples Light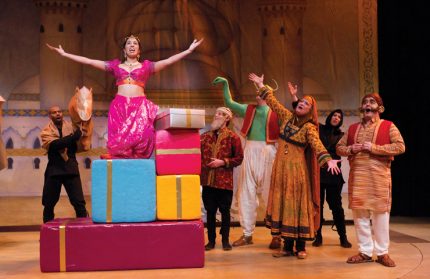 What do a 9th century Arabic text, cross-dressing and Minecraft have in common? Why, this year's Holiday Panto at People's Light, of course!
Now entering its 14th year, these original madcap musicals have become an annual holiday tradition for residents of Chester County and beyond. This season, following the British theatrical tradition of using a familiar folktale as a loose outline for dazzling songs, dance, social commentary and comedy, People's Light is putting their unique Panto spin on Aladdin.
In the not-so-far-away desert of Paolistein, Aladdin and his two friends—Manny the Monkey and Morris the Mantis—are budding video game designers with hopes of making better lives for themselves and their poor families, including Aladdin's put-upon mother, the great Panto Dame Widow Twankey (played by a man).
Meanwhile, Princess Mai Tai is feeling the binds of royalty and yearns for life beyond the palace walls and the reach of her well-meaning but bumbling father, the Sultan (played by a woman). But Fu, the Sultan's Royal Vizier and commercial real estate developer (or is he?), has his own evil plans to gain ultimate power.
When Mai Tai disguises herself as a man to escape the palace and discover what Fu is up to, she meets Aladdin, and both fight for their instantly forged love. There are encounters with wondrous treasures, a flying carpet, a mysterious ring and lamp, plus send-ups of West Side Story, Donkey Kong, Star Wars, Romeo and Juliet, Ninjago, Cyrano de Bergerac and our online and hyper-connected world.
The tale of Aladdin is no stranger to adaptations. For centuries, storytellers from India, Persia and China passed along the spoken tales of Scheherazade's One Thousand and One Nights as they travelled along the Silk Road. The first written version of these tales was translated to Arabic around 850 A.D., but a more familiar written version of The Story of Aladdin and the Magical Lamp didn't appear until 1704 in a French translation of Nights by Antoine Galland. It quickly gained popularity, exciting the European appetite for the mysterious and exotic. Once the panto genre was firmly established in Great Britain in the mid-1800s, Aladdin was one of the first tales used for this holiday variety show.
At People's Light, we're having great fun making this tradition our own. Audiences are encouraged to cheer the heroes and boo the villains, as well as dance on stage and sing along with the original musical numbers in the play. There's plenty of slapstick, a "messy bit" with something gooey or wet, comic non-sequiturs, a "candy bit" where candy is thrown into the audience, satires of local events, and even a strangely affecting journey of personal discovery.
As a broad comic form relying on jokes and satire, the Panto is in a constant state of renewal and re-invention. Driving this Aladdin Panto are ideas of the ever-present and quickening turnover of information and technology, trends and memes, and how to find magic that's fully human in our world of screens and mediated social interactions.
These new themes are energized by talented young actors new to the People's Light stage (Camilo Estrada, Zach Aguilar, Peter Danelski, Samantha Funk, Nichalas L. Parker), even as our Panto veterans (Christopher Mullen, Tom Teti, Susan McKey, Kim Carson) are welcoming these newcomers into our unique Panto tradition.
But the full renewal of its comedy and hilarious antics can reach its ultimate realization only with the final magic ingredient: the audience!
~ Gina Pisasale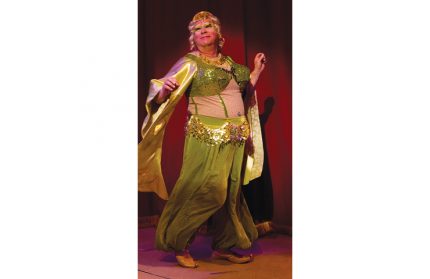 If you go
Where: Leonard C. Haas Stage
People's Light
39 Conestoga Rd., Malvern
When: Through January 7th, 2018
Tickets: $42 and up, available online at PeoplesLight.org and at 610-644-3500
Coming Soon: Morning's at Seven and The Diary of Anne Frank
back to top