Across County Lines
Seasons are Changing. And So is How We Visit Our Favorite Towns in the Time of Covid-19.
Welcome autumn and its changing leaves, newly crisp weather and selected seasonal fun. We recommend a scenic drive to some of our favorite destinations to safely scope out what to enjoy in County Lines County. Taking a drive with those in your bubble is a responsible way to enjoy the season, and we've got suggestions for safe places to visit.
We hope you fill your fall weekends with car trips to the many attractions in our area!
West Chester
The charming borough of West Chester maintains its well-earned reputation as a shopping and dining hub even with the pandemic by creating an Open-Air Marketplace. Spanning four blocks of Gay Street, this new pedestrian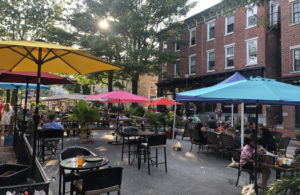 mall got its 15-minutes of fame on local TV news stations with scenes of couples and families at outdoor restaurant tables and browsing goods outside locally owned shops. Plenty of space for necessary safety measures.
Support local restaurants with a stop at Iron Hill for handcrafted beer, Roots Café for breakfast and brunch and Más Mexicali for Mexican food and a scenic rooftop bar. Try out a new restaurant, like Mae's West Chester's farm-to-table goodness, La Tartine's Mediterranean cuisine and Scoops 'n' Smiles' ice cream flavors.
Shop local boutiques safely outdoors, too. Stop by 5 Senses for unique gifts, then on to Phineas Gage and Tish Boutique for fall fashions, along with mommy & me boutique H. Rose with the latest for the kiddos.
Enjoy the walkable downtown and admire the Greek Revival architecture that's given West Chester the nickname, Athens of Pennsylvania.
And although October's Gallery Walk is postponed until 2021, feel free to visit local galleries for an afternoon of fine art. See solo exhibitions from selected artists at the Church Street Gallery, the latest at The Art Trust, or view paintings featuring Chester County landscapes at the new David Katz Gallery on Gay Street. While we await live performances to resume at Uptown! Knauer Performing Arts Center, watch their virtual performances on their Facebook page. You can support the theater by donating on their website to help raise the curtain on a West Chester favorite.
Southern Chester County
Next up is a trip to southern Chester County, filled with charming towns, beautiful gardens and plenty of good food.
Kennett Square offers a bounty of dining options, made even better with Open-Air dining on the 100 block of East State Street for more space to socially distance. Plan a meal at favorites like La Verona for flavorful Italian dishes, Verbena for refined American cuisine, and Talula's Table for their Farm Table dinners, now available without a one-year wait—one of the few good developments for diners.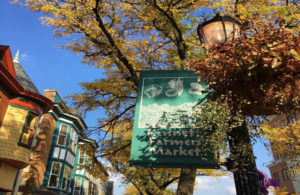 More options await outside downtown. The Creamery offers a beer garden, food trucks and live music. And on Friday afternoons, it hosts the lively Kennett Square Farmers Market with fresh fruit, veggies, flowers and other treats from local vendors.
On a gorgeous autumn day, why not download a map from the Brandywine Conservancy and go Hiking with History? The map's release coincided with the famous Battle of Brandywine and details cultural and natural attractions across the region. While you're there, engage with art at the Brandywine River Museum of Art (limited capacity), hosting exhibits like "Witness to History: Selma Photography" and "Imagine Brandywine."
A final must-see is Longwood Gardens. Stroll the 1,000-acre property filled with woodlands, gardens and meadows. Some events, like Jazz-fest, are on hold, but there's so much still to enjoy, like the One Thousand Bloom Chrysanthemum or the Illuminated Fountain Shows extended through October! Virtual visits are another option on Longwood's YouTube page, bringing the beauty of the gardens to you.
The Main Line
Autumn is a perfect time for a drive along Lancaster Avenue (Route 30), through the heart of the Main Line to scope out what's new. Enjoy wandering on the winding neighborhood roads as you pass well-manicured grounds surrounding stone mansions and painted Victorians.
We recommend a visit to Malvern, home to People's Light. Although the theater's closed, People's Light keeps the community entertained with things like the Drive-in concert series with tunes from local musicians, enjoyed from your car. For the kiddos, check out "Folk Tales in the Garden," featuring storytelling for kids of all ages. Or plan a date-night meal at the on-site restaurant, The Farmhouse, with live music on Friday nights.
More dining options? General Warren in Malvern celebrates 275 years of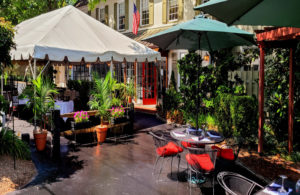 hospitality and history. Or try newcomers Jin Ding in Bryn Mawr (replacing landmark Yangming) specializing in dim sum or the Wayne Hotel's long-awaited restaurant, Rosalie, for Italian soul food.
Also in Wayne is 118 North, hosting a Tailgate and Takeout Series with local musicians to accompany your crab pasta, falafel wrap or chorizo and avocado pizza. The concerts are streamed on the 118 North Facebook page for everyone to enjoy.
Home cooks may like the new virtual cooking classes, Fearless in the Kitchen, featuring local chefs. Rosalie's chef hosts "Pasta Making Made Easy" on October 17th and White Dog Café shares recipes for the perfect Thanksgiving meal with "Talking Turkey" on November 17th. More information at MainLineSchoolNight.com.
Downingtown & Exton
With just five miles between them on Route 30, Downingtown and Exton can be paired together for a visit. Yet, each town has its own attractions.
Many know Downingtown for its top-rated schools, including the School of Distinction award recipient, STEM academy. Another highlight is Downingtown Farmers Market, managed by Growing Roots Partners, offering locally grown fruits and veggies. Saturday mornings at the market are for picking out your favorite goodies (with social distancing rules). Can't make it to the Downingtown market? Eagleview in Exton, Devon and Malvern also have weekly farmers markets.
Yes, many beer fests have been postponed, but you can get your Oktoberfest fix and drink local with beers from Stolen Suns Craft Brewing & Roasting—the outdoor beer garden also offers live music. Or get your drinks to go from the Bottle Room and Station Taproom, where you can pick up a wide variety of craft beers and canned cocktails for an at-home happy hour.
An Exton highlight is Wellington Square Bookshop, now opening its doors for patrons to pick up something new. Check the website for monthly Zoom virtual book club meetings, then get a copy of this month's selection—The Island of Sea Women by Lisa See.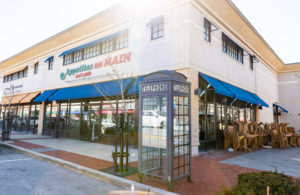 Another must-stop is the outdoor mall, Exton on Main Street, providing a distanced way to stop at local shops. Grab a bite there at Appetites on Main, serving entrees like a Mac & Cheese burger or the Italian Market Sandwich, washed down with a selection from the extensive beer list. A perfect Happy Hour on the outside, pet-friendly patio.
Delaware County
Travel to Delaware County and stop in Newtown Square for seasonal fun. Looking for a scare? Look no further than the Lantern Ghost Tours at Colonial Pennsylvania Plantation, one of the most haunted properties around. Experience a true Halloween thrill during this walking tour.
Looking for more treats and not tricks? Then a visit is in order to Christopher Chocolates for autumn candies and Halloween goodies for the kids.
For more sweet family fun head to Media where you can still Pick-Your-Own fruit (with proper safety measures) at Linvilla Orchards. Stock up on apples like Honeycrisp, Mutsu or Granny Smiths—perfect for baking all-American apple pie or its easier cousin, apple crisp.
Like other towns, Media also offers Dining in the Streets as a way to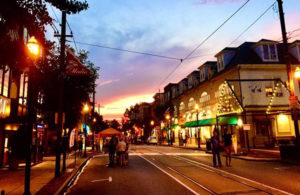 accommodate current safety requirements. So many choices along State Street—like satisfying pasta dishes from Spasso Italian Grill and classic pub grub from Brick & Brew.
Watch for the reopening of Media Towne House, under new ownership. The newly renovated restaurant is set for a fall launch, complete with a bar space, areas for fine dining and casual eating and a formal ballroom for larger events (hopefully soon). Plus a
Wilmington
Hop on scenic Route 52 for a day trip across the state-line into Delaware.
Looking for seasonal family fun? Wilmington Western Railroad is up and running with events like their socially distanced hayrides (through October) and Halloween Express (October 31st). Or check out the Rockwood Park & Museum's Paranormal Investigation. This outdoor walking tour covers the trails and paths of Rockwood Park using professional paranormal equipment for some spooky fun.
For some outdoor shopping, head to Hagley Museum and Library for their annual Craft Fair on October 17th. Vendors will be outside so you can shop for fine arts, crafts and gourmet items in a safe environment. Browse unique goods from talented artisans from across the Mid-Atlantic. Maybe do some early holiday shopping?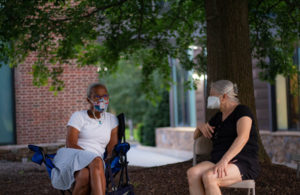 A trip to Delaware is not complete without a visit to at least one of the great museums nearby. We recommend putting the Delaware Art Museum on the top of your list. Their recent exhibit, Black Survival Guide—mentioned in our September issue—has been extended through October. Or catch a movie (safely) during the Museum's Drive-In Movie series held in their sculpture garden. October's movies include The Birdcage, North by Northwest and, of course, the Halloween classic Frankenstein. 
back to top