Across County Lines – 2016
It's a picturesque fall day. The sun is warm but the autumn air is breezy, and the fallen leaves dance in the wind. Just the time to take a drive down winding roads, alongside scenic fields and historic landmarks and discover why we're proud to call Chester County our home. Take our tour or branch out on your own. Either way, we know you'll enjoy the ride.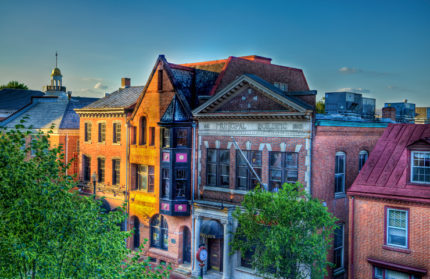 West Chester
If you visit this compact walking town, be prepared to stay the whole day—and then come back another! Take your pick of diverse boutiques and shops, from clothing at Jane Chalfant/Kiki Boutique and KALY to accessories at Sunset Hill Jewelers, Artistic Eyewear and The 5 Senses.
Old Soul Décor is a fun stop for vintage and antique furniture, artwork and jewelry. Another furniture store to swing by, Giuntas Furniture of Exton opened a second location on Gay Street in West Chester with a modern farmhouse feel.
Take a break from walking to stop by a local eatery—with so many to choose from! Lorenzo & Sons Pizza finally opened for business serving giant slices and Jaco Juice & Taco Bar (formerly Baco Taco) is perfect for a healthy bite. Try long-time favorites Limoncello Ristorante and Pietro's Prime, newly opened Restaurant 51 Tap & Spirit for happy hour, and Más Mexicali Cantina for rooftop drinks.
A bit outside the downtown, pick up flowers or green gift baskets at Matlack Florist for any special occasion. And for truly extraordinary, unusual works of art, check out The Merchant of Menace Re-Imaginers Gallery's found object and reclaimed material creations.
Malvern
Love shopping local? Head for King Street in Malvern! Boutiques abound, ranging from newly expanded Posh Collections for high-end designer fashions to Nota Bene Boutique for affordable yet chic clothing and accessories. Gingy's owner is also the creator of an exclusive clothing line, while Louella stocks a distinctive assortment of jewelry and home goods in addition to trendy apparel.
Malvern does rugs right too. Knots & Weaves offers decorative rugs for sale and trade—plus antique to vintage home furnishings. And Aras Rug Company has you covered for all your rug cleaning and repair needs.
Gallery 222 just opened and now serves as a studio space and gallery. The gallery urges visitors to buy art from living local artists. Great advice!
When you get hungry, there're plenty of options from fine dining at General Warren and The Desmond's Hunt Room, to Memphis-style barbeque at Jimmy's BBQ, and homemade Italian cuisine at Toninos Pizza & Pasta Company. And be sure to stop by Dixie Picnic for a decadent upcake to take home!
Phoenixville
Drink enthusiasts need to add this former steel town to their must-visit list. The area's seen a surge in locally owned craft breweries, distilleries and wineries, with no end in sight! Exton's Crowded Castle Brewing Company has plans for a taproom and brewery on Bridge Street, while Philly-based The Foodery hopes to open their craft beer bottle shop this fall. In the meantime, stop in at Bistro on Bridge for a brew and more.
New to the food scene is GCGC Greek Yogurt—"Get a Cup, Give a Cup"—where for every cup of yogurt you buy, a cup is donated to local food banks. And luckily Steel City Coffeehouse isn't closing their doors—they're under new management with an updated locally sourced menu on the way.
You'll also find unique shops and stops—Deep Groove Records & Audio and Minx Vintage, to name two—that give the town an eclectic vibe.
And when you can't shop or eat anymore, spend an afternoon at Eden Day Spa & Salon in nearby Collegeville for some pampering.
Exton & Downingtown
Connected by Route 30, these towns are worth the trip to see what's new. Exton's Eagleview Town Center is booming, with three more restaurants on the way—authentic Italian Bella Vista, modern Mexican Al Pastor, and farm-to-table beer garden Suburban. Also in Eagleview are our friends at Wellington Square Bookshop, one of the few remaining independent book stores. Check out fitness and wellness destinations—Passion Cycles, Passion Fitness, Blue Buddah Studio—sure to elevate your mood.
Exton is also home to old favorites like Appetites on Main and Ron's Original, both named best restaurants in Exton (and not just by us).
Get your craft beer on in Downingtown, home of Victory Brewing Company, now celebrating 20 years, plus Station Taproom's new Bottle Room next door with a to-go craft and import bottle selection and a growler/crowler station.
Dine at Amani's BYOB for in-season, farm fresh goodness. Or try somewhere new-ish like Milito's Ristorante Bar & Pizzeria or Okinii Modern Japanese, depending on your taste.
Paoli
Ashopping and dining town, Paoli is home to local businesses that have served generations, like Walter J. Cook Jeweler, offering classic, elegant jewelry for 70 years, and Paoli Rug Company, selling and repairing Persian and Oriental rugs for 60.
Drive to Paoli Village Shoppes for food for you at Nudy's Café or for your animal companions at Concord Pet Foods & Supplies.
Take a yoga, zumba or pilates class down the street at Purenergy. Then head over to the Paoli Shopping Center for stylish women's clothing finds at Scout & Molly's and Polka Dots.
Also nearby is Ballet 180's studio—as you pass by remember to mark your calendar for their holiday concert A Charlie Brown Christmas in December.
And keep an eye on La Cabra Brewing Company's Facebook for updates on the opening of their brewpub in neighboring Berwyn.
Wayne
For a taste of the Main Line, sample the good eats of Wayne. Try upscale Autograph Brasserie or The Goat's Beard for a hip gastropub where food and drink go hand-in-hand.
Also check out local favorites like Black Powder Tavern in its circa 1746 Continental Army building and A Taste of Britain celebrating 25 years.
Head to Eagle Village Shops for charming boutiques and gift shops like The Barn at Valley Forge Flowers and The Little House Shop. Then see a movie at the Reel Cinemas Anthony Wayne Theater with its small town charm.
And for something different, look to the heavens at Eastern University Planetarium over in St. David's, with seasonal shows through December.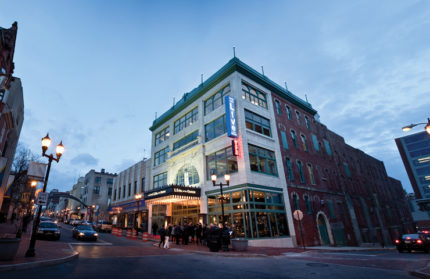 Wilmington
Ready to head south and explore what Delaware has to offer? It's got museums that are just a short drive away—like the world-class Delaware Art Museum and the unique Marshall Steam Museum. Plus plenty of theaters—The Playhouse on Rodney Square, The Grand Opera House and the Delaware Theatre Company are all in town.
On the waterfront, play minigolf with the kids at Riverwalk Mini Golf or head for The Delaware Children's Museum for educational fun.
Dine in town at favorites like Domanine Hudson or heading home on Route 52 at beloved Buckley's Tavern.
And while you're there, Route 52 has small town shops to discover, from stylish furniture and design services at Somethings Unique to well-curated designer fashions at Wilmington Country Store.
Newtown Square
Heading east on Route 3, takes you to the mega-development at Ellis Preserve. Still a work in progress, the mixed-use space has big plans for shopping, working and living. Some, like Finely Catering's The Ballroom and Zoe's Kitchen, are already open for business, while others like Whole Foods are still on the way. Be on the lookout for more.
While you're there, stop by some Delaware County gems marking business milestones. For 40 years, Mostardi Nursery has kept locals coming back for all their garden needs. And Christopher Chocolates, for 30 years, sells sinfully sweet treats you can't pass up.
Need a break? Stop in Burlap & Bean for fresh roasted, fair trade, organic coffee by day or live music and open mic on weekends. Don't forget to pick up a copy of County Lines there!
Beyond
Once you've hit some of our favorite towns, meander a bit north and west and enjoy the scenery on your way. Pottstown is home to quality home furnishings at Moore's Furniture—also in Chester Springs—and great drinkeries like Manatawny Stillworks and Slyfox Brewing Company.
To the west, a new distillery in Elverson, Brandywine Branch Distillers, is now open, bringing gin back in style and offering tours, tastings, bar and farm-to-table bistro. Also in Elverson, Chester County Hearth & Home's showroom is worth the drive to see their cozy stoves and furnaces up close in person.
In Glenmoore, visit Eleanor Russell Ltd. for whimsical home décor and gifts with an equestrian flair, while in New Holland, you'll find more décor at Heritage Design Interiors, plus design consultations.
Over in Lancaster County, there's so much to discover. Do visit some museums, like LancasterHistory.org and The Demuth Museum for local history and art.  And your trip wouldn't be complete without dining at The Stockyard Inn, one of the oldest, continuously operating steakhouses in the country.
back to top