A Year's Joyride
Pedals with Petals tours the area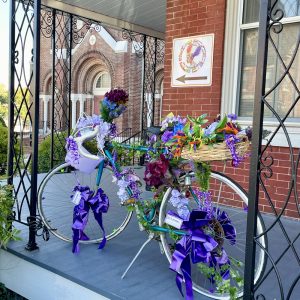 January 2022 felt cold, bleak and uncertain. That is, until Instagram snaps filled with brilliant color and hope flashed up on my screen.
In search for ways to help his wife whose memory was failing, a man in Amsterdam named Warren Gregory created a fleet's worth of bicycles adorned with blooms, butterflies and signs bearing the slogan "Love is the cure." He took photos and shared them on social media. Flowerbikeman, as Warren became known by a multitude of online fans, had a goal — to grow smiles.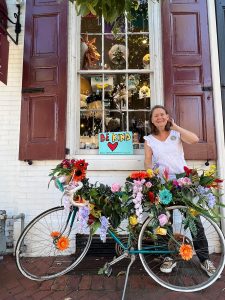 I needed that. And so did West Chester and Chester County. With a nod and tips from Flowerbikeman, Pedals with Petals rolled out in February for Valentine's Day and National Heart Month at the newly opened Kilwins candy shop in West Chester with the help of Mayor Lillian DeBaptiste. That was just the start.
Over the year, the original bike and a tiny sidekick with training wheels changed bouquets, colors, causes and locations: honoring all Rosie the Riveters in red and white roses at the Chester County History Center, kicking off the West Chester Public Library's summer reading program, raising awareness of domestic violence with purple bows and blooms in Phoenixville this fall and more. Wishing families and teachers a successful academic year, the flower bike paraded through West Chester with artist David Gerbstadt and friends, then spent a few weeks at Uptown! Knauer Performing Arts Center, earning a spot on the 6abc Action News "Be Kind" segment.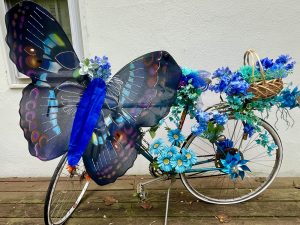 Decked in blue blossoms and a huge butterfly for freedom in January 2023, the flowerbike heads to the West Whiteland Township Building to call attention to National Human Trafficking Awareness and Prevention Month.
Pedals has brought lots of smiles to Chester County over the year. Check out the bike and keep a lookout for future stops and messages.
Carol Metzker is a writer (including at County Lines), frequent speaker and community outreach professional. Using real-life stories to inspire and spark change, she's authored Facing the Monster: How One Person Can Fight Child Slavery, as well as other books and articles. Carol has also led numerous local and international projects for anti-human trafficking, innovative change and wellness.
back to top