A Whole New World of Wine
Time to break out of the cabernet cage and try new wines.
From cabernet sauvignon and pinot noir to chardonnay and sauvignon blanc, most of us have sampled the go-to wine options. So, isn't it time for a change? Why not surprise your wineglass and your palate by uncorking a bottle that's a bit out of the ordinary range of choices?
It's time to introduce yourself to four grapes you may have noticed but were unsure about trying—tempranillo, cabernet franc, pinotage and grüner veltliner. These lesser-known grapes have much to offer—in addition to variety—and will show you a whole new wine drinking experience.
Try Tempranillo

If you're looking for something that's a bit hefty and bold, check out the tempranillo grape. It's almost exclusively found in Spain, primarily the northern region of Rioja.
To start, try the 2017 Black Elk Tempranillo from Castilla, an easy drinking, lighter expression of this grape at a very affordable price point of $10.99. It's aged in stainless steel, giving it smooth raspberry and cassis notes.
It's worth noting that most tempranillo wines are heavily influenced by the aging process, which can give them a darker fruit or smoky component. For example, the 2015 Marqués del Atrio Rioja Reserva, priced at $15.99, is aged for two years in French oak and showcases the aging process, making the wine more complex with dark cherry and cedar notes.
For an even bigger punch, savor the 2009 Bodegas Riojanas Monte Real Rioja Gran Reserva. At $29.99, this wine spends close to three years in American oak, which gives it a very earthy quality paired with luscious blackberry that makes it fresh and ripe.
Select one of these wines to complement a range of dishes, from lighter turkey meals, grilled burgers or lamb. This transformative grape's flavor varies in every bottle, so be sure to sample a few to get a full sense of the flavor of tempranillo.
Crave A Different Cabernet
Another grape that's been in the spotlight lately is cabernet franc. Not to be confused with the better known cabernet sauvignon, the cabernet franc grape is much lighter with components of juicy strawberries, crunchy bell peppers and crushed gravel.
This grape is most popular in the Bordeaux region of France, but is starting to gain attention in other parts of the world including Italy, North America and South America. Often, this grape is blended with other grapes, but increasingly there are more single varietal options available.
Let's start a little south of Bordeaux, in the Languedoc region, with the 2018 Laroque Cabernet Franc Cité de Carcassonne, priced at $11.99. This wine has hints of raspberry and rhubarb followed by silky smooth tannins. The winemaker says there's a "very feminine touch" to the wine, along with its attractive aromatics and body.
If you enjoy the Laroque cabernet franc, you may also enjoy trying one of the many Bordeaux blends that include this grape. Then feel free to compare and contrast the blend with the singular expression of the grape.
Pick Pinotage

A favorite underrated grape varietal is pinotage. If you're searching for big alcohol and full body, this is the wine for you. This grape is found almost exclusively in South Africa but with small quantities from Brazil. It's meaty, bold, large and in charge.
Start your exploration with the 2018 Beyerskloof Pinotage from the Western Cape, priced at $12.99. It's a more approachable expression of this grape with strong plum and cedar notes. This wine is a little lighter compared to other pinotages, making it an excellent entry bottle.
To jump into something unique, pick the 2017 Survivor Pinotage from Swartland at $17.99. This wine was aged for 18 months, and it's certainly very hearty. Along with bold flavors of cedar, spice, dried plum and fig, you'll get a slight herbaceous note in the background that ties this wine together. It will warm you up after just one sip!
Grab a Grüner Veltliner

One last grape varietal on this tour is grüner veltliner. This grape is made into a white wine that's attracted attention lately. Found mostly in Austria as well as Slovakia, Hungary and more recently in the United States, it's a crisp, flinty grape full of flavors such as apple, pear and white pepper.
Grab the 2019 Pfaffl vom Haus Grüner Veltliner from Niederösterreich, priced at $14.99, and the 2019 Little Cricket Grüner Veltliner from Pannon at $11.99. These wines are packed full of bright acidity and juicy fruits, perfect for the upcoming spring and summer months. Be sure to get your hands on some before they're gone!
Here's to exploring new wines! Never be afraid to try something beyond your go-to bottles. And feel free to ask your local wine specialist about that bottle you've been curious about—maybe it'll become a new favorite. Cheers!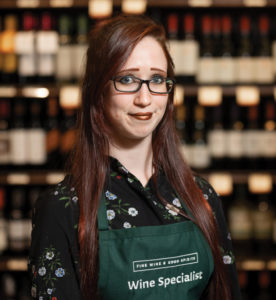 Jessica Roberts has worked with Fine Wine & Good Spirits for six years, taking the position of Wine Specialist a year and a half ago. What began as a hobby soon blossomed into a satisfying career. Jessica works at the Premium Collection store in Phoenixville. Stop by for one of her tastings or just to ask a question. Learn more at FWGS.com.
back to top