A Walk in the Labyrinth
Photos courtesy of Friends at Everhart Park
No, it's not a puzzle or a maze but a type of moving meditation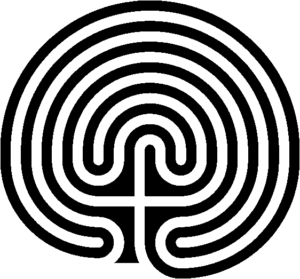 Getting bored of walking you're usual neighborhood loop? Consider something new. Labyrinth walking has seen an uptick during the pandemic, as more folks search for ways to release stress—outdoors and socially distanced—using these pre-set, circular paths leading to a center space.
There are several labyrinths in our area—painted on floors indoor and set in nature outdoors, including one at the Church of the Loving Shepherd built in 2001, shortly after September 11.
We came across the newish labyrinth built during the summer of 2020 in Everhart Park and asked two volunteers who worked on the project to tell us more.
Paulette Terrels-Clarke and Susan Frens had this to say.
Why build a labyrinth in Everhart Park?
Paulette: Everhart Park is a beautiful park that already invites people to come and enjoy it. Having a place to slow down a busy life, and even meditate, is wonderful. The flat space in the southwest corner of the park was perfect. It's set a bit away from other activities, yet still a part of the action.
And the labyrinth is an invitation to pause and reflect in an easy and direct way without creating stress.
What are some benefits of walking a labyrinth?
Paulette: Many people have discovered their life is too fast and that slowing it down would be beneficial, but they don't know how and feel that sitting meditation is not for them. To walk quietly on a path already there can feel much more calming. And over time that brings them a sense of peace. Walking a labyrinth may feel odd at first, but at the end of the walk or by the second or third time, they begin to feel it's been a very nice experience.
How was the project funded?
Susan: Friends of Vernon Brewer contributed to a fund that provided seed money for the project, then Friends of Everhart Park made up the remainder from fundraisers and membership dues—plus plenty of volunteer labor. Extra plantings around the labyrinth and a welcome stone were funded by addition donations from generous Friends of Everhart Park.
Who designed it, and how was it built?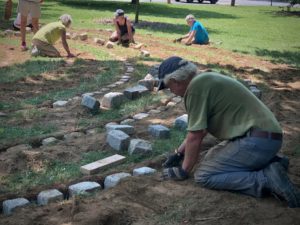 Susan: A small committee spearheaded the project, first searching for a design that would be zero extra maintenance for the Borough. Our model was based on a design at Westtown School, made with natural stones, set flush with the ground so it could be mowed over.
Next steps were the approvals—from Borough Council, Public Works and Parks and Recreation, with Keith Kurowski deserving special thanks.
Our labyrinth is an ancient design: an expanded center, 7-circuit classical (Cretan) labyrinth, with 3-foot wide pathways, constructed with 7 tons of cut, recycled Belgium blocks. My husband, Dale, and I followed instructions in "How to Make a 7-Circuit Labyrinth." We established the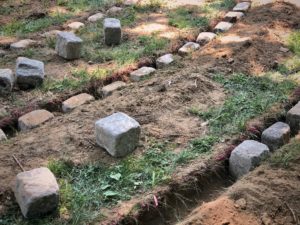 center and used string to measure and draw the border lines that we marked by spray paint. Using a trench digger, Distinctive Outdoor Spaces followed these painted lines and machine-dug narrow trenches for the blocks.
About 25 Friends of Everhart Park and labyrinth lovers showed up one hot Saturday in July 2020 (with masks and gloves) to set the blocks in the 4-inch trenches, level them, tap them down and fill in the gaps. Leftover soil was used to fill holes elsewhere in the Park.
Once we finished, we realized the labyrinth needed more protection from traffic on Bradford and West Union Streets, so we added a screen of plants to create a quieter space.
What does a person need to know to use the labyrinth?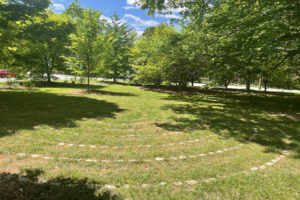 Paulette: Labyrinths have become very popular in the last 20 years, and they've been written about in many popular magazines. The invitation is just to walk a path you can't get lost on. How nice is that, when you consider that many times we feel a little lost on our own life path. This walk can allow a person to take peaceful steps toward a center and back.
Walkers could consider a problem, have a spiritual intention or just be curious. You could even go fast as you walk it. There are no rules.
Our hope is that once someone walks it, they'll come again and again to discover how the simple act of walking mindfully can bring a sense of peace and well-being.
Susan: Kids also love to just run it as a game. As Paulette said, there are no rules. And it's open to the public.
There wasn't a formal launch for the labyrinth because of Covid. Do you plan one?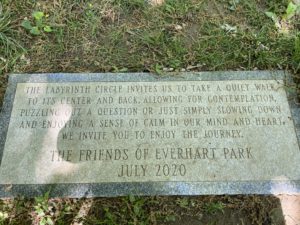 Paulette: I'd love to have a formal launch to invite the community to take part in the joy of the labyrinth. Plus, signage in a few places in the Park would be helpful. If you don't know about it, most likely you wouldn't find it. And if you did, but didn't see our entry stone, you might not have any idea what it was.
Susan: Once Covid rules are relaxed, we'd like to ask the Borough to have a twilight dedication and put votives on the path. There are a lot of people to thank for this wonderful labyrinth.
Find more labyrinths through the locator function at LabyrinthSociety.org. It lists 8 within 10 miles of West Chester, including those at Winterthur and Church of the Loving Shepherd but not at Everhart Park or Westtown School. Check the site to find out which are open to the public.
back to top