A Long Weekend in Annapolis
Photos Courtesy Visit Annapolis
Sailing Capital and More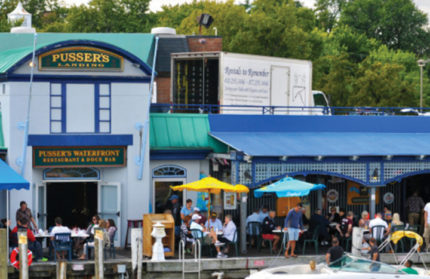 It's been too long—20 years maybe—since my last visit. The boats, the crabs, the galleries, the history … Only a two- or three-hour drive from West Chester, get there in time to catch the Wednesday Night Races, sponsored by the Annapolis Yacht Club, since 1959, April through August. If you're early enough—first race at 6 p.m.—you might join a crew.
Welcome to the Sailing Capital of the United States!
Wednesday Night Races
The town is rowdy as the race starts. A good vantage point to watch the regatta is from the Spa Creek bridge. There, you'll see more than a hundred sailboats finish, hear the crowds and teams cheering, and perhaps a champagne cork pop.
Later you can head over to Carroll's Creek Café or Boatyard Bar & Grill, where the crews are loudly, competitively crowing their successes. Join them on deck. Order a beer. Listen to their tall tales. Or watch the regatta from Pusser's Caribbean Grill's waterfront location as you sip a rum drink, maybe their signature drink, the Painkiller.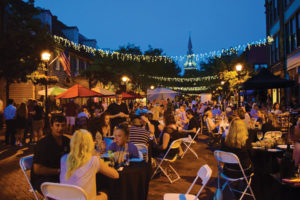 And because it's Wednesday, walk back to town and have Dinner Under the Stars. Held in the Arts District, about 10 restaurants move their tables onto the street. Relax. Wind down. Enjoy.
Next, if you've planned well, settle into your room. It's been a long day. The Maryland Inn, for example, is one of several elegant yet comfortable hotels downtown managed by Historic Inns of Annapolis. Or choose a B&B or something from the larger chains—Westin, Loews, Doubletree, Hilton are all represented. Still, best to book early.
Start with a Tour
Thursday save for a tour of the Naval Academy. June 27 was Induction Day, the beginning of Plebe Summer and the first day of over a thousand new midshipmen's four-year stint.
The first of several tours each day begins at 10 a.m., lasts an hour and a half, and includes the dorms, the Yard, Memorial Hall, Chapel and Crypt of John Paul Jones. Afterward spend time in the Academy's museum viewing memorabilia, models of naval warships, dating back to sails and schooners, weapons, uniforms, paintings, and scenes and maps from famous battles.
Before leaving the grounds, take in the Academy's formidable buildings—some over 170 years old. You'll notice the campus's verdigris dome, currently wrapped in scaffolding but in a few years it will transform into a shining copper landmark.
Next, maybe something lighter. Perhaps a concert? Every Thursday night through mid-August, there's music—from blues to funk to rock to island rhythms. All free and part of the Tides & Tunes series.
Until then, wander downtown and browse the shops and galleries. There are about 20 galleries: the McBride Gallery, Whitehall Gallery, Annapolis Marine Art Gallery and others. You can just roam.
And then end up at the City Dock. A late afternoon drink and some apps at the Federal House Bar is a wonderful way to wind down.
On the Water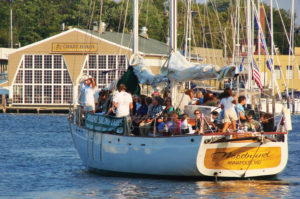 The best way to enjoy Annapolis is to get out on the water. For fun, board a 74-foot schooner, one of the Woodwinds, sailing about four times each day for two-hour cruises on the Chesapeake Bay.
Another option out of the City Dock, is the Harbor Queen, which leaves every hour and takes you (with 50 to 100 passengers) on a narrated cruise around the harbor. For a more intimate tour, join the Miss Anne on a slightly different route. Either way, prices are reasonable: about $17 for adults and $6 for kids.
If you're less interested in company, and can captain your own boat, you can charter, bareboat or crewed. Alas, that's a whole 'nuther story, and a lot more costly.
Between the Harbor Queen and chartering, there are more options. South River Boat Rental offers half-day rentals of sailboats and motorboats, while Dream Yacht Charter has catamarans and monohulls, some with AC! For something more modest, choose a kayak, canoe, raft or stand up paddleboarding (SUP, it's a thing). Try Capital SUP or Annapolis Canoe and Kayak.
And, if you don't want to be in command, you can take a water taxi—only $3 to $8. Tell the driver to take his time.
Tour of the State House
There's a second dome in Annapolis, atop the oldest state capitol in continuous legislative use. For several years, the State House served as the nation's capitol. The Continental Congress met there. George Washington resigned his commission there. The Treaty of Paris, officially ending the Revolutionary War, was ratified there.
Today, you can walk right in.
A block away is St. John's College campus. Claiming to be the oldest college in the nation, St. John's is known for its distinctive Great Books curriculum.
This neighborhood is also home to many historical houses, too numerous to list. If you choose just one, try the William Paca Garden & House. A signer of the Declaration of Independence, Paca lived in a home that now occupies two acres of terraced native gardens.
Last Look
On the first Sunday in July, there's one more thing on your must-do list: the First Sunday Arts Festival, held May through December. The event is booming, with well over 130 vendors and performers offering jewelry, paintings, sculpture, music, magic, dance …
Then, sadly, the long weekend is over—time to say good-bye to Annapolis. Maybe you'll choose the longer way home, over the Bay Bridge and up the Eastern Shore, vowing to be back in something less than 20 years. Maybe for the Crab Feast on August 2? Bushels of crabs, cobs of corn, gallons of crab soup …. Yeah, you'll be back.
Find out more at VisitAnnapolis.org.
back to top