A Challenging Year for West Chester's Restaurants
Looking Forward to 2021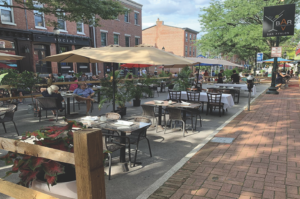 The stats on keeping a restaurant running, even under the best of circumstances, suggest the restaurant business is not for those with weak stomachs—for many reasons, actually. Although the chances of success for new dining spots are generally much better than those often seen in the popular press—surviving a pur ported 90% failure rate in the first year—this is still a tough business. One made tougher by these unprecedented times, with their direct and dramatic impact on our local restaurants.
But, because a top reason new restaurants shutter is choosing the wrong location, those located in West Chester—a prime dining destination with loyal customers—should have a strong chance to beat the odds. We're hoping that's so.
Some West Chester Stats
Yes, 2020 has been a challenge for West Chester's restaurants. DeStarr's closed after 80 years in business. New-ish Appalachian Brewing was another casualty. The Liquid Eatery, West Chester Coffee & Ice Cream, and the Gay Street Starbucks closed as well, although rumor has it another Starucks location is planned.
Meanwhile, other restaurants have opened or plan to, so the number of eateries is a net positive. Scoop 'n' Smiles Ice Cream, offering ice cream "the old fashioned way," took over West Chester Coffee. Rolling Stars on East Market brought a new bagel shop to town. Wrong Crowd Beer Company, a brewery and tap room, launched on Hannum Street. Mae's West Chester, a farm-to-table restaurant by award-winning Chef Josh Taggart, and La Tartine, serving Mediterranean specialties and crepes, both debuted around Mother's Day.
Meanwhile, Sedona Taphouse, a franchise with locations in Phoenixville and elsewhere, is slated for the 44 West Market complex, and Stove and Tap plans to add to its restaurants in Malvern and Lansdale. Hop Fidelity, basically a record store, is brewing up a nano brewery for downtown West Chester. And Greystone Oyster Bar, which is poised to open on North Church at press time, will feature, you guessed it, oysters.
In short, five down, nine up by our (admittedly optimistic) count. Not bad given the pandemic.
Changes
Not that 2020 was easy. Luckily, the Borough and the weather were mostly cooperative. Through the better part of November a diner could survive outside with a sweater and a mask, dining at tables on the open-air marketplace on Gay Street and patios around town.
Nearly all restaurants modified their formats, though, along with requiring masks, distanced tables and fewer diners. Grubhub, DoorDash and Caviar have been doing big business (and taking about a third of the bill), while kitchens shifted to preparing more meals for take-out and curbside pickup. Wait staff is diminished as a result of less in-person dining and the latest moratorium.
Summer to fall, outdoor dining supported West Chester'w restaurants. More gift cards under the tree also helped. Now, with winter closing down outdoor dining, restaurant owners and diners alike hope for a special round of governmental relief for restaurants.
We talked with several restaurants to learn more.
Holding Steady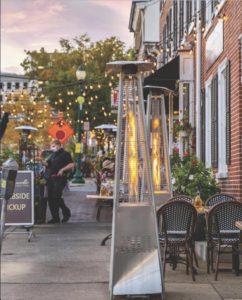 Limoncello, for example, is a popular, well-run restaurant where you used to find business folks enjoying lunch and others sipping drinks on the patio. After the pandemic struck, the restaurant shut down for only a week.
Since then, it's added new procedures (sanitizing, disinfecting, masks, temperature checks) and made additional investments (extra heaters for the patio). About half its business has become take-out, but overall sales have remained roughly the same. What the restaurant lost in large catering business, it's made up in serving family meals.
Frank Mingrino and Patrick Barrenechea credit the restaurant's "loyal following" and "repeat business" and have managed to save Limoncello's staff—about 50 in West Chester and another 100 in Chester Springs. Their fingers are crossed.
Thinking of Others
John Brandt-Lee at Bar Avalon on East Gay Street feels less certain about business. He's been serving customers for two decades—Short Rib and Figs Pizza was a personal favorite—but since COVID hit, the eatery has been contending with the impact. Week to week, he watches the bottom line.
Lately, Brandt-Lee says he senses his customers have a "soft spot" for restaurants, though "educating the customer as to the rules"—masks, social distancing, etc.—has demanded patience. Outdoor dining and the closing of Gay Street to traffic also helped generate diners.
Bar Avalon offers take-out, but the number of customers has been "up and down." The catering business is off, and people have been "skeptical of buffets." Overall, since the pandemic hit, business is down.
Still, Brandt-Lee has maintained staff and remains optimistic. And he thinks of others. He's raised more than $60,000 for nurses, first responders and others during the pandemic and done fundraising for the Chester County Food Bank.
Adapting to Change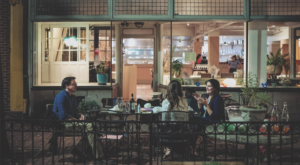 Like others, Andiario has been grappling with the challenges of COVID. According to co-owner Maria van Schaijik, it "would have closed long ago [but for the] belief that this is temporary."
The restaurant itself required little change. Tables were always well-spaced and suppliers were reliable. At tables outdoors, it offered cicchetti (Italian version of tapas). The setting was "relaxed … and a perfect way to utilize the amazing Pennsylvania products." Throughout 2020, Andiario's customers were "the best part about this challenging year."
Yet there was an impact on staff. Van Schaijik notes that full-service and takeout are "totally different operations for us."
Looking to the future, Andiario plans to "pull through." Somewhat hopefully, she says, "Now that we have the vaccine, there's a light at the end of the tunnel."
Limiting Hours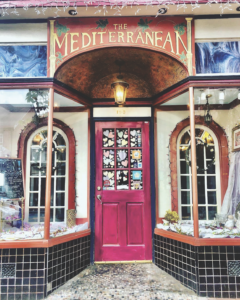 Most fans remember the sizzle of lamb and scents of cumin and turmeric wafting through the entrance while tabouli, kabobs, falafel and other Lebanese and Italian inspired delicacies were prepared, with the sounds of Middle Eastern music in the background.
Joseph Andraos, owner of The Mediterranean for over 20 years, closed his Gay Street restaurant for two weeks when COVID hit. But only temporarily. Two of his wait staff left recently, but he understands. "They had to make money."
Now the restaurant is open only for late afternoon and dinner hours. Yet his catering business remains strong. Outside dining and the closing of Gay Street helped. But, though "we're very careful," he reflects, "people are reluctant to come inside." Nevertheless, he says, the menu "hasn't changed for over two years."
Catering is Up
Specializing in breakfast (eggs, omelets, French toast, waffles) and lunch (sandwiches, burgers, and salads), The Classic Diner on East Gay Street has been the place to go.
Like other restaurants, however, it's seen business drop since the pandemic hit, according to owner Krissy Flynn. In response, she had to cut staff in March, though she's brought some back with the help of the federal government's Paycheck Protection Program.
Catering remains a bright spot. Flynn will now prepare food for parties as small as four—basically, family meals—as opposed to catering jobs for ten or more. Her customers enjoyed dining outside on Gay Street when the weather was warm. They come inside, too.
Looking to the future, she believes the government must help not only restaurants, but also gyms, galleries and other small stores.
Finding a Way
Mae's West Chester was a newcomer to the dining scene last year. But March was a rude awakening for owner and Chef Josh Taggart. "We were scheduled to open the week things closed down in March," recalls Taggart.
Even so, until the weather turned cold in late November, Mae's managed to do a healthy business: take-out, boxed meals, pop-in-the-oven meals. The farm-to-table BYOB offered a popular Cuban sandwich and turkey and brie panini, as well as an assortment of other gourmet dishes.
In fact, Taggart described the summer as "awesome." He'd always planned to do take-out, so expanding that part of the business worked well. Closing Gay Street was a boon, and his new customers were "great."
The winter, though, is another story. Taggart hopes the streets will close to traffic again, say from March to November in 2021.
Holding On Until Spring
For Loic Barneiu, an owner of the Sterling Pig Brewery on West Market Street, has found the last ten months "challenging." During the summer and fall, his business held up, as he served finger food and barbecue to diners outside and indoors. Beer sales were also good, at the restaurant, in the bar and for take-out, whether by the glass, in cans or growlers.
Like others, Sterling Pig enforced distancing rules. Barneiu didn't have to lay off anyone, though his staff did shrink somewhat. Looking to the future, he expects the winter months to be slow, but plans to hold on for the next four or five months, until the warmer weather returns.
Pivoting to Pizza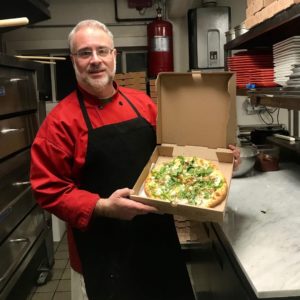 The new owner barely settled in at Spicy Pig on West Market Street before the pandemic squeezed the breakfast/lunch business. Chef/owner Bob Mersereau says he "pivoted back to 25+ years of pizza making."
Cirillo's Artisan Pizza was launched Thanksgiving weekend. Check the website to learn the sweet story of the family connection to the new name.
Business continues to grow, thanks to specialty pizzas like pear (with arugula, goat cheese, balsamic vinegar), Brussels sprouts (with bacon, red onion, mozzarella and brie), and the standout pickle pizza (with smoked bacon, mozzarella and Romano/Parmesan blend). "You need to try the pickle pizza to appreciate it," he says. Regular and personal pizzas, plus sandwiches, salads and sides round out the menu for eat-in and take-out.
Mersereau is betting on the power of pizza to help his new venture survive.
Looking to the Future
In short, 2020 was tough for Borough restaurants, eateries and bars, but they held up well so far. Diners were drawn by West Chester's varied options, while they changed their habits somewhat, opting for more take-out than sit-down dining. At restaurants, most diners preferred to sit outside, on streets and sidewalks dedicated to open-air dining. They enjoyed the warmth of spring, summer and a long, forgiving fall.
As 2021 begins, however, outdoor dining options decrease—outdoor heaters can only do so much. Take-out remains an option for all those who want to see their favorites survive until spring.
We suggest you add a 2021 resolution to help your favorite restaurants through the winter. Ditch those Blue Apron-style meal plans and order family meals every week from local restaurants. Gift cards, so popular for the holidays, should be your go-to present for all occasions—birthdays, anniversaries, Valentine's Day. And don't let delivery services like DoorDash take a third of your restaurant's bill.
The dining scene is part of what makes West Chester a desirable town. Let's do our part to support these special small businesses.
As we read recently: Keep Calm and Carry Out!
back to top