5th Coatesville Invitational Vintage Grand Prix
Photos by Richard Saxton
Three Days, 60 Cars and 12 Motorcycles: "Start Your Engines" September 16–18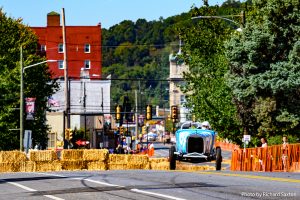 Want to join the only Grand Prix run on city streets in North America this year? Then head to Coatesville for three days in September.
The kickoff is Thursday night, at the Brooklawn Estate (1825 Newark Road), at the PrixView party co-hosted by Coatesville Rotary Club. Sponsors, drivers, committee members and other vintage car enthusiasts will mingle over cocktails, light fare and live music. (Ticket, $50, at CoatesvilleGrandPrix.com/Prixview-Party.)
Friday night from 6 to 9 p.m. is a new event. The public is invited to the Friday Evening Cruise-In, to drive their own hot rods, classic and restored cars through the city. (Parking on Lincoln Highway between 1st and 5th Streets for spectators to view the cars.) Enjoy the Grand Prix fantasy!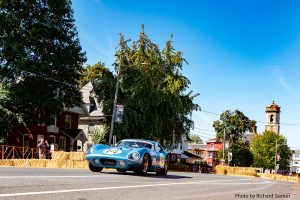 And on Saturday morning at 8:30 a.m., all will focus on the course, as the first cars will "start their engines." Purring, revving, roaring … from Lincoln Highway to 8th Avenue, to Oak Street, to 4th Avenue, to Kearsy Street, to 3rd Avenue and back to Lincoln. Five times around, once in the morning and again in the afternoon.
Crews will have positioned hay bales to slow the pace and erected crowd-protecting fences along the 2.1-mile circuit. Music, vendors and food trucks will entertain the 5000+ spectators expected at this fundraiser to support Coatesville's Parks & Recreation Commission and the city's park system.
Ed Simpson, Coatesville Councilman who's managing event day, says the cars are "immaculate." In all, there will be five classes—2-, 4-, 6-, 8+-cylinder and "open-wheel" (like Formula 1 or Indy cars)—and one class of motorcycles, all built before 1975. Ferrari, Porsche, Lotus, Auburn and other rare vintage cars and motorcycles have shown up for past races.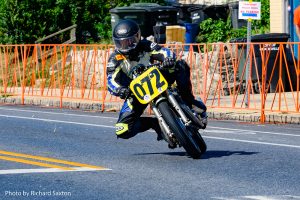 Some drivers are veterans of the Grand Prix, though the course has changed. Many prepare on autocross courses. Others have competed in hill-climbing events.
The first lap will be the drivers' first exposure to the 2021 course. At first, they'll negotiate the course carefully. They'll speed up as they become familiar.
But "speed is not the only issue; safety is paramount," says Jim Martin of the Brandywine Motorsports Club. "Ultimately, the judges consider condition, skill level demonstrated, beauty of the car and sportsmanship."
The Brian Hoskins trophy, last won by Marci Barker of Boontown, N.J., goes to the winner, as well as trophies for each class.
And they're off!
For more information, visit CoatesvilleGrandPrix.com.
back to top