2020 Faces of Philanthropy
Kimberly Brumbaugh
Putting the needs of others first comes naturally.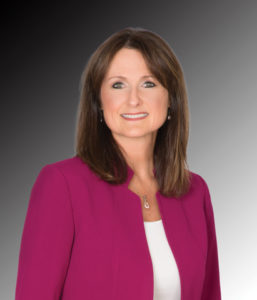 Putting the needs of others first comes naturally to Kimberly. Whether at her firm, Brumbaugh Wealth Management, or at her various philanthropic endeavors,she demonstrates care for others.
Kimberly's caring has a strong foundation in her professional success. Over 15 years ago, after working at a large firm in Philadelphia, Kimberly opened her own wealth management firm in Exton in 2004. Since then, she's been recognized as among the top in her industry by "Forbes Magazine," "Philadelphia Magazine," "Philadelphia Business Journal" and others.
Along with her professional accomplishments, Kimberly believes in supporting her community with her time and philanthropy. As part of that effort, she serves on the boards of Mid Penn Bankcorp, Inc., Mid Penn Bank's Delaware Valley Advisory Board, and the Penn Medicine Chester County Hospital Foundation. She's also been active as the chair at Chester County Chamber of Business & Industry, and Southern Pennsylvania Autism Resource Center.
One organization that's especially important to Kimberly is the Whitford Charitable Fund, where she's a committee member. In 1955, Whitford Country Club was founded through the generosity of Al Ostheimer, who donated a 168-acre property to "share the sporting experience with community neighbors."
Members of Whitford created the Whitford Charitable Fund in 2010 and began working with the Chester County Community Foundation to continue the same spirit of giving that springs from the deep roots of the Club.
Every year, the Fund holds a signature weekend-long fundraiser that celebrates the love of fun, sports, food and drink. Thanks to loyal supporters like Kimberly and her firm, the event is always a huge success.
"Our firm supports a number of charities, and we have a habit of spreading the dollars around. But the Whitford Charitable Fund is special to me," says Kimberly. "Whitford's fundraising goes to help several causes in Chester County—such as health organizations, food pantries, libraries and support for victims of domestic violence. Just last fall it was announced that the Whitford Charitable Fund has awarded over $1 million to more than 65 local charitable organizations. We're proud to support this mission each year!"
Many Chester County individuals, families and nonprofits simply would not be the same without the hard work and generosity of Kimberly Brumbaugh, Brumbaugh Wealth Management and the Whitford Charitable Fund.
The DeHaven Family
Every family member rolls up their sleeves and volunteers.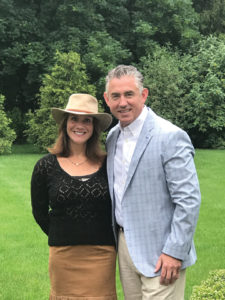 Our family believes in giving back to the community, and we make an effort to volunteer as a family," says Michael DeHaven. His wife, Kimberly, continues, "We try to lead by example and have raised our children with a social conscience at home and as active members of Sts. Simon & Jude Parish."
The couple raised three sons—Chris, Colin, Regan—in Glen Mills, where along with work, school and family responsibilities, each rolls up their sleeves to strengthen our community.
Active in high school volunteer clubs, youngest son Regan says, "I like helping people. When friends get together to help, a lot gets done." Middle son Colin, his fraternity's Head of Philanthropy at Penn State, organizes blood drives, fundraisers for animal shelters and pantry collections for the student food bank. Colin explains, "We've always loved volunteer work. We grew up in an environment where it's normal to give."
And oldest son Chris, a biology and business major at the University of Pittsburgh, is busy as president of Pitt's Student Health Advisory Board, volunteering at a free clinic and Allegheny General, providing emotional support and more.
As for Kim, after completing the Leadership Chester County program, Kim says "This program is a terrific way to deepen understanding of community priorities. We learned a great deal about nonprofit issues, and what we can do as volunteers and board leaders to create an even more vibrant and inclusive community." The Leadership program inspired Kim to volunteer at Home of the Sparrow, to help women secure housing, achieve long-term stability and chart new paths for their futures.
Another group with which the couple feels a strong connection is Handi-Crafters, a nonprofit providing meaningful employment for differently-abled individuals. Mike explains, "At Handi-Crafters, people overcome workplace barriers and gain financial independence. An immense feeling of happiness and acceptance is so apparent in the Handi-Crafters' workshop."
Mike is a shareholder with accounting firm Rainer & Co., known for its outstanding professional service as well as its community service. He's Chair Emeritus of the Chester County Chamber of Business & Industry and a board member of the Chester County Economic Development Council, Mental Health Partnerships, and West Chester University's Corporate Advisory Board.
In 2017, Mike received Chester County Community Foundation's Door Opener Award for initiating legacy philanthropy conversations with friends and colleagues. Later this year, Mike will become the Community Foundation's Board Chair, with hopes of connecting diverse business people who care with legacy causes that matter.
"Community engagement is vitally important to me, my family and my business. We all have a vested interest in the success of our community and firmly believe in the importance of giving back," says Mike.
The Kalogredis Family
A natural affinity for food, friends, family and community service.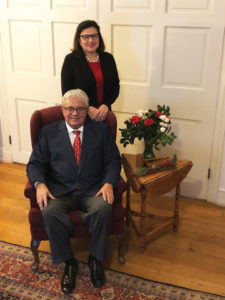 Proudly displaying their Greek heritage, Bill and Stephanie Kalogredis have a natural affinity for food, friends, family and community service.
"Greek cuisine is considered among the finest and healthiest in the world, with the perfume of herbs, olive oil and honey," says Bill. "Moussaka, souvlaki, loukoumades, melomakarona … our culinary traditions embody our heritage," he continues.
Stephanie adds, "It's not just the food, though, it's the people. On any given night we have a kitchen full of cooks and a table filled with friends and family of all ages."
When they're not cooking, Bill and Stephanie serve the community. Attorneys at Lamb McErlane in West Chester, Bill has a stellar track record in health law representing physicians, dentists and health care professionals, while Stephanie is widely respected across the estate planning field.
As graduates of Villanova University School of Law, Bill and Stephanie know the value of education. Bill explains, "Supporting education is giving back on an individual level, a local level and on a social change level as well. I will always appreciate the sacrifices and encouragement of my family and others that allowed me to obtain my education at Providence College."
And of course, the Kalogredises actively support an array of Greek causes, including the American Hellenic Educational Progressive Association (AHEPA). Founded by Greek immigrants in 1922, AHEPA upholds ancient Hellenic ideals of education, civic responsibility, philanthropy, family and individual excellence through community service. The association also provides services for veterans, supports the elderly, and awards scholarships.
Bill and Stephanie also support International Orthodox Christian Charities, a humanitarian agency providing emergency services and worldwide relief. Key areas for this group are food security, refugee assistance, emotional and spiritual care, education, economic opportunities, health and sanitation.
Stephanie says, "Helping those in need, in the U.S. and worldwide, is important to us. We believe everyone deserves the opportunity to thrive."
And, more personally, there's the Vasilios J. Kalogredis and Stephanie Pahides Kalogredis Foundation. Managed by the Chester County Community Foundation, this effort helps Bill and Stephanie make a difference, locally, nationally and internationally. Now and forever.
The Kunsch Family
Mr. Phoenixville passed the baton to new generations.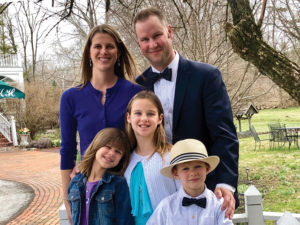 At the cornerstone of Phoenixville's hopeful, inclusive and generous spirit is the Kunsch Family, led by "Mr. Phoenixville" himself, Richard Kunsch. Born and raised in Phoenixville, Dick is recognized as the person to turn to when a local project needs support. For over 60 years, Dick's generosity has enhanced people's minds, bodies and spirits throughout the region.
Dick has made a difference both through his personal philanthropy and his position heading Phoenixville Federal Bank & Trust, from which he is newly retired. Of his community projects, Dick says, "I'm most grateful for being able to help establish the Phoenixville Community Health Foundation. This institution makes a lasting impact on a wide array of community needs."
A recipient of the 2014 Community Foundation Jordan Award, Dick represents the best a citizen can offer to help communities thrive. Dick says, "I want to leave the world better than I found it." He's definitely achieved that goal, while passing the baton to the next generation.
Like his father, Kurt Kunsch is motivated by philanthropic purpose in his personal and professional life. And as Senior Vice President/Trust Managing Director for Phoenixville Federal since 1996, Kurt encourages his clients to give back during their life as well as at their passing, by helping them develop charitable plans and introducing them to volunteer opportunities.
Kurt says, "I've been fortunate to have great mentors in my life. My dad instilled in us the importance of giving back, and donating time, talent and treasure to assist others in need. It feels great to be able to make an impact on other's lives."
With his wife, Kelly, Kurt continues the tradition of family philanthropy with their children Addison, Chloe and Daxon. Kurt's brother-in-law joined in and started a giving tradition: on each child's 5th birthday, they receive the book, "Three Cups: A Lesson in Life and Money for Children." Three cups are given to each child to deposit money from holidays and allowances: one cup for saving, one for spending and one for giving. Now Kurt gives this book to his clients for their children and grandchildren.
Kurt sees benefits for those who give charitably as well as for those who receive charity. "Research shows that the great feelings you experience from helping others may be just as important as exercise and a healthy diet. The smile you receive from a child or a thankful person is one of the best feelings in the world. I enjoy helping people feel great about the impact they can make."
The Morris Family
A passion for philanthropy and service.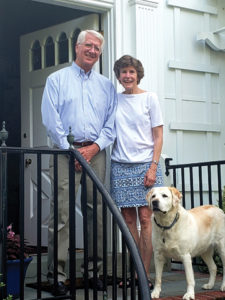 Life is so precious, that it just hurts to see it wasted. It is so beautiful as it is held together and it can't really exist in its true sense without that overpowering and wonderful gift of God called LOVE —the most magnificent word in the world although it only consists of four letters. I can't understand how life can have any meaning without it."
These words were spoken by Nicholas R. MacElree, graduate of Owen J. Roberts High School and president of his class at Gettysburg College, long before he lost his life to cancer on December 12, 1968. Husband and wife team, Anthony (Tony) Morris, Esq. and Elizabeth (Betty) Morris, continue to keep Nick's memory alive today through their charitable contributions.
Tony and Betty are active members of Chester County with a passion for service and philanthropy. Tony says they were both raised in faith-based households and learned about the strength of charity from the example of their parents and grandparents.
Today Tony, a partner at the law firm Buckley, Brion, McGuire & Morris, exemplifies civic engagement by his work as Chairman of the Chester County Community Foundation and as a member of the Chester County Estate Planning Council. He's also been involved through board membership with the Chester County Chamber of Commerce and Industry and the Wealth Advisory Board of DNB First (recently merged with S&T Bank) as well as volunteering with United Way of Chester County, Handi-Crafters, the Episcopal Academy, and the First Presbyterian Church of West Chester.
Tony was on Chester County's first 911 Commission and served as a hearing officer of the Disciplinary Review Board of the Pennsylvania Supreme Court.
In December 2005, Tony and Betty established the Nicholas MacElree Memorial Fund with the Chester County Community Foundation to honor the memory of their late friend who attended the alma mater of their son, Jake. Tony and Betty explain, "It's our honor to continue to shine Nick's light on a world and a college he loved so much. "
Although Nick lost his life to cancer, his spirit lives on through the foundation, which makes grants to education and cancer organizations, along with a $2,000 scholarship to a deserving student at Gettysburg College.
Betty enjoys reviewing the scholarship applications with Tony and their four adult sons. "The students who apply must demonstrate financial need and a broad interest in extracurricular activities, particularly in student affairs or government. It's heartwarming to see the enthusiastic leadership these students display," notes Betty. "Nick's aspirations are realized through the next generation of leaders."
The Sammarone Family
Making a difference through community traditions.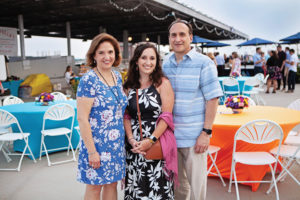 Beloved by West Chester residents, Up On the Roof is an annual fundraiser fueled by the passion and talent of its Chair, Tracy Sammarone.
Born and raised in Chester County, Tracy knows this area and its people are something special. After graduating from West Chester University and marrying her husband, Mark, the couple settled in West Chester in 1988. They juggled raising daughter Chelsea while both helped grow West Chester's Arthur Hall Insurance into the highly respected independent insurance agent and broker it is today.
Tracy and Mark also fell in love with downtown West Chester: "We felt a strong yearning to be part of such a vibrant downtown community."
Their friend and colleague Jackie Van Grofski noticed Tracy's passion for the Borough. "Jackie was instrumental in creating Up On the Roof as part of her volunteer leadership with the West Chester Downtown Foundation. It was my privilege to volunteer alongside her in those early years," says Tracy.
After Jackie passed the baton to Tracy, the event continued to grow. Serving as chair over the past 15 years, Tracy has seen Up on the Roof evolve from a gathering of 75 guests to a full-blown celebration with over 400 supporters. On the first Saturday in June atop West Chester's Chestnut Street Parking Garage, guests enjoy an evening under the stars with live music, dinner, desserts, drinks, dancing and a special Rooftop Martini.
Why is it so popular? "Easy!" says Tracy, "It's casual, delicious and tons of fun to be on the roof with friends, enjoying the ambiance, the sunset, and dancing under the stars. It's a great celebration of this community."
Adds daughter Chelsea, "It's three parties in one—a summer evening cocktail hour, sunset reception with live music, and a late-night dance party." "Plus," adds Mark, "proceeds support the beautification and marketing of downtown West Chester, the Historic Preservation Awards and nonprofit grants."
For his part, Mark also stays active in the West Chester community, serving as the current Board Chair of the Greater West Chester Chamber of Commerce, and by volunteering with nonprofit organizations including the CWP Warehouse Project, YMCA of Greater Brandywine, and Rotary Club of West Chester.
Mark's claim to fame may well be his role running the judging room for the Rotary Club's annual West Chester Chili Cook-Off. "I line up judges, and we turn up the heat as they sample chili from more than 50 teams of restaurants, businesses, home-town cooks and nonprofit groups to raise money for good causes."
Up On the Roof and the Chili Cook-Off are possible because of the support of community members, friends, family and businesses.
Kudos to the Sammarone family: inspiring people of all ages and backgrounds to feel the power of charitable giving and make a difference in our communities.
Alice Thomas
Fulfilling a long-standing dream by publishing her life story.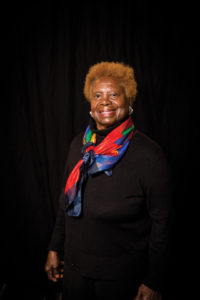 In 2019, 89-year old Alice Thomas accomplished a longstanding dream: to tell her life's journey by publishing her story.
In "Surviving Racism: A Memoir of Life, Love, and Faith – The Charles & Alice Thomas Story," she tells the heart-wrenching story of how she and her family have persevered through racism. Despite obstacles and struggles—or perhaps because of them—Alice became a Civil Rights pioneer and activist in West Chester, demonstrating courage, generosity and perseverance that are boundless.
In the 1950s, newly married Alice and Charles Thomas settled in West Philadelphia because no one would sell them a home in West Chester. Although Dr. Thomas graduated from the Philadelphia College of Pharmacy and worked as a pharmacist, that made no difference.
Later in the early 1970s, while raising two daughters, Alice began working at Henderson High School in West Chester, while Dr. Thomas owned his own pharmacy in the Borough.
During her 35 years at Henderson High School, Alice found her calling working with and breaking down barriers for minority students—serving as their voice. But her efforts were not always appreciated. Once her office was moved to an end closet next to the gym. After the community protested, the superintendent moved her office back to the Guidance Department.
Throughout it all, Alice kept her mission in mind. "I always want to give our students a positive identity at the school—to make sure they realize they can do anything anyone else can do."
When she noticed a lack of minority representation in extracurricular activities and student government, she helped to found Henderson's Black Student Union in 1978. Her efforts led to the eventual election of four African American officers to student government. Yet sadly, these student leaders' photos were left out of the school yearbook. Again, the community rallied and a second yearbook was printed, this time recognizing the African American students.
At her 1998 retirement, West Chester's mayor, Clifford DeBaptiste, created a scholarship to honor Alice's longstanding commitment to education. Each year, scholarships are awarded to Henderson High School graduates pursuing further education. Through the Alice Thomas Scholarship Fund at the Chester County Community Foundation, students have even more chances for a bright and successful future.
Alice perseveres, turning tribulation into triumph. Her victory is having a life filled with love, peace and satisfaction and making our world better for everyone to live together to fulfill their dreams, one step at a time.
Always vigilant. Never silent. Alice Thomas knows education is the key to success.
Penny Wilson
Launching initiatives and inspiring others to give for more than 50 years.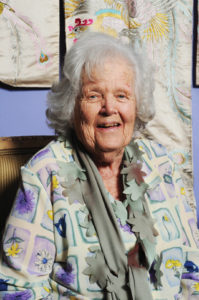 Penelope "Penny" Perkins Wilson's influence in philanthropy has been long-standing and far-reaching.
Born Penelope Perkins in the Bronx, NYC in 1923, Penny was the daughter of George W. Perkins and Linn Merck Perkins. Her father was the first ambassador to NATO. She was raised on the family's farm in Cold Spring, New York and received her high school education at Chatham Hall in Virginia. While attending Bennington College in Vermont, Penny became interested in architecture, especially rehabilitating historic buildings. Because Bennington has played a deeply important role in her life, she continues to serve on Bennington's Board of Trustees, offering insight and wisdom.
In 1943, Penny Perkins married William B. Wilson, a Navy aviator and traveled throughout the United States. Her love for Chester County began on New Year's Day 1950, when her family moved into WyllPen Farm, a historic 1813 home.
Penny's passions for history, architecture, visual arts, women's education and the environment blossomed in Chester County with much opportunity at hand. In particular, it was her love for history and architecture that attracted her to a 19th-century village in peril, known as Shugart's Town. Her interest in restoring this treasure entailed much drive, hard work and support from friends and neighbors.
"It takes a village to save a village," says Penny. A successful endeavor, Historic Sugartown, as it's presently known, is well preserved and open to the public, giving a window into 19th-century culture and architecture. Co-founder John Nagy said, "At Historic Sugartown Penny has always been a driving force with untiring devotion to our projects and strict attention to detail and authenticity."
Also on Penny's list of valuable organizations preserving our local history is Chester County Historical Society. She values the integration of collaborative projects providing a thread of continuity among the local historical sites.
Penny has a special interest in using matching gifts to inspire giving to charities. She believes that challenge gifts are wonderful tools that inspire more donors to give more. Some of the benefactors of this wisdom include the Audubon Society of PA, Bennington College, Chester County Historical Society, Chester County Hospital, Chester County Community Foundation, Historic Sugartown, Moore College of Art & Design and Westtown School.
In 2004, Penny's enduring philanthropic commitment was recognized by the Chester County Community Foundation as they honored her with the Jordan award. Dr. Henry Jordan said, "Penny has given of her time, personal resources and talents for more than 50 years. Her philanthropic leadership goes far beyond financial generosity and includes her willingness to share her expertise those charged with creating and sustaining fundraising initiatives. Penny has raised the bar for many in our community, inspiring us to new heights. For that, Chester County is eternally grateful."
In memory of Betty Moran
She lived by her personal motto: "Be kind, considerate, charitable and fierce." / 1930–2020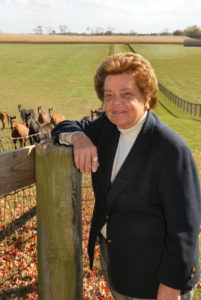 Philanthropy and love of family, friends and community defined Elizabeth "Betty" Moran's life.
She was deeply committed to helping those in need and worked tirelessly to help. As a leading philanthropist and active volunteer, she left behind an extraordinary legacy of giving back.
After so many years of leadership as a donor, solicitor and volunteer, the list of Betty's passions and causes was long. Some highlights:
La Comunidad Hispana, where Betty served as co-chair of a $5.5 million capital campaign, giving a pacesetting gift and spearheading fundraising during the economic recession. Now Latinos and other disadvantaged families have access to healthcare, social services and educational programs to help improve the quality of their lives.
Community Volunteers in Medicine (CVIM), where as both a founder and campaign chair, she raised more than $7 million for the sustaining fund. Since its inception in 1998, CVIM has raised nearly $30 million to provide free healthcare and medications for the working poor.
Chester County Food Bank, where she served with Robert McNeil as co-chair of a $5.4 million Hunger Relief Campaign, after the prior food bank closed for lack of funding. In just one year, the new food bank completed a capital campaign, purchased a new facility, established a commercial kitchen and expanded its services.
Through her leadership and generosity Betty championed many other local groups, including Home of the Sparrow, Operation Warm, Surrey Services for Seniors, Paoli Hospital, BreastCancer.org, Main Line Animal Rescue, Thorncroft Equestrian Center and the Barn at Spring Brook Farm, as well as schools and educational institutions. She was also a founder of Chester County Community Foundation.
Protecting the open space she loved led to support for the Brandywine Conservancy and Willistown Conservation Trust, creating an immeasurable impact on our area.
Quite simply, you'd rarely find a donor list that didn't have Betty Moran's name right at the top. Regardless of her personal situation or demanding schedule, Betty didn't hesitate to volunteer her time, share her experience, provide leadership and do what it took to get the job done—not for personal recognition, but for her sense of responsibility for others and our community.
In fact, she often joked about her knee replacement surgery as resulting from "too much begging."
For Betty, philanthropy and helping others was a way of life and a philosophy she passed on to her family—and with accountability. Each Christmas, she gathered family together to get "reports" on charities her children, and then her grandchildren, supported during the year. This tradition instilled a deep belief in giving that continues from generation to generation.
And so now the names of her children and grandchildren are found on many donor lists giving testament to the importance of promoting philanthropy among the young.
Every community needs more people like Betty Moran—with her kindness, generosity, fervor, hard work, leadership and wonderful sense of humor. Her legacy of lifetime achievements has changed the very nature of our community for generations to come.
back to top