Windows into Malvern
Photos by David Campli Photography
Stop in and visit some of the businesses that make Malvern special.
Wander through Malvern. The shops are enticing. Restaurants and farmers' markets beckon.
Look into the windows of the minds of the people who infuse their passions and personalities into new and long-time loved establishments.
Bienvenue, Benvenuto
One glance into UpHome Ltd on King Street and you'll find yourself sashaying through the front door. Beyond French antiques and home accessories, the shop offers an enchanting experience. A trip to UpHome is like opening the shutters of a guest house in Provence to gaze upon olive groves and listen to clock tower chimes wafting by on a warm breeze.
That's precisely what Linda Ritter, proprietor of UpHome Ltd, envisioned years ago. Provence was "love at first sight," Ritter reminisced. She and husband Bryce began visiting annually in 1999 and dreamed of creating a shop that brought the feeling of Provence to Malvern. They realized that dream in UpHome in 2003.
Ritter imported French scents of rosemary and pine in soaps and diffusers. She re-created the casual, peaceful look of Provençal homes through linen pillows in muted colors. She shared the region's cuisine through flavors of mustards and olive oils. Evoking the impression of shopping in Avignon or Gourdes, she adopted the tradition of greeting visitors and allowing them to explore before telling the story of an item—a French wine-tasting table or basket used for harvesting grapes—where they lingered.
UpHome transports Ritter and customers. "On gray days I look across the shop and see a shutter or door. I can almost feel the sunshine of Provence."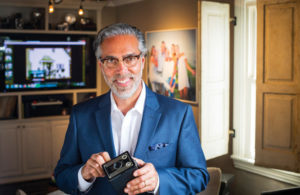 For a taste of Italy, a glimpse of the Caribbean and more, cross King Street to David Campli Photography. Whether Campli is photographing a family at the beach, a high school senior by a green and orange Caribbean window, or newlyweds at their reception, he puts himself into his work. Each portrait and angle of his business reflects the artist, traveler and man who loves family and his Italian heritage.
Campli surprises visitors to his studio with a signature gift—homemade pizzelles. Made from his Italian grandmother's recipe, his waffle cookies are as delicious as any to be found. More memorable than most business cards, the pizzelles are stamped with the name and logo, David Campli Photography.
Looking In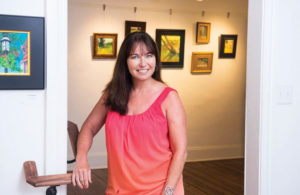 Climb the porch steps and peek into another spectacular window-front at Gallery 222. Owner and curator Andrea Strang has transformed an old home, a passion for art and enthusiasm for entertaining into a vibrant space for exhibits and events.
A drawing class led to ten years of classes, studio tours and trips to galleries. "Eventually I found myself buying art," said Strang. "I realized I was hooked." She opened Gallery 222 to help others experience those joys.
Her favorite part of her job is visiting artists' studios to select pieces to sell. "It's like Christmas when new pieces arrive later," she said. "After works are delivered and an artist has left, I open the boxes. It's exciting!"
Sometimes, she admitted, she is sorry to see works go after a reception or exhibit. She gestured toward a large richly colored painting of a tree by Monique Sarkessian—"So sometimes I buy it myself."
Looking Out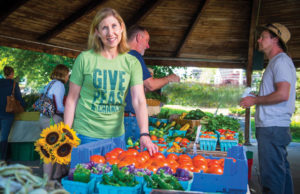 Sometimes the best way to spy Lisa ONeill is to look outside the window. The owner of Growing Roots Partners is sometimes found at a farm, an outdoor market or an evening event that she's organized and produced.
With a love for nutritional food and farms, ONeill connects community members each week at the Malvern Farmers Market with fresh new tastes such as kohlrabi and fava greens, in addition to favorites: carrots, peas and potatoes.
"A potato isn't just a potato," asserted ONeill. "Produce that's grown locally and eaten the day it's harvested has better nutritional value than something picked weeks ago. It's also part of a bigger picture. When folks come to the Farmers Market, talk to farmers and learn about food, they develop a respect for farmers and their work."
The benefits of her partnerships are many—farmers' livelihoods, families' nutrition, and as anyone who's bitten into a true vine-ripened tomato will attest, tastes that are unsurpassed.
Welcome to Town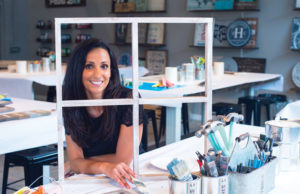 A newcomer to King Street is AR Workshop Malvern. Co-owner Gemma Hrevatis brings enjoyment of Do-It-Yourself woodworking, a nursing background that lends itself to helping people, and a special philosophy to the DIY studio in the heart of town.
The seed for the business was planted when she learned to make a wooden sign to hang above a newborn's crib. The project became the first of many. And the sign's poem by Erin Hanson became her philosophy for coaching DIY students who were making signs, centerpieces or window decorations: "'What if I fall?' Oh but my darling, What if you fly?"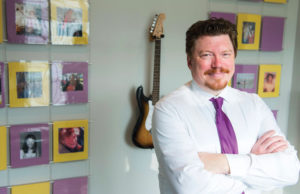 Meet another newcomer David Cambridge, head of school, at the newest site of Fusion Academy. The nontraditional year-round school, grades 6–12, that opened its doors in June has a one-to-one student-to-teacher ratio. Cambridge has a passion for connecting people and their passions to bring out the potential in all.
A student with aspirations to become a veterinarian takes science classes from a teacher with a Ph.D. who taught veterinary nurses. Another pursuing a career in dance finishes her assignments in a social homework café. Students whose needs aren't fulfilled at traditional schools get excited through a teacher's energy over a subject and respond to flexible schedules and teaching techniques. In time, these students thrive.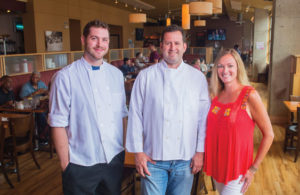 At the end of a day, stop into a neighborhood restaurant where the food is delicious and the atmosphere is family-friendly: Christopher's. Co-owner Molly Todd ensures that everyone feels comfortable and welcome there. "We make it the place they want to be," she said.
The Todds—Molly in the hospitality and business end of the business and brother chefs Chris and Cody behind the menu, tantalizing food combinations and smoked barbecue that come from the kitchen—make customers and staff an extension of their family.
"Numerous couples who had their first date at the restaurant now come with their kids," said Molly. "We hope someday they bring their kids here, too."
Peer in. In Malvern you're sure to find spectacular views.
Learn more at MalvernBusiness.com.
back to top