Thanksgiving Take Out Guide
Prepare for the upcoming Holidays while also supporting local restaurants.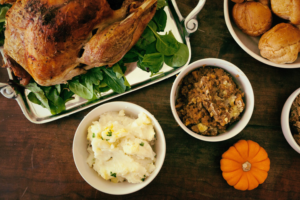 Whether you're staying safe by staying home, sick of cooking, or you just want a stress-free holiday, here's our list of restaurants ready to serve you a tasty Thanksgiving dinner from their takeout menus. Pick and choose from different places for sides and desserts or get your whole dinner to-go! Note deadlines and delivery times.
West Chester
Markets
Carlino's Market—128 W. Market St. | 610-649-4046
Carlino's has you covered with a pick and choose menu consisting of soup, starters, sides, homemade breads, handmade desserts, and main course options for a gourmet twist on your traditional Thanksgiving dinner. Place your order by Friday, Nov. 20th. CarlinosMarket.com.
Northbrook MarketPlace—1805 Unionville Wawaset Rd. | 610-793-1210
Northbrook has a full Thanksgiving dinner menu with turkey options and sides priced individually. Don't forget dessert! Choose from a full page of options that include pumpkin roll and 15 different kinds of pies. Go to their website to fill out your form ahead of time. NorthbrookMarketPlace.com.
Restaurants
Arianna's Gourmet Cafe—323 E. Gay St. | 610-696-2910
At Arianna's, choose an individual platter with all the Thanksgiving classics for $20 per person or the family meal deal—serves 4 for $100 and includes an extra side with pumpkin pie. Additional side choices and desserts are available. Call in advance to place your order. Facebook.com/AriannasCafe.
The Four Dogs Tavern—1300 W. Strasburg Rd. | 610-692-4367
The tavern offers a 4-person family-style Thanksgiving takeout dinner for $200—dessert included. Pre-paid orders must be placed by Friday, Nov. 20th while supplies last. TheFourDogsTavern.com.
Gramms Kitchen—557 E. Gay St. | 610-429-3903
Besides the classic sides, Gramms also offers the choice of a whole turkey or ham when you place your order with a 24-hour notice. Soup, extra sides and dessert available at an additional charge. Facebook.com/GrammsKitchen.
Iron Hill—3 W. Gay St. | 610-738-9600
Iron Hill has a $50 heat-and-eat Thanksgiving dinner for 4 when you place your order by Saturday, Nov. 21st. Add a fresh-baked apple pie to make you dinner sweeter for only $5. IronHillBrewery.com/West-Chester-Pa.
Mae's West Chester—39 W. Gay St. | 484-887-0062
New to town, Mae's offers a farm to table Thanksgiving dinner for 4-6 people with each item priced individually. Choose from marinated turkey breast and sides like sweet potato puree topped with candied pecans or Brussel sprouts with bacon, apples and walnut butter. Place your to-go order online only by Sunday, Nov. 22nd. MaesWC.com.
Mercato—33 W. Market St. | 610-701-6326
Catering options are available at Mercato for a hassle-free turkey dinner with all the fixings. The meal includes the main course, a choice of two sides and dessert—$180 for 4-6 people, $300 for 8-12. Add ons available at an additional cost. Call to order by Thursday, Nov. 19th. MercatoWC.com.
The Classic Diner—16 E. Gay St. | 484-947-0809
Get your dinner diner style with a turkey and your choice of three sides like mac and cheese or cornbread muffins. Available in either a small size for 7-10 people at $250 or a large size for 15-20 people at $475. Added sides and desserts are available and individually priced. TheClassicDinerPa.com/West-Chester.
The Original Spence Cafe—131 N. High Street | 610-918-1272
The Thanksgiving dinner package at Spence includes all the classics like Yukon gold mashed potatoes, sliced white meat turkey breast and homemade stuffing—generously feeding 8 people for $250. Call to order by 2 p.m. on Sunday, Nov. 22nd. Spence.Cafe.
Kennett Square
Portabello's of Kennett Square—108 E. State St. | 610-925-4984
Put a twist on your Thanksgiving feast at Portabello's with three courses—salad, entree and dessert—for $45 per person. Choose from roast tom turkey, braised beef short rib, salmon en croute or Japanese pumpkin ravioli, and then the harvest torte or chocolate mousse cake for dessert. Place to-go orders by Sunday, Nov. 22nd. PortabellosOfKennettSquare.com.
Talula's Table—102 W. State St. | 610-444-8255
Talula's has full catering options for 4 to 6 people with starters, main course and dessert—each item priced individually. Bread & beginnings include anything from cheese boards, soups and salads to cocktail mixers. Turkey & Scrumptious Sides has all the classics with added twists like pumpkin risotto, cranberry compote and mac & cheese. Seasonal sweets include pies, crisps and gluten-free options. Call or email Info@TalulasTable.com by Monday, Nov. 16th. TalulasTable.com.
Malvern
General Warren—9 Old Lancaster Rd. | 610-296-3637
Regardless of size—General Warren wants to bring the feasting to your family with a take out Classic Turkey Dinner serving 10-12 guests. For $349, this home dining option comes with all of the traditional Thanksgiving necessities, including a delish pumpkin and pecan pie, all without the hassle. Preorder by phone by 5 p.m. Nov. 20. Pickup 10-1:30 Thanksgiving Day. GeneralWarren.com
Stove and Tap—245 Lancaster Ave. | 484-450-8890
Pre-order your Thanksgiving dinner with Stove and Tap family feasting options. This meal, feeding 4-6 for $225 or 2 for $90, includes all the holiday fixings—turkey, gravy, cranberry sauce, cornbread, mashed potatoes, stuffing, Brussel sprouts and more! Call to order before Nov. 19 and ask about cocktail packages. Pickup Nov. 25. StoveAndTap.com.
Exton
Suburban Restaurant and Beer Garden—570 Wellington Square | 610-458-2337
Don't show up to Thanksgiving dinner empty handed! Suburban has all of the classic holiday soup, salads and sides for the perfect Thanksgiving meal with no hassle. From family style apple stuffing, lobster mac and cheese, apple cider pumpkin bisque and cranberry apple walnut sauce—check out their online menu. Call to order and pickup Nov. 25, 1 to 4. SuburbanBeerGarden.com.
Devon
The Black Cat Cafe—42 Berkley Rd. | 610-688-1930
Accommodate everyone on your guest list. The Black Cat Cafe is offering vegan and gluten-free options like the vegan pot pie with stuffing and homemade yams, plus optional traditional turkey breast, stuffing, cranberry sauce and southern sweet potatoes meal for $24.95 a person. Place orders by Nov. 20, pick up Wednesday, Nov. 25 from 10 to 6. Order online or call. TheBlackCatCafe.org.
Downingtown
Amani's BYOB—105 E. Lancaster Ave. | 484-237-8179
Make Amani's BYOB a part of your holiday celebrations. This year they're serving a traditional turkey breast meal including a variety of fresh-baked side options—$180 serves 6 guests. Heating instructions included. Orders by phone before Nov.18 and pick up between 1 and 6 on Wednesday, Nov. 25. AmanisBYOB.com.
Chadds Ford
The Gables at Chadds Ford—423 Baltimore Pike | 610-388-7700
Enjoy this holiday without the hassle. The Gables offers a wide variety of Thanksgiving meal take-out options including whole roasted turkey, Gables gravy, apple sausage stuffing, garlic mashed potatoes and additional side options. Order for 4-8 people for $180 or a larger serving feeding 8-12 for $300. Order by phone before Nov.19 and pickup Wednesday, Nov. 25. TheGablesAtChaddsFord.com.
Chester Springs
Montesano Bros—55 Seaboldt Way | 610-458-8065
Get a feast to satisfy all your guests. Montesano Bros wants to help you enjoy this Thanksgiving. Their take out menu includes separately sold 5lb turkey or ham, green bean and mushroom casserole, creamy butternut squash bisque and more. Packages serve 5-6 guests—with a little left over—ranging from "A Southern Twist," to "The Italian Way," for $149.99. Place your order by 3 p.m. Nov. 22, by phone or email vincentpmontesano@gmail.com. Pick up is Nov. 25 by 5pm. MontesanoBros.com.
back to top