Tasty Eats on Church St.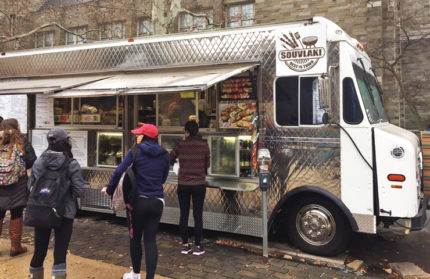 What food memory takes you back to your college years? Likely not a madeleine. If it's food trucks, take a stroll down memory lane toward those nostalgic eats that fueled you for four years and visit West Chester University's outdoor food court on wheels.
Located on South Church Street, these food trucks attract university students and faculty, and well, anyone, and it's no surprise. Offering a wide selection of budget-friendly, curb-side fare, the trucks are bound to have whatever you're craving.
Here are a few regulars you'll find there.
For Early Risers
Open bright and early, these options offer the perfect pick-me-ups before heading to class or to work.
Grateful Bean's Coffee Truck – Those propelled by caffeine are grateful for Fenn's Coffee's Grateful Bean's Coffee Truck. It's been around for 20 years, and though the menu has changed, the food truck itself hasn't—it's a classic! Bleary-eyed WCU students can attest it's the perfect stop for a caffeine fix or a quick bite. Drinks are locally sourced and include favorites from the Barista Specials list—try the Divine Caramel, a double latte with Ghirardelli caramel, cocoa, vanilla and whipped cream, sure to get you through the day!
Curbies – Another option for early birds craving a cuppa, Curbies opens at 7:30 a.m. on weekdays, with enough breakfast and lunch choices to keep you going all day. Try their Big Daddy breakfast sandwich with scrapple and egg or specialty sandwiches like The Intimidator hot dog complete with bacon, cheese and chili. Lighter options include fresh PB&J or homemade soup. This food truck may be small in size, but its big menu keeps fans coming back.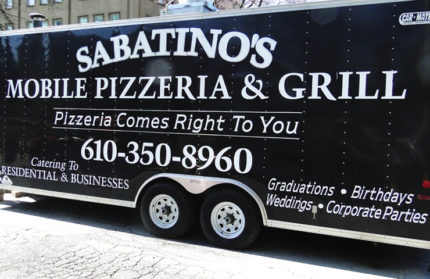 Ethnic Eateries
These food trucks cater to different tastes with authentic cuisine.
The Greek Express – One of the hottest spots on Church Street, this truck will have you saying "Nai" (yes) to Greek food! The Greek Express offers plenty of meals with Greek flare—try their lamb and beef gyros with tzatziki sauce, or chicken shish kebab with rice and pita bread. Want even healthier options? Order the Greek veggie wrap that comes stuffed with feta, olives and sweet peppers. The budget-friendly menu will send your tastebuds around the world.
The Lunchbox – This truck is known for fusing American and Thai foods—not surprising with owners from Thailand! For a quick meal, snack on their popular $1 spring rolls or a side of veggie fried rice. Craving something more filling? Grab a classic bacon cheeseburger with fries or the drunken noodle with rice noodles, spicy thai basil sauce and vegetables. This food truck will have you leaving your own lunch box at home.
Sabatino's Mobile Pizzeria & Grill – From the owners of West Chester's Sabatino's Grill and Edgemont's La Laconda II Go, Sabatino's food truck is the spot for pizzas, sandwiches and salads. Two slices of cheese pizza and drink for less than $5? Yep. Really hungry? Add their largest order of fries for half that. When not parked on Church Street, the truck may be found at weddings, birthdays, graduations and corporate parties. Sabatino's proves campus eating doesn't have to be expensive or anything but delicious!
Mexicali – This truck rounds out Church Street's dining stops with a selection of burritos, quesadillas, tacos and nachos, with vegetarian options, too! It's been the spot for authentic Mexican cuisine at WCU for four years. The clear fave is their burritos—easy to grab-and-go with lots of options. Try the pulled pork, chicken or veggie burrito, all made with fresh ingredients. ¡Que delicioso!
Give yourself an excuse to revisit your college days at WCU's mobile food court in the heart of campus. After ordering, head for a nearby picnic table to savor your selection and the fact you're not studying for exams!
Tip: Check the food trucks' social media for hours, closings or change in location.
back to top