Sports Update
Young athletes choose their college during a challenging season.
In wrestling, lacrosse, baseball, golf and track, the independent schools of County Lines country, both in Pennsylvania and Delaware, had some tremendous successes this past spring. Many of their athletes have been recruited by top colleges around the country.
Malvern Prep, in particular, enjoyed success across virtually all their spring sports. Friend's Central and Tatnall Schools also completed seasons with undefeated records, while Agnes Irwin School and Bishop Shanahan High School finished first in their leagues. Plus, track stars from several area schools set records in their events.
Here are some highlights.
PENNSYLVANIA
Malvern Prep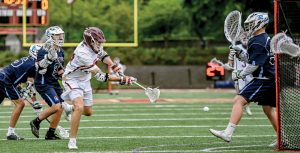 In wrestling, lacrosse, baseball and track, the Friars were outstanding. In wrestling, the team finished first overall at the National Prep All-American competition in May.
Malvern Prep's lacrosse team had an overall record of 19–2, and its players landed at great colleges. Jake Brownley heads to Harvard, Nick Potemski to Duke, Cooper Frankenheimer to North Carolina at Chapel Hill, Eric Spanos to University of Maryland, Pup Buono and Will Peden to Penn State, Matthew Caccese to Boston University and Matthew Ford to Catholic University.
Ranked 12th in Pennsylvania and finishing 24–4 overall, the school's baseball team was also superb. Lonnie White has committed to Penn State, but may be drafted directly by Major League Baseball. Cam Conley is heading to Pepperdine. Four of the pitchers—Fran Oschell, Connor Street, Dominick Chieffallo, and Mason Smith—are committed to Duke, High Point University, University of Scranton and Ithaca College. And Josh Smith, called the "heart and soul of our team and an absolute nightmare for opposing teams," will try to walk on at Penn State next year.
The school's track team also did well. At the Inter-Ac Championship, junior D'Angelo Stocker took first place in the 100- and 200-meter dashes. Senior Ryan Rosenberger won the 110-meter hurdles and the long jump and is headed to Boston University.
Friend's Central School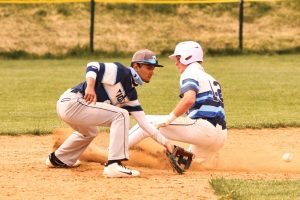 Clinching the league championship, the Friend's Central baseball team had 25 wins, the most in the school's history. Three of its players have committed to play in college: Justin Rubin, who set single season records for hits, runs and steals, committed to University of Virginia. Senior Jack Donahoe is headed to Misercordia University, while junior Sammy Burman has committed to Hofstra.
The girls' track team won their fifth championship in the Friends League. Micah Trusty, Miracle Price and Inara Shell all set meet records. On the boys' side, Ryan Ellison set a record in the hurdles.
Bishop Shanahan High School
The Eagles' girls' lacrosse team won the Chesmont League title for first time. Olivia Murphy has committed to Temple, Darby Whalen to the Naval Academy, Michelle Warren to Rutgers, and Lila Ceribelli to Elon. Among juniors, Paris Masaracchia, Elle Udo, Sophia Lymberis, Greta Wolf, Lauren Young and Mckenna Billie, have respectively committed to Virginia Tech, Brown, Cincinnati, Niagara, Cabrini and Millersville University.
Agnes Irwin School
With a 16–4 season and winning the Inter-Ac title, the Owls' lacrosse team was brilliant. Two of its seniors have chosen their colleges: Bryn Ammerman to Ohio State and Paige Crowther to Oregon. Among the juniors, six made college commitments: Colby Macaione and Cate Parsells, both to Georgetown, Carly and Sydney Wilson to University of Florida, Jordan Healy to Dartmouth and Marisa White to North Carolina at Chapel Hill.
Episcopal Academy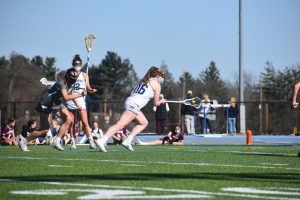 The Churchmen boys' lacrosse team had a 12–7 record overall. Billy Adams, Will Delaney, Reilly Dugan, Dom Piselli and Michael Zahralldin are headed, respectively, to Army, Hofstra, Villanova, Stevens, and Washington & Lee. Juniors Andrew McMeekin, Matt McCarthy and Tristan Whitaker will go to Princeton, Penn and Vermont.
The school's girls' lacrosse team finished 9–8 overall. Co-captains Madison Vetterlein will play for Boston University next year, while Sarah Groark will attend Wisconsin. The team voted Sarah MVP and the "greatest inspiration in playing the game of lacrosse."
In track, Bryce Cooper, who also plays wide receiver on the football team, won the 400-meter sprint at the Inter-Ac league championship. And Jeo Daniel finished first in the 300-meter hurdles.
Haverford School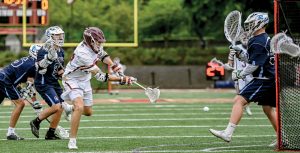 For the season, the Fords had a 12–6 record in lacrosse. Geordy Holmes is headed to Maryland, Colby Kim to Boston University, Michael Bozzi to Cornell, Trevor Pettibone to Colby and Nolan Cooleen to Williams. Max Emery-Baum and Ben Trucksess will play for Dickinson.
In baseball, Eric Genther has signed at Rhode Island, Grayson Walker committed to Dickinson, and Jacob Stacey will go to Bard College. Jonny Flieder will attend Haverford College down the road.
In track and field, Curtis Weh is headed for Cornell after a long jump of nearly 23 feet. AJ Sanford, having run 1:58 in the 800-meters, will go to Lafayette College.
Westtown School
Four of the Moose were recruited from Westtown lacrosse. Oneniotekowa Maracle, Michael Tayloe, Charlie Herlocher and Hakim Hicks will go to Lafayette, Long Island, Rhodes and Johns Hopkins, respectively.
Church Farm
Jason Lavoe took first place in the 200-meter dash at the Bicentennial Athletic League Championships. He finished first on the same day in the 100-meters and long jump. The previous day, he anchored the team's first place finish in the 4×100-meter relay.
DELAWARE
Tatnall School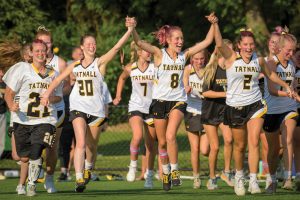 The girls' lacrosse team had a perfect 18–0 record, until the state tournament, when the Hornets went down in the final round. In all, five girls have committed to colleges: goalie Carlie McKenry is going to Centre College, Ellie Hiller to Colorado, Sophia Mitchell to Tennessee, Larsen Korengel to Charleston, and Ashley Marvel is headed to West Chester University.
The school was also first in co-ed golf for the state of Delaware from the beginning of the season until the end, finishing the regular season 16–0.
In track, senior Nicholas Pizarro and junior Declan McDonnell finished first and second in both the 1600- and 3200-meter races at the Delaware's Division II championships.
Archmere Academy
Archmere Academy finished 1st in baseball in the Diamond State League with a record of 6-1.  Its record  overall was 12-6. Erik Risnychok has committed to Washington College in Maryland.
The Auks boys' lacrosse team was undefeated in the Diamond State League. It had an overall record of 15-3, including their performance in the state tournament.
Tower Hill
The Hillers girls' lacrosse team had a season record of 11–5 overall. Annie Malatesta was selected to the First Team All-Conference and is going to Franklin and Marshall College.
In golf, the school had four seniors on its varsity team. Rylie Heflin is ranked #1 for Delaware and plans to play at Duke. Team captain Olivia Schwandt will attend Texas, John Koenig is going to Virginia Tech and Nick Lenhard is headed to Richmond.
Avery McCrery is only an 8th grader but plays at #2 on the team and is 7th in DIAA high school ranking. Coach Kathy Franklin joked, Avery's "not allowed to go do something silly like quit school to join the LPGA tour!"
back to top