Special Advertising Section
Sip, Savor, Shop & Enjoy Your Stay. Spring on The Eastern Shore of Maryland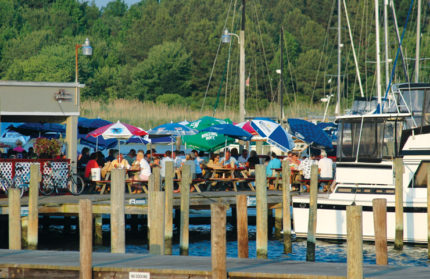 Kent County, Maryland stands gracefully along the Upper Eastern Shoreline of the Chesapeake Bay. A community steeped in history, nature and the arts, the area offers an array of experiences designed to delight the senses. From rediscovering nature's beauty to engaging with an art-rich community, you'll be excited by the adventures that spring and summer in Kent County promise.*
Rich in agricultural history, Kent County also has strong traditions around working the water. Farm-fresh food and straight-from-the-water seafood are the standard for local dining—from the wine and cheese shop in Chestertown to charming cafes to fine dining restaurants throughout the County.
On Saturday mornings Fountain Park bustles with local farmers selling their fruits, veggies, wines, flowers, baked goods and more. Meanwhile artisans offer everything from hand-made furniture to soaps and jewelry—all at the award-winning Chestertown Farmers and Artisans Market.
Local harvests also create amazing wines and spirits in Kent County. Just outside Kennedyville, you'll spot a scenic vineyard, home to award-winning Crow Winery, which offers wine tastings on a working farm with a farm stay B&B, along with many events.  More must-see stops include Cassinelli Distillery and Wine Bar and Bad Alfred's in downtown Chestertown, where visitors watch as vodka, gin and brandy are made, and then taste the spirits directly from the stills.
Foodies will want to visit during Rock Hall Restaurant week, kicking off with The Taste of Rock Hall, April 21, with plenty of local food and fresh seafood. There's seafood so fresh you may spot a waterman unloading his catch from the stern of his vessel. Look for rock fish, clams, oysters and the famous Chesapeake Bay Blue Crab.
Along with your sipping and savoring in Kent County, be sure to leave time for shopping. From whimsical shops and antique stores of Rock Hall and Galena to boutiques and galleries in Chestertown, you'll find the perfect gift or something special for yourself.
Whether you're looking for name brands, aloha shirts and dresses, nautical one-of-a-kinds, fine arts and crafts, or anything in between, you'll enjoy old-fashioned, friendly service. No stuffy malls here. Designated an Arts and Entertainment District by the State of Maryland, Chestertown is home to an inspiring collection of galleries, studios and creative events.
For those dreaming of the sweet sound of music, Kent County can nourish your soul. Visit a variety of venues, like The MainStay in Rock Hall and The Garfield Center for the Arts and Washington College, both in Chestertown.
Nature-lovers will enjoy Eastern Neck National Wildlife Refuge, a protected habitat and home to a wealth of wildlife and plants, seven miles from Rock Hall. This refuge offers tons of fun, including kayaking, bird watching, hiking and biking. Walk the trails to see groves of brightly colored flowers, just making their springtime appearance. Then continue to the shoreline to find panoramic views of the Chesapeake Bay.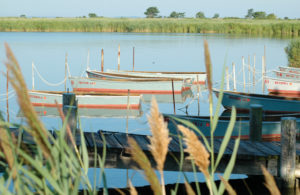 Kent County offers you a full springtime experience. Be sure to book your stay in a historic inn, lovely B&B, hotel, vacation rental or campground. Don't miss your chance to enjoy this season along one of the most scenic shorelines in the mid-Atlantic. We're certain you'll find this destination to be one of your favorite springtime getaways.
If You Go: Check in with KentCounty.com for information about lodging, dining, attractions and events.
*Find more events and information below.
Spring Events in Kent County
April 6. Broadway by the River with Marti Gould Cummings
Garfield Center for the Arts, 210 High St., Chestertown
8 pm. 410-810-2060; GarfieldCenter.org.
April 6. First Friday—The Artists' Gallery Features Marc Rubin, "Textures"
The Artists' Gallery, 239 High St., Chestertown
Reception, 5 to 8 pm. 410-778-2425; TheArtistsGalleryCTown.com.
April 21. Washington College Concert Series
Decker Theatre at Washington College, 300 Washington Ave., Chestertown ~ Concert Series presents Lydia Artymiw, pianist. 7:30 pm. WashColl.edu.
April 21–28. Rock Hall Restaurant Week
Rock Hall restaurants. 410-639-7719; RockHallMD.com.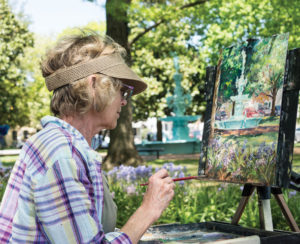 April 26–29. Paint the Town 2018
Chestertown RiverArts, 315 High St., Suite 106, Chestertown
Over 50 artists from the East Coast participate in four days of plein air painting/drawing of Kent County. ChestertownRiverArts.net.
April 29. Annual Draw For Sight Bicycle Ride
Starts at Betterton Fire Hall, 2 Howell Point Rd., Betterton
A 36- or 60-mile ride through the beautiful Kent County countryside. Prizes, sag wagon and food stops. Register on Active.com. ChestertownLions.org.
May 4. First Friday – The Artists' Gallery, Bonnie Howell, "Water Level"
Reception from 5 to 8 pm. 410-778-2425; TheArtistsGalleryCTown.com.
May 11. An Evening with Author Kate Clifford Larson
Kent County Public Library, 408 High St. Chestertown
5:30 pm. Limited space; registration required. KentCountyLibrary.org.
May 19. Summer Rosé Tasting
Chester River Wine & Cheese Co., 117 S. Cross St., Chestertown Celebrate the start of summer with the 2018 rosé collection. Heavy hors d'oeuvres and desserts. 5 to 8 pm. ChesterRiverGourmet.com.
May 25–27. Chestertown Tea Party Festival
Downtown Chestertown and Wilmer Park
Reenactment of residents gathering at the town center, marching down High Street to the brigantine Geddes anchored in the Chester River, and tossing her cargo of tea overboard on Sat, 2 pm. ChestertownTeaParty.org.
May 25–28. 36th Annual Kent County Spring Fling
Washington College, 300 Washington Ave., Chestertown
Great cycling on scenic roads, flat to rolling terrain along the Chesapeake Bay. See Betterton Beach, Rock Hall and lunch on the pier, Centreville, Galena and more. Music, dancing. BaltoBikeClub.org.
May 27. Rock Hall Beach Party and Street Dance
Public Beach and Main St. ~ Rock Hall Music, dancing on Main St., bonfire, games and fun while enjoying the beautiful Rock Hall sunset. 6 pm. RockHallMD.com.
June 3–16. National Music Festival
Throughout Kent County
From a solo violinist to a symphony orchestra with chorus, from Beethoven to symphonic jazz. Find it at the Festival. Check website for details. NationalMusic.US.
June 16 & 17. RHYC Annual One-Design Regatta
Rock Hall Yacht Club, McKinleyville Rd., Rock Hall
One-design sailboat classes compete in a two-day regatta in Langford Bay and the Chester River. 8 am to 5 pm. RockHallYachtClub.org.
June 24. 33rd Annual Bay to Bay Bicycle Ride
Betterton Fire Hall, 2 Howell Point Rd., Betterton
Ride from the Fire Hall on the Chesapeake Bay to the Delaware Bay and back. Routes from 26 to 102 miles are available. Sag wagon and food stops. Register at Active.com. 6:30 am to 4 pm. ChestertownLions.org.
back to top