Kent County, Maryland
Although just two hours from Chester County, Kent County, Maryland is a world away and a perfect fall getaway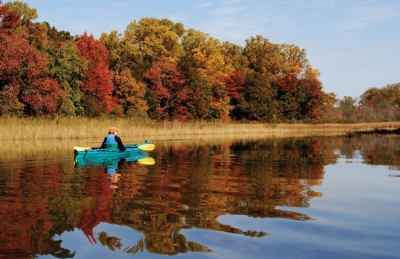 On a scenic peninsula where the Chester and Sassafras Rivers flow into the Chesapeake Bay, this waterfront destination is home to historic Chestertown, one of the oldest mid-Atlantic ports and a scenic Colonial town with a designated Arts & Entertainment District, all along the Chester River.
Nearby, you'll find the working waterman's town of Rock Hall, known for fresh Chesapeake Bay seafood—world-famous Chesapeake Bay blue crabs, rockfish, mouthwatering oysters and more.
Rich with beautiful scenery and diverse activities, the waterfront haven of Kent County offers visitors year-round fun. For fall, enjoy an autumn escape filled with leaf peeping hikes and open-air festivals, or get a last chance to take a cruise or go paddling on the Bay and scenic rivers.
You're invited to come for the fall calendar full of Eastern Shore events. Join foodies, artisans and musicians alike at the annual Rock Hall FallFest, October 14. This homage to the almighty oyster offers plenty of oysters, crafter and artisan vendors, and musical performances all day.
The Artists' Studio Tour, held over two weekends—October 21–22 and 28–29—is a free, self-guided tour hosted by more than 50 artists, many nationally known. Take a peek into their studios, while taking advantage of original artwork at studio prices.
October 27–29 is Sultana's Downrigging Weekend Tall Ship and Wooden Boat Festival, one of the largest annual Tall Ship gatherings on the East Coast. There are plenty of opportunities to go sailing as part of a fleet of Tall Ships.
You can also enjoy a sunset sail on the historic Skipjack Elsworth—October 6, 13, 20 and 27th. Light fare, including oysters, beverages, songs and lore of the Chesapeake are offered on this intimate 14-passenger cruise.
No matter what time of year you visit this captivating and historic destination, Kent County is sure to exceed your expectations. For information on lodging, dining, attractions and more events, please visit KentCounty.com.
Fall Events in Kent County
Year-Round, Chestertown First Friday, 5–8 pm
Late shopping hours in unique shops, gallery exhibit openings, special tastings and a variety of dining options.
Oct. 6–7, Chestertown Harry Potter Festival, Fri. 4:30 to 9; Sat. 9 am to 10:30 pm
Join Harry Potter fans for fun for children, adults, wizards and muggles alike. Downtown Chestertown.
Oct. 7, Historic House Tour, 1 to 5 pm
Historic house tour. Bordley History Center, Chestertown. KentCountyHistory.org.
Oct. 14, Community Crab Feast, Noon to 5
Enjoy steamed crabs, BBQ, wine, craft beer and live music. Wilmer Park, Chestertown.
Oct. 15, Osprey Triathlon, 9 to 1 pm
Family-friendly event over mixed surfaces. USTA sanctioned. Kent School, 6788 Wilkins Lane, Chestertown.
Oct. 20, Festive Friday, 6 pm, and Cruise Night, 5:30 pm
Festive Friday features live music at the Gazebo at the Village. Cruise Night with antique cars on Main Street & Rt. 20 in
Rock Hall.
Nov. 17–Dec. 31, RiverArts Annual Holiday Show & Sale, 10 to 5 pm
Artists create the perfect gift, in a variety of mediums. Many of these hand-made. 315 High St. Suite 106, Chestertown.
Nov. 24–26, 54th Chestertown Antiques Show & Sale, Fri. 4 to 7; Sat. 10 to 5; Sun. 11 to 3
Quality antiques and more. Benefits Kent Assn. of Riding Therapy. Washington College, 300 Washington Ave.
back to top