Satisfying Cravings
Timlyn Vaughan Photography
West Chester offers an array of international taste treats.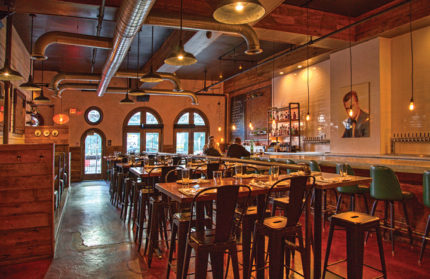 Download the "Dining Options in West Chester" PDF
There are almost 75 good reasons that West Chester is a perennial dining destination. Whatever you're in the mood for, the international flair of downtown restaurants can meet your every craving. Whether it's a special occasion, a quick bite or simply an excuse for a night out, West Chester offers plenty of opportunities for dining adventures.
West Chester is also a top destination for dinner and a show. With the Uptown! Knauer Performing Arts Center (226 North High Street) in full swing, offering a full calendar of performances, enjoying dinner before the show is easy. (Insiders' tip: Your best bet for parking are the two borough garages for sheltered, long-term parking and no overtime parking tickets. Locations at DowntownWestChester.com/Parking.)
The hardest part about dining in West Chester is choosing where to go! And because there's always something new, the choice is even tougher. Here's a preview of some of the latest additions to the dining scene to help you find your next great meal.
The French Connection
As a young man, Loïc Barnieu found his passion as an actor, studying in his native Burgundy, France. His passion followed him to America and the American Historic Theatre. But it was his family roots that brought him back to being a restaurateur, using skills taught to him by both his grandfathers.
Now Loïc is practicing his art at Sterling Pig Public House, 113 West Market Street. Adding to the appeal, brewmaster Brian McConnell and lead brewer Chris DeVito provide award-winning craft brews, including popular choices of Shoat Pilsner (a World Beer Cup Award Winner), Big Gunz Double IPA, and the slightly fruity Snuffler IPA, each served fresh on tap.
There's pub fare, of course, but don't miss some of the unexpected dishes on the menu like brisket poutine. Arrive early for the barbeque, smoked fresh daily, because when it's gone, it's gone!
Retro Vibes
Slow Hand, a new restaurant at 30 North Church Street, is indeed named after the song made popular by the Pointer Sisters in 1981 and even more popular by crooner Conway Twitty a year later. A larger-than-life portrait of the country star commands center stage behind the bar.
But this back-story is upstaged by the tapas-style cuisine described by one patron as "locally-sourced fresh food with brave and interesting recipes." Hand-crafted drinks complement the "southern comfort hospitality." The absence of TV screens provides an inviting atmosphere for socializing. You'll find plates as exotic as Spanish Octopus or as regular as Belly Bomber (mini burgers). No matter—it's all good.
East, Meet West
A taste of Korea has arrived with the opening of Bonchon Chicken at 124 East Market Street. (Bonchon, meaning my hometown in Korean, has almost 100 U.S. locations). Its casual environment welcomes diners for eat-in or take-out.
Bonchon specializes in Korean-style fried chicken, although there are plenty of other savory Asian fusion dishes as well. Try their signature double-fried wings made with soy garlic and spicy flavors, and hand-brushed with secret sauce. Always good to sample the secret sauce!
Ole!
You no longer have to go south of the border or even south on High Street for an authentic taco or burrito. Taco Mar has relocated to downtown West Chester at 122 East Gay Street to make satisfying your cravings more convenient. Whether you choose take-out, eat-in or delivery, you'll enjoy classic Mexican staples like shrimp tacos and burritos at this colorful new spot.
Try the Burrito Bar (make it your way), Taco Stand (al pastor style) or Baja Grill (house burritos and quesadillas). Even if it's not Taco Tuesday.
Greek Revival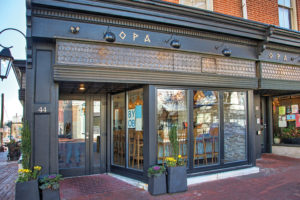 It's good news that Opa Taverna has expanded to 44 East Gay Street from the former small space just up the street to accommodate its growing fanbase. The décor of the spacious dining area is elegant and tasteful, just like the food. Enjoy al fresco dining on the large space outdoors when the weather is nice.
But it's the Greek menu of classic specialties—gyro plates, souvlaki, beef and lamb dishes, along with a terrific moussaka—that makes this place special and popular. We've heard a liquor license is coming soon, adding to the pleasure of dining here.
A Smarter Meatball
Everyone knows that the Borough is home to West Chester University. And now it can also boast of being home to Meatball U. Newly open at 30 South High Street, Meatball U. should not be confused with any other institution of higher learning.
But, it could be described as an institution for all things, well, meatball. And it's safe to say that you'll happily learn how good a meatball dish can be. With many variations to choose from, you'll be back for more.
There's all beef, of course, along with chicken and vegetarian, plus a wide selection of delicious sauces for the plated options and sandwiches. Go Meatlball U.!
Cold Winter, Hot Coffee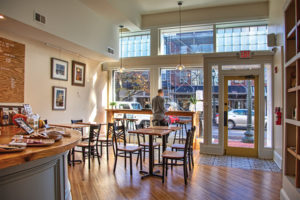 Looking for a family-owned coffee café where you can enjoy a light meal and a cup of freshly roasted private label coffee? Then it's time to visit Gryphon Coffee, 111 West Gay Street, joining the other locations in Wayne and Kensington.
Casual and friendly, it's a great place to relax with a hot, seasonal drink and perhaps a specialty sandwich or salad. Try fig + camembert toast or wild mushroom panino with your cortado or rose white hot chocolate. So many tempting options!
Slice of Summer, Anytime
"Being able to share a piece of paradise so dear to me with communities in and around my hometown continues to excite me," says Abby Taylor, founder of Playa Bowls at 22 South High Street. "Doing so in a manner that sets a sustainable example really makes the whole thing a dream come true." Her dream is to offer an eatery made up of bits and pieces from exotic surf towns around the globe.
The reality is Playa Bowls' unique version of açai or pitaya cuisine. While the idea is global, part of the ownership remains local. Favorite recipes feature energy foods like açai berry, pitaya, chia seeds, coconut, kale and banana. Poke Bowls offer tuna, shrimp and salmon. It's like traveling to the tropics without leaving town.
Zoned For Calzone
DP Dough, 7 West Gay Street, offers calzones, wings and bread sticks in the evening and into the wee hours. Baked calzones—including build-your-own options—are this national chain's specialty along with salads and vegan options. For the before and after part of the meal, there's an array of appetizers and desserts. Eat-in, take-out, or delivery. A perfect late night nosh.
For more information about West Chester dining, see our Dining Guide and visit DowntownWestChester.com.
back to top