Off the Beaten Path in Newtown Square and Paoli
So many gems you've likely overlooked along busy Routes 3, 252 and 30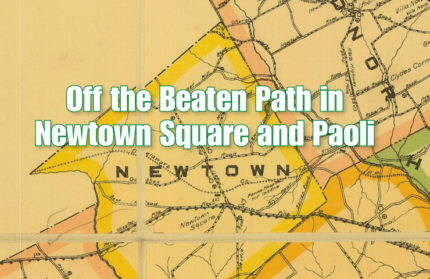 High profile and sprawling developments—like Toll Brothers' Liseter housing development and Ellis Preserve's mixed-use, live-work community—have made an indelible impact on Newtown Square. But there are small gems scattered along the busy Routes 3 and 252 corridors you may have missed as you've sped by. Similarly, tucked into and behind strip malls lining the blocks on Paoli's portion of Lancaster Pike/Route 30 are surprising shops, boutiques and even the Philadelphia Curling Club.
Having previously taken readers through the history and newer businesses in these two towns connected by Route 252—formerly known as Great Providence Road—it's time to shine a light on lesser-known points of interest.
Starting in Newtown Square
While we wait for Phase 2 of Ellis Preserve—plans headed to the township likely include a dine-in theater, more restaurants and entertainment venues, says Steven Spaeder of Equus Capital Partners—it's worth taking a closer look at businesses that add texture to the township.
Yes, there are new additions: Himalayan Salt Wellness Cave, an oasis with the healing powers of salt and alternative therapies, plus the expanding P.J. Whelihan's Pub chain, a different kind of oasis with 56 TV screens, outdoor firepits and their famous wings.
But on this tour we'll cruise past the many car dealerships—from pre-owned cars to Porsches—past office clusters with a District Courthouse, past time-honored restaurants like La Locanda Ristorante Italiano (since 1997), Teikoku (Asian fare in a teahouse), and the Upper Crust Restaurant & Pizzeria (serving breakfast anytime just feet from Route 3 traffic).
Instead, we'll delight in the McDade-Cara School of Irish Dance, dedicated to preserving the rich tradition of Irish step and figure dancing. Then head for the Newtown Square Railroad Museum, with its preserved steam engine, box car, caboose and passenger car from the early 20th century at Drexel Lodge Park. And nearby, hit a few balls at MGolf Driving Range and Learning Facility.
For niche shops, it's worth a trip to Newtown Square to visit Slip Knot for a guided knit-a-long and knitting events, Main Line Monograms for you-know-what, or Boutique Sorelle for ethically sourced handmade and sustainable products and trendy jewelry. Runners can race into the Running Place to get their gait analyzed, worn out shoes inspected for wear patterns, and injury history reviewed before being matched with their next pair of trainers.
Fashion fans may visit Hassis Men's Shop, which boasts 40 years of custom fitting for fashionable men, or B&D Tailors, which has stitched up bespoke custom suits since 1966, including for Villanova's well dressed Coach Jay Wright. For women, try élan for a boutique shopping experience and their styling expertise.
And while waiting for the Whole Foods to open—latest update pushed back the date to winter 2018—there's still family-owned and operated Gentile's Market, serving Newtown Square and beyond for over 50 years, and not far away is a branch of Hill's Quality Seafood Market, with over 40 years of service. Though the only edibles at Mostardi Nursery are what you can grow in your garden, this is another local business with over 40 years in Newtown Square.
Local foodies also head for Christopher Chocolates, a family-owned shrine to all things made with or covered in that sweet goodness. Or for 100 years of German donuts, tortes, breads, pies and cakes, there's Weinrich Bakery just steps away. Looking for Italian delights? Try Fellini's Café with 70-some menu items or Luigi and Giovanni's Deli nearby at St. Alban's Circle.
North to Paoli
Just four miles north on Route 252, past what many still call the "new" Episcopal Academy campus even after almost ten years here, past the turn for Historic Waynesborough and the Waynesborough County Club, plus assorted places of worship—St. Albans Episcopal Church, Newtown Square Friends Meeting House, Congregation of Shalom, and St. Norbert's Church and school—there's Paoli. At the intersection of Routes 252 and 30 (aka Lancaster Pike), this was the end point on the original Main Line railroad line.
Now the former Philadelphia and Lancaster Turnpike is lined with strip malls and shops of all varieties, from new-ish Aneu Kitchen & Catering to the soon-to-close Main Line Lighting (since 1958), and the two-story family-owned Paoli Pharmacy, home to customized personal service, plus the pretty in pink VanCleve Wedding Pavilion, where you'll find non-wedding businesses, like Sugarbridge Kitchen & Bath Design.
Farther west you'll spot a sign for a psychic and for Clockworks, Inc., unlikely businesses at this busy intersection. Next there's Vintage Home, where shabby chic trends toward casual sophistication, and behind that shop is Your Organic Bedroom, since 2007 the source of mattresses made of just natural cotton, eco-wool and natural rubber latex.
Next of note are Style of Man, a barbershop/salon hybrid for the discerning gent, and the Main Lion Cat Grooming Salon, for fear-free and creative grooming, including the lion cut to make your cat look … fierce.
Eateries abound, too, from national and regional chains like Skinny Pizza, Nudy's Café and Rita's Water Ice to singular locations with longer names, like TJ's Restaurant & Drinkery and EatNic Urban Farmhouse Eatery and BYOB.
Athletes, dancers and wellness fans will find their destinations here, too. The Paoli Shopping Center is home to one of the 40-some locations for Lacrosse Unlimited, the largest lax retailer for apparel and equipment in the U.S. Dance fans will head for Ballet 180 for performances and lessons.
The Depot Shoppes are the place for spin, aerial yoga, pilates, boxing, nutritional counseling and more at Purenergy Fitness Studio. Just a cartwheel or so away is the smaller, quieter Sweet Pose, your stop for more holistic energy healing like Tibetan singing bowl meditations, Pranic healing, "body talk" therapy and the like.
Perhaps the most surprising find on this idiosyncratic tour is the Philadelphia Curling Club, just north of Lancaster Pike on Plank Avenue, behind SV Dental. With interest in curling peaking after the first U.S. gold medal at the Winter Olympics, if there ever were a time to consider the sport, this is it!
Self-described as thriving, welcoming and providing a great curling environment for players of all levels of experience, the Curling Club has been around since 1957. So, if you have a clean pair of sneakers and some loose fitting clothing (sweatpants allowed!), check out the recently updated facilities at this two-sheet club.
That alone is worth the drive to Paoli!
back to top