New Year, New Cookbooks
A few suggestions to add to your collection so you can get cooking!
What better time to start afresh than this New Year? New ideas, new friendships and new experiences.
How about a few new recipes, too? Invite some healthy changes and less stress into your kitchen with the cookbooks featured here. These cookbooks satisfy many tastes and different lifestyles, including for those who've chosen to simplify and streamline how they spend time in the kitchen.
Happy reading and happy cooking!
Go-To Dinners by Ina Garten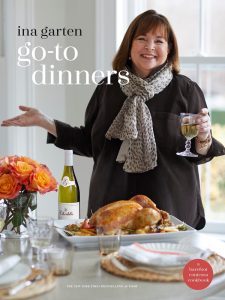 Ina Garten — aka "America's Most Trusted Home Chef," "The Go-To Celebrity Chef," "A Guiding Light in the Kitchen" and "Patron Saint in Chambray" — has just released her 13th cookbook, and it does not disappoint!
Garten was inspired during the pandemic to create simple meals with satisfying flavors and recipes that were not complicated and easy to reproduce. And so, this cookbook includes Make Ahead, Freeze Ahead, Prep Ahead, Simply Assembled and Two-Fer recipes (the Two-fers being when leftovers are used to create something different and delicious). The photography throughout is mouth-watering for every recipe.
Some words from this trusted home chef: "A Go-To recipe should be simple to follow and work every time. It must be easy to prepare and still delicious enough to get everyone to your table so you, too, can create a happy community of family and friends around yourself."
This is why we love Ina. She is all about creating memorable experiences around the dinner table.
The Mediterranean Dish by Suzy Karadsheh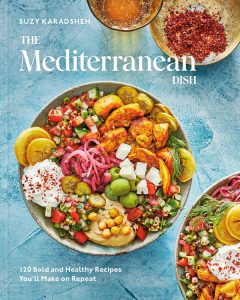 You had me at falafel!
Karadsheh is the founder of the MediterraneanDish.com website, which has well over 3,000 followers. Her long-awaited debut cookbook was recently released and includes 120 recipes with easy-to-find ingredients and easy-to-follow instructions. Her approachable style will help you create delicious, healthy recipes full of flavor and spice. The photography interspersed throughout the book is tantalizing and evokes the aromas and colors of the Mediterranean.
The Mediterranean diet is now considered one of the world's healthiest diets, so start your New Year off in a healthy way by inviting Karadsheh into your kitchen.
Dinner in One by Melissa Clark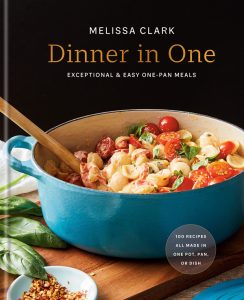 Known widely as a writer for the New York Times Food Section, Melissa Clark writes a column called "A Good Appetite" and has authored 42 cookbooks. Yes, 42!
Her latest cookbook was inspired by her years of working in a professional kitchen. Clark wanted to translate what the chefs did to create delicious meals but without using so many pots and pans. And who doesn't want less mess in the kitchen? Her streamlined recipes can be made in under an hour. There are even one-bowl cakes to satisfy your sweet tooth.
A brilliant idea that Clark included for many meals is the Swap It Out, Veg It Up and Vegetarian Upgrade options to meet the needs of everyone's diet. Grab one pot and one pan, and give her new cookbook a try!
Art of the Chicken by Jacques Pépin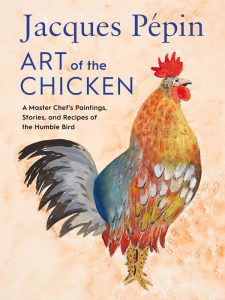 Master Chef Jacques Pépin is well respected and revered by many for his talent in the kitchen and in his cookbooks. As passionate as he is about cooking, his creativity doesn't end there. He's also been painting for five decades, with subjects ranging from still lifes to food, landscapes and abstract pieces.
One of Pépin's favorite subjects is chickens. His chickens are colorful, whimsical and cheerful. He has gathered many of these paintings into his latest cookbook, where he reminisces about his childhood, career and friendships along the way. His chicken and egg recipes are told in a narrative fashion, as he wants us to be inspired and create your own version.
The cookbook is filled with many little pearls of wisdom, such as "recipes should be simple," "taste trumps presentation" and "cook with your heart!" And a final pearl: "Cooking should be fun and relaxing, and to aid in this process, please cook with a glass of wine."
Cheers to Pépin and this gem of a book.
Gâteau by Aleksandra Crapanzano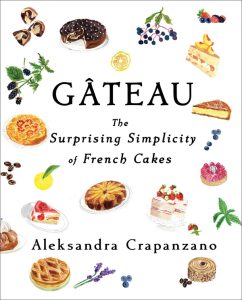 When you think of French baking, do you immediately think difficult, involved and stressful? Aleksandra Crapanzano has demystified the process and made the recipes in this book practical, simple and easy to follow.
Each recipe begins with a little history and cultural relevance. Crapanzano writes, "Many of the recipes in this book date back, in some form or another, hundreds of years, some even to the Middle Ages. They have stood the test of time because they are inratables — foolproof." This enchanting book is full of whimsical illustrations and is a pure delight to read.
You'll be inspired to bake many of the hundred-plus recipes for your family, friends or just for yourself. It's a must-have for bakers, cookbook collectors and anyone who loves great writing.
American Cake by Anne Byrn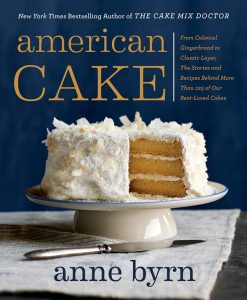 As we plod on through the winter and feel the chill in the air seep into our bones, many of us are drawn to baking. There's nothing quite as comforting as a warm cake on a winter evening.
This cookbook is well researched, well written and includes many a history lesson on cakes in America. Byrn starts in Early America (1650–1799) and continues into the New Millennium (2000–present). A bonus chapter on Frostings and Icings is sweet (yes, pun intended)! If you love history and love to bake, this book is a must for your collection.
Final note: for cookie lovers, American Cookie: The Snaps, Drops, Jumbles, Tea Cakes, Bars, and Brownies That We Have Loved for Generations is another wonderful cookbook by Anne Byrn.
Wellington Square Bookshop is an award-winning bookshop in Eagleview Town Center. Patrons are primarily local, but many come from around the world to the thoughtfully curated shop with excellent service. There's a coffee and tea bar with cookies and biscotti, plus lots of cozy spaces for curling up to read. Follow them on Instagram and visit WellingtonSquareBooks.com. 549 Wellington Square, Exton.

back to top