New Breweries for the New Year
The local craft Beer scene continues to flourish.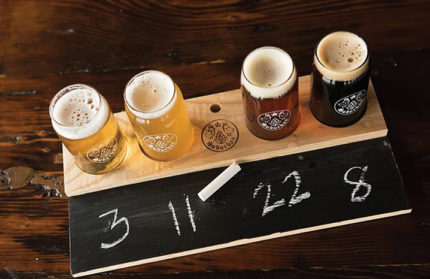 How many breweries is too many breweries? Does that number even exist? We'll have to get back to you on that.
In the meantime, the craft beer scene in our area is heating up with new arrivals just about every other month. This year's roundup will surely have you making a list and resolving to visit them twice.
Something's Brewing in Exton
The new kid in town, Stolen Sun Brewing and Coffee Roasting is one of the many additions to the growing craft beer scene in Chester County. Exton residents and owners Jonathan and Deirdre Zang will have jumped into the craft beer scene pumping out some seriously delicious brews. Try their Sweet Tang Gose, a sour beer brewed with, you guessed it, Tang. Their New England styled IPAs and Brut IPAs are also crowd pleasers.
Beyond tasty brews, Stolen Sun also serves up freshly roasted coffee to get your morning started right. Jonathan, who's been brewing craft beer for almost 20 years, also found a love for coffee roasting while building a state-of-the-art coffee roasting operation in another life. Now his two passions coexist at Stolen Sun.
Whether your idea of freshly brewed libations is bean- or grain-based, Stolen Sun has you covered.
Honey Brooks' First Brewery
Executive Chef and owner of Exton's Suburban Restaurant & Beer Garden, Eric Yost, along with home brewer Corey Ross teamed up to open Suburban Brewing Company. Located in Honey Brook, Suburban Brewing has taken that art of carefully crafted and locally sourced dishes that Suburban is famous for and focused that same attention to detail on craft brewing.
Part brewpub and craft brewery mixed with an arcade, Suburban Brewery is the perfect place to grab a pint. With the small batch, single-barrel brewing system, this draft list—try their dark and malty Scottish Export ale or one of their juicy IPAs—will be constantly changing and rotating every time you visit. There's no choice but to come back for more.
Migrate to Bald Birds Brewing Company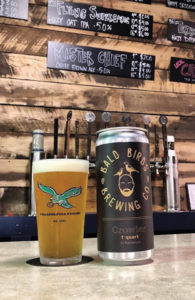 Recently opened Bald Birds Brewing Company is bringing their best brews to Audubon. The perfect after-work spot for a drink, this beer hall styled taproom gives that communal feel you want at your neighborhood brewery. Bald Birds Brewing has a variety of beers that are sure to meet any beer drinkers' standards. From pale ales like their Costume Contest to their dark and creamy stout Northern Harrier, these beers will keep you coming back for more.
After a long journey to get their taproom up and running, husband and wife team Joe and Abby Feerrar are happy to open their very own brewery where friends and community can gather 'round great beer.
Locust Lane Celebrates a Birthday
Locust Lane Craft Brewery was founded on the principles of providing fresh, simple and classic beer options to the craft brew community and for a little over a year they've done just that. Locust Lane's founders, Jason Cartwright, Bryan Brockson and brewer Tom Arnold celebrate providing Malvern with their "Simply Crafted" beers.
Sample traditional styled beers—such as pale ales, ESBs, stouts and IPAs—and make sure to visit their taproom, have a pint or pick up a four-pack from their to-go cooler open five days a week.
New Brewpub in West Chester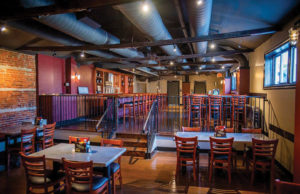 Appalachian Brewing Company opened its 8th location this past September in West Chester. Featuring about 20 of their signature beers, their rotating draft list is bound to have something for everyone.
From classic styled ales to their funky and unique recipes—specifically Argyle Sweater, a West Coast style IPA, and Chocolate Avenue, a chocolatey stout—there's a pint that'll satisfy even the most finicky of craft beer lovers. Equipped with a full kitchen, ABC's newest brewpub is delivering burgers, brats and pierogies on top of their extensive draft list.
Micro Brewing in Phoenixville
Steel City Coffeehouse owners-operators Laura Vernola-Simpson and Ed Simpson announced they're bringing a fresh perspective to the growing list of local breweries with their micro-brewing program. Steel City Coffeehouse, renowned in Phoenixville for their exceptional coffee, will serve their own beer brewed by head brewer Seth Clearwater. You can expect to see some traditional styled beers such as porters, stouts and pale ales from Steel City Coffeehouse.
Despite the addition of beer to the menu, Vernola-Simpson says "We're not going to be a beer bar. This is still a café, coffeehouse and listening room—but it's going to be a café, coffeehouse and listening room with some of the best beer you'll find anywhere in the Philadelphia area!"
Kennett's Braeloch Brewing
Kennett Square got a new face on the craft beer scene. Braeloch Brewing owners Kent Steeves and Kathy Drysdale opened their new brewpub next to the Kennett Creamery in a historic 9,200-square-foot building built in 1903.
Braeloch Brewing boasts a 10-barrel brewing system with a rotating 12-tap draft system. Expect to see their taps filled with farmhouse Saisons, Belgian ales, several IPAs, three rotating seasonal offerings along with some experimental beers.
Pottstowns PUB
Recently opened Pottstown United Brewing is the work of brewer and owner Steve Armstrong and partner Adam Burke, owner of Lily's Diner, bringing the excitement of Pottstown's first brewery. Located just a few doors down from the Steel River Playhouse on High Street, the new brewery satisfies craft beer lovers and foodies alike.
Expect your mouth to be thoroughly delighted by the lineup of IPAs, Berliner Weisse, spiced beers and more from their 3-barrel system.
Beer is Back in Wilmington
After many years as a brewery wasteland, Wilmington has two new additions to the craft beer scene! Welcome, Wilmington Brew Works and Stitch House Brewery.
Wilmington Brew Works is the first production brewery in Delaware's largest city since 1955. Housed in a 100-year-old former laboratory in the old 9th Ward, WBW is home to carefully crafted ales and lagers. Their family-friendly taproom has plenty of indoor and outdoor seating for enjoying their sours, New England IPAs and Belgian-styled ales.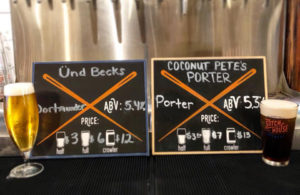 Stitch House Brewery was opened by longtime Wilmington residents who are excited to bring brewing back into the city limits. Some interesting beers to note are their traditional German-styled beers such as a Smoked Ale Dumpster Fire, and their Kolsch Road Soda. Diners can enjoy beers, along with spirits and cocktails. The menu offers beer-friendly options like cheese and meat boards and plenty of sandwiches, as well as share-sized skillet dishes for a social dining experience.
Visit County Lines' online Craft Beer Guide for more great beer in our area.
Dan Balmer, founder of the Localized app, a real-time events platform popular among breweries, explores the craft beer scene across the tri-state area. What started as a hobby quickly became a full-time job, expanding into marketing and photography for breweries and restaurants. Dan enjoys anything from traditional styled pilsners to hopped and hyped New England style IPAs.
back to top