40 Favorite Local Beer and Brew Spots
Our guide to all things beer in County Lines country.
Shakespeare once said, "For a quart of ale is a meal for a king," and we agree. Here are 40 of our favorite local breweries, pubs, taprooms and beer gardens to quench any thirst. Cheers!
BREWERIES & BREWPUBS
ARDMORE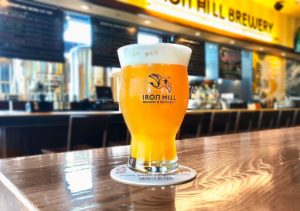 Iron Maiden. With 16 locations across County Lines country, Iron Hill Brewery must have something special. For over 20 years, their craft beers and handcrafted foods inspire one another in unexpected ways. Don't forget dessert—a portion of proceeds for every Triple Chocolate Hill brownie sundae goes to charity. 60 Greenfield Ave., Ardmore. 610-228-2280; https://www.ironhillbrewery.com/ 
All Hands on Tap. Serving "strange and beautiful beers" to legions of fans, Tired Hands Brewing Company is an experience like no other. The Fermentaria on Cricket Terrace offers up to 12 beers on tap with dining room and cocktail area. Then head down the road to the Brew Café on Ardmore Ave. for lighter fare in an "open air kitchen" setting. 35 Cricket Ter., Ardmore. 484-413-2983. 16 Ardmore Ave., Ardmore. 610-896-7621; http://www.tiredhands.com/
AUDUBON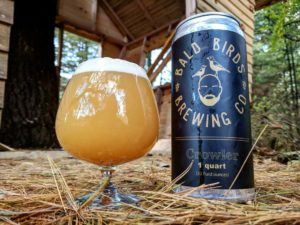 Bird Brews. Opened 2017, Bald Birds Brewing Company believes the sky's the limit. Some believe the booths and bar seats are overrated—instead watch the game on a comfy couch or get some fresh air and food truck grub on the wooden deck. You'll soar with Fictional Canary—notes of tangerine, peach rings and orange pith—and dance with apricot mango flavor of Musical Melee. 970 Rittenhouse Rd., Audubon. 484-392-7068; https://baldbirdsbrewing.com/
BERWYN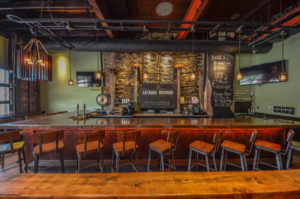 Livin' la Vida Cabra. La Cabra Brewing is the GOAT—greatest of all time, that is. (Also, la cabra means the goat in Spanish!) Specializes in barrel-aged brews and serves Latin-inspired gastropub fare. Before you toss your can, check the bottom—you might find a clever pun. 642 Lancaster Ave., Berwyn. 610-240-7908; http://www.lacabrabrewing.com/
BRYN MAWR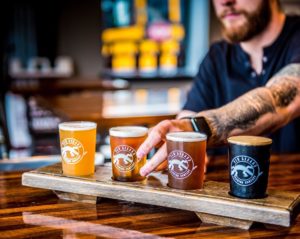 We Have the Meats. Newly reopened Tin Lizard Brewing Company offers craft beer and barbeque for a truly Southern experience. Pair IPAs with pulled pork, ribs, wings and briskets galore. Nightmare Before Christmas fans will be scary in love with Tin Lizard's first ever bottle release, Jack Skellington Pumpkin Ale. 1000 W. Lancaster Ave., Bryn Mawr. 610-525-1100; https://www.tinlizardbrewingco.com/
CHADDS FORD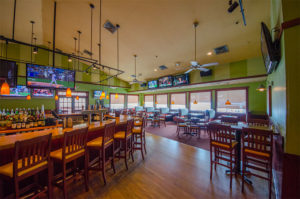 Whit Beyond Measure. At McKenzie Brew House, award-winning handcrafted lagers and ales are just a (beer)tap away. Local landmarks pop up in their brew names, like Route 202 Pale Ale—refreshing bitterness with citrus and fruit-—and Brandywine Whit—zesty Belgian-style white with wheat, coriander and orange peel. Don't miss McKenzie's other locations in Devon and Malvern. 451 Wilmington West Chester Pk., Glen Mills. 610-361-9800; https://www.mckenziebrewhouse.com/
CHESTER SPRINGS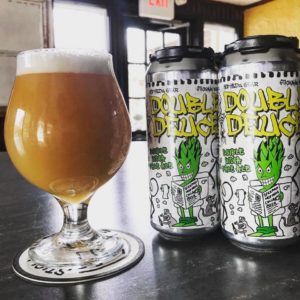 Stick Around. Stickman Brews believes beer should be taken seriously only in freshness and flavor. With the main brewery and taproom in Royersford, they serve American twists on classic Belgian brews. And their Chester Springs location has an outdoor beer garden, to boot. For the college crowd, forget the bills with Belgian brown ale Crushing Student Debt. 861 Kimberton Rd., Chester Springs. 484-202-8576; https://www.stickmanbrews.com/
CONSHOHOCKEN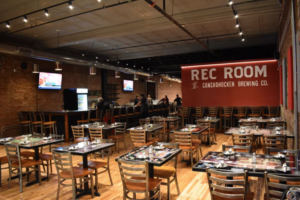 Heritage. Conshohocken Brewing Company is founded on the same American spirit as the borough it's named after. Just steps away from Schuylkill River Trail, its original Conshohocken location features ten taps, one cask line and sandwich and apps menu. Stop by their Rec Room on Bridge Street, Phoenixville to add shuffleboard, foosball and ping-pong to your pub crawl. 739 E. Elm St., Conshohocken. 610-897-8962. 230 Bridge St., Phoenixville. 484-924-8624; http://www.conshohockenbrewing.com/
DOWNINGTOWN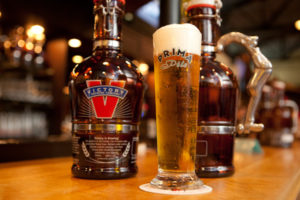 Victorious. You'll be singing sweet, sweet victory after tasting what Victory Brewing Company has to offer. Headquartered at their newly renovated Downingtown location, this 22-year-old brewery has been expanding, with second big brewpub in Kennett Square. Kick it up a notch with HopDevil IPA—spicy pine and citrus and hint of caramel sweetness. 420 Acorn Ln., Downingtown. 610-873-0881; https://www.victorybeer.com/brewpubs/downingtown/
Ten Barrels at a Time. East Branch Brewing crafts beer with ten barrels in the heart of Downingtown. Sleek and modern, with a restaurant on the newly expanded second floor serving funky fusion dishes. Sit and sip inside at the bar or outside on the patio. 202 E. Lancaster Ave., Downingtown. 484-593-0815; http://eastbranchbrewing.com/
EXTON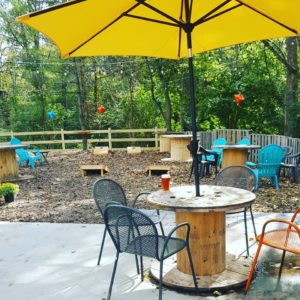 Caffeine Dreams. Coffee addicts and beer lovers unite at Stolen Sun Craft Brewing & Roasting Company. Get early morning energy with Seraphim Pour-Over, heavenly fresh roasted micro-lot coffee. Wondering where the day went? Craft brews like Apollo Abducted and Sunny Wheat can be enjoyed any time. 342 Pottstown Pk., Exton. 484-879-4161; https://www.stolensun.com/
HONEYBROOK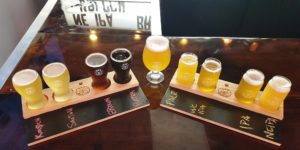 Go Green. Beer isn't the only thing Suburban Brewing Co. makes from scratch. The brewery is made of reclaimed and recycled materials for an awesome drinking environment. And its good looks aren't everything, either—play with vintage and new arcade games like Pac-Man and pinball. Then fall in love with brews like Lovelight NEIPA—hazy IPA hopped with Columbus, Simcoe and Mosaic. A new venture from Eric Yost of Suburban Restaurant and Beer Garden in Exton. 2536 Conestoga Ave., Honey Brook. 610-273-3106; http://www.suburbanbrewingco.com/
KENNETT SQUARE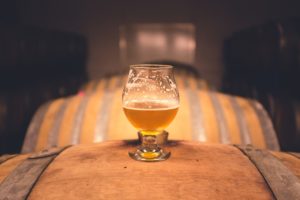 Coming Soon. Braeloch Brewing can't come to Kennett Square soon enough. Located in a former train and trolley service station, the microbrewery and taproom will pair craft brews with local artisanal eats. During warm weather, drink in scenic views at the beer garden. Stay updated for the opening date on their Facebook and Instagram. 225 Birch St., Kennett Square. https://www.braelochbrewing.beer/
Anything but Ordinary. After 12 years of research, Kennett Brewing Company's founders have just the cure for boring beer. Their specialty brews are unique as their names. Here's one: Jammy Bastard with all English malt bill, citrusy zing and dash of toastiness. And wobble, don't walk to Wee Wobbly Scottish's blend of dark caramel, fruit and succulent finish. 109 S. Broad St., Kennett Square. 610-444-0440; https://kennettbrewingcompany.com/
Victory Brewing Company. See listing under Downingtown. 650 W. Cypress St., Kennett Square. 484-730-1870; https://www.victorybeer.com/brewpubs/kennett-square/
KING OF PRUSSIA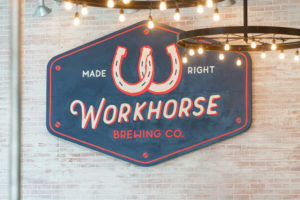 Drinking Games. Get your game on with Workhorse Brewing Co. Relax with friends in the comfortable lounge, cut out of a 20-foot shipping container, and play shuffleboard, cornhole and other drinking games. Kids can horse around in a family-friendly environment with snacks and entertainment. 250 King Manor Dr., King of Prussia. 484-997-8278; https://www.workhorsebrewing.com/
MALVERN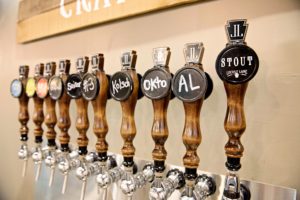 The Simple Things. Savor the simple things in life with Locust Lane Craft Brewery. Find autumn beauty in beer—copper hues meet toasted malt flavor in seasonal favorite Oktoberfest. Enjoy football with friends while sipping Game Day IPA. It goes down smooth with grapefruit, straw and bright melon flavors. 50 Three Tun Rd., Malvern. 484-324-4141; https://www.locustlanecraftbrewery.com/
MEDIA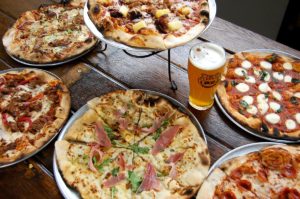 Iron Hill Brewery. See listing under Ardmore. 30 E. State St., Media. 610-627-9000; https://www.ironhillbrewery.com/ 
This Little Piggy. Pig out on wood oven pizza and craft beer at Sterling Pig Brewery. Need more convincing? The Gourdfather will make you an offer you can't refuse—Imperial Pumpkin Ale brewed with house roasted butternut squash and spices. Soon you can find Sterling Pig in West Chester on W. Market St. in late fall this year. 609 W. State St., Media. 484-444-2526; https://sterlingpig.com/
Victory Brewing Company. See listing under Downingtown. 650 W. Cypress St., Kennett Square. 484-730-1870; https://www.victorybeer.com/brewpubs/kennett-square/
OXFORD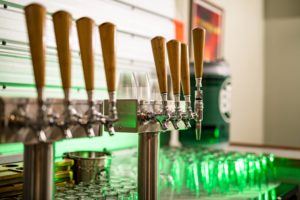 Beer Chemistry. Bog Turtle Brewery believes good beer is a science. With almost 30 years' experience, they've created formulas with the utmost care. Live music and a wide selection of beer. See the future with Praxis:2, creamy New England IPA infused with tangerines and served on nitrogen. 14 S. 3rd St., Oxford. 484-758-0416; https://www.bogturtlebrewery.com/
Complex Creations. The name is hollow, but the beer is certainly not! Hollow Earth Brewing Company never gets dull with consistently new craft brews. The tap list rotates quickly, so grab new releases before they're gone. Check out the fun mix of Motueka and Mosaic hops in the new release Righteous Earth. 19 N. 3rd St., Oxford. 610-732-3959; http://www.hollowearthbrewing.com/
PHOENIXVILLE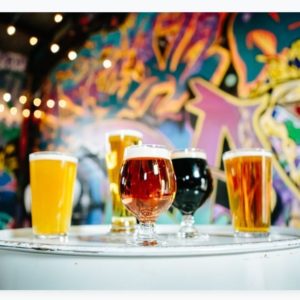 Beer Fit for a King. Ranked third in the nation's 50 Fastest Growing Craft Breweries of 2017, Crowded Castle Brewing Company proves Phoenixville's beer scene can't be beat. Order from the tasty small-bites menu, bring food into the taproom (BYOF) or have it delivered from local restaurants. Sip fan fave cranberry IPA Bog Walker and The Holy One, "the best bloody Mary you've ever had—give it back if you disagree." 242 Bridge St., Phoenixville. 484-252-0077; http://crowdedcastle.com/
Iron Hill Brewery. See listing under Ardmore. 130 E. Bridge St., Phoenixville. 610-983-9333; https://www.ironhillbrewery.com/
Revolutionary Brews. Rebel Hill Brewing Company outside downtown Phoenixville offers quality beer with a rebellious attitude. This 7-barrel brewhouse specializes in pale ales. Explore the galaxy with Cosmic Passage Strawberry, brewed with milk sugar, conditioned with vanilla beans and strawberries, and dry hopped to top it all off. 420 Schuylkill Rd., Phoenixville. 484-924-8044; https://www.rebelhillbrewing.com/
The Root of the Matter. Root Down Brewing has vaulted ceilings and giant graffiti murals in a space formerly used for brewing … root beer. A great food menu with vegan options and even a better beer menu including some wine and ciders. 1999 Called, They Want Their IPA Back will have you totally buggin', man. 1 N. Main St., Phoenixville. 484-393-2337; http://www.rootdownbrewing.com/
Better with Age. Founded in 1995, Sly Fox Brewhouse & Eatery is one of the oldest brewpubs operating in Delaware Valley. It's legendary in the craft brewing world, voted America's third best brewpub by Beer Advocate. Show pride for your county with Chester County Brown Ale and get seduced by Abbey-style Tripel Incubus. 520 Kimberton Rd., Phoenixville. 610-935-4540; https://www.slyfoxbeer.com/
Ocean's 12. Down the road from Crowded Castle you'll find Stable 12 Brewing Company. It's what happens when three beer-loving high school best friends adopt a new hobby after college—beer. Try a Wild West Coast IPA or a Razzle Dazzle raspberry Witbier. 368 Bridge St., Phoenixville. 610-715-2665; https://stable12.com/
POTTSTOWN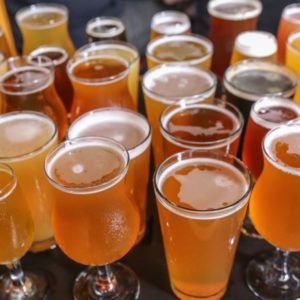 PUB Crawl. Pottstown United Brewing offers fine beer with a PUB atmosphere—football nights, Sunday brunch and open mic performances. PUB works with local farmers for peak produce and brewing ingredients. Try Ginger Snap Dunkles Weizen—tastes like grandma's cookies, but with smooth creaminess from wheat and weizen yeast. 251 E. High St., Pottstown. 484-752-4943; https://www.pottstownunitedbrewing.com/
ROYERSFORD
Stickman Brews. See listing under Chester Springs. 326 N. Lewis Rd., Royersford. 484-938-5900; https://www.stickmanbrews.com/
SPRING CITY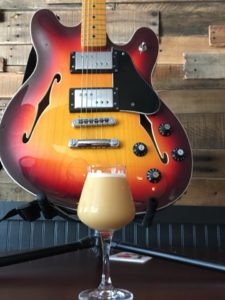 Tunes and Brews. Just like music, creating unique craft brews is an art at Tuned Up Brewing Company. Drink surrounded by live music, rustic-chic wood, vintage band posters and guitars on the walls. Try the fruity flavor of Raspberry Acid Freak-out or the maple syrup goodness in Hatchet, Axe and Saw. 135 N. Main St., Spring City. 610-306-3182; https://tunedupbrew.com
WEST CHESTER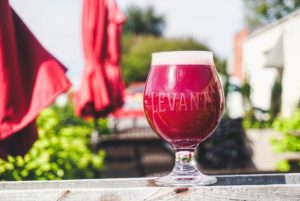 A Beer C. B stands for beer in our ABCs. Appalachian Brewing Company is now serving West Chester. Founded in Harrisburg with several locations including Collegeville, ABC offers handcrafted beer with bar bites and pub grub to match. Try the light and refreshing citrus taste of Water Gap Wheat Ale. 142 E. Market St., West Chester. 484-473-8030; http://abcbrew.com/
Iron Hill Brewery. See listing under Ardmore. 3 W. Gay St., West Chester. 610-738-9600; https://www.ironhillbrewery.com/
Elevate Your Craft. Follow the smell of hops and grain to Levante Brewing Company. At the hand-crafted bar, feel the heat with Nordic-style Vulcanite, brewed hot by the God of Fire himself. And don't forget to Instagram the hand-painted "Elevate Your Craft" mural while you swig. 208 Carter Dr., West Chester. 484-999-8761; https://levantebrewing.com/
WILMINGTON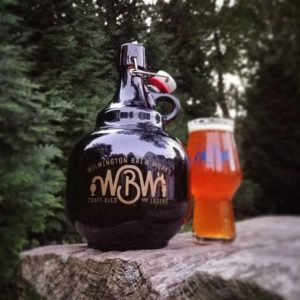 Iron Hill Brewery. See listing under Ardmore. 620 Justison St., Wilmington, DE. 302-472-2739; https://www.ironhillbrewery.com/
A Stitch in Time. In one of America's oldest brewing cities, Stitch House Brewery has great beer in its DNA. Sho' enuff, sip Sho Nuff Stout, a pale, roasted barley and chocolate malt. Pair cold brews with no-frills skillet meals like scallops in sweet potato purée and cranberry chutney. 829 N. Market St., Wilmington, DE. 302-250-4280; https://www.stitchhousebrewery.com/
The Out-ciders. Can't get enough beer while in Wilmington? Located in a Spanish Colonial-style building near Haynes Park, Wilmington Brew Works is the town's first production brewery since 1955. Greasers and Socs alike will love "out-cider" Stay Golden's sweet apple aroma. Rotating selection of food trucks, like Cajun Crazy Rick's and farm-fresh Mojo Loco. 3129 Miller Rd., Wilmington, DE. 302-722-4828; http://www.wilmingtonbrewworks.com/
PUBS, TAPROOMS & BEER GARDENS
CHADDS FORD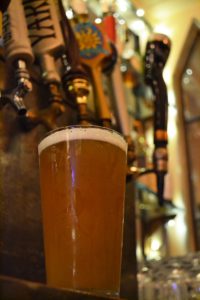 Beer Garden of Eden. The Gables Beer Garden is a treat to anticipate. This beer garden pops up to quench beer fans' thirst, often on Thursdays and Saturdays during the warmer months. Enjoy your beer bottled, canned or on tap. In cold months a strong beer list is available at the inside bar. Try dark and delectable Milk Stout Nitro or satisfy your sweet tooth with Honey Kölsch. 423 Baltimore Pk., Chadds Ford. 610-388-7700; http://thegablesatchaddsford.com
DOWNINGTOWN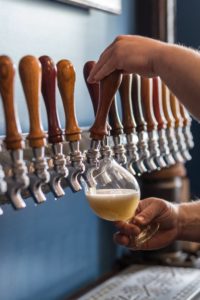 Beer Takeout. Take your favorite beers home from the well-curated selection at the Bottle Room. Choose any form you please—growlers, crowlers, beer and wine for takeout. Knowledgeable staff helps select the right style and taste from a diverse, ever-changing bottle selection. Next door you'll find the Station Tap Room serving beer with brunch. 207 & 209 W. Lancaster Ave., Downingtown. 484-593-2971; http://www.bottleroomdtown.com/
KENNETT SQUARE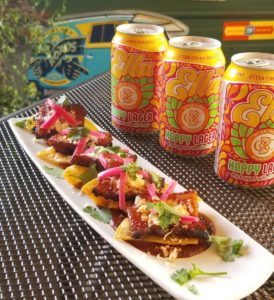 Patriotic Brews. With several locations, including Newark, DE, Two Stones Pub serves all-American beer. Wash down pub wings and nachos with Baby Bob Stout, brewed with roast and chocolate malts. Drink too much? Order a Hangover Burger at their Gumbo Beer Brunch Sundays. 843 E. Baltimore Pk., Kennett Square. 610-444-3940; http://www.twostonespub.com/
Against the Grain. There's no shortage of quality beers to choose from at Grain Craft Bar & Kitchen. Though this taproom won awards for food, it also brags 23 different beers on tap and more than 50 in fridge, along with a unique "Beer Bible" for you to peruse all the choices. Make sure to check out the upstairs patio bar, 410@Grain. 108 W. State St.,
Kennett Square. 484-886-4154; https://meetatgrain.com/
MEDIA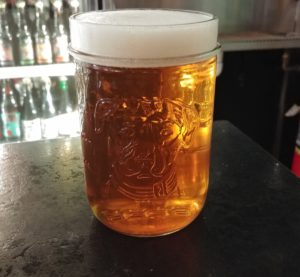 Brick by Brick. Calling all foodies! Brick & Brew has local craft beer plus specialty cocktails, whiskey and an award-winning gastropub menu. Eat your fill of brick oven pizza, empanadas, calamari and more. Beer nerds love the hoppy bitterness and smooth finish of Pliny the Elder. Look out for a Malvern location coming next year. 26 W. State St., Media. 484-443-8441; https://www.bricknbrewpub.com/
Jiminy Cricket. It's no lie that Pinocchio's Restaurant & Beer Garden has over 1,000 varieties of craft beers, domestics and imports. Try limited edition flavors like Oskar Blues Death by Coconut—coconut porter with loads of dark chocolate and caramel malt. Bring your favorites home with mix-n-match growler fills. 131 E. Baltimore Ave., Media. 610-566-7767; http://pinbeer.com/
Don't Tap Out Now. Tap into your inner adventurer at Tap 24, with a name based on 24 rotating beer taps that never get dull. Explore Scotland with Pumpkin Down Scottish ale, or drink Boulangerie Stout for Italian tiramisu flavors. The possibilities are endless with gastropub eats, large TVs and craft cocktails. 36 W. State St., Media. 484-442-8839; https://tap24media.com/
PHOENIXVILLE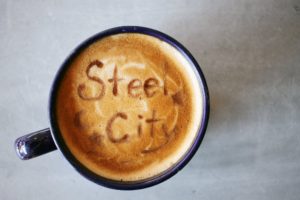 Around the World. You don't need to travel for great beers from around the world—The Foodery has you covered. A diverse selection of 17 beer tap lines, two draft wine lines and one nitro beer line will satisfy. Feast on Boar's Head meats and cheeses featuring Saint Peter's Bakery breads. 325 Bridge St., Phoenixville. 610-933-1150; http://www.fooderybeer.com/
Steeling Hearts. Another Bridge Street gem, Steel City Coffeehouse & Brewery wants to create a new kind of coffeehouse to complement Phoenixville's booming beer scene. How? Adding craft brewing to their repertoire. Three taps will become available in November with their signature beer planned to be—what else—coffee stout. 203 Bridge St., Phoenixville. 484-924-8425; http://www.steelcitycoffeehouse.com/
back to top