Main Line & Beyond
Along the Main Line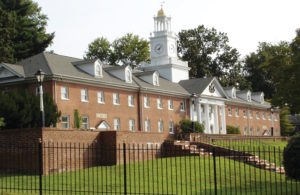 Many disagree about what towns are included in the 20 square miles of Philadelphia's western suburbs known as the Main Line. Although some extend the area out to West Chester and Media, most agree that about 20 towns make up the Main Line neighborhoods of old money, great shopping, fine dining and outstanding schools and universities, along with some of the county's wealthiest zip codes and best collection of Welsh town names (Bala Cynwyd, Bryn Mawr, Berwyn).
In last year's guide we shared the mnemonic—Old Maids Never Wed And Have Babies—for the train stations for the eastern Main Line, representing Overbrook, Merion, Narberth, Wynnewood, Ardmore, Haverford, Bryn Mawr. Ready for a new memory aid for the western towns of Rosemont, Villanova, Radnor, St. Davids, Wayne, Stafford, Devon, Berwyn, Dayelsford and Paoli? Try Really Vicious Retrievers Snap Willingly, Snarl Dangerously … Beagles Don't, Period. Though even that leaves out Bala Cynwd, Gladwyne and Malvern.
Used as a setting in literature in the 1951 Catcher in the Rye and 2015 Luckiest Girl Alive, and spared (so far) from being part of the Real Housewives television franchise, this 15-mile stretch, mostly along Lancaster Avenue (Route 30), got its name because it parallels the Pennsylvania Railroad's former main rail line from Philadelphia to Chicago. Railroad shareholders built lavish homes in the area, creating the core of still-highly-desirable neighborhoods.
Even now a tour of the area is a perfect diversion for those with a weakness for house porn. Roam the leafy lanes and search for a glimpse of the ten most expensive homes for sale on the Main Line—mostly in Gladwyne and Villanova—ranging from $4.6 to $21 million and including both historic and new construction. One even has a batting cage.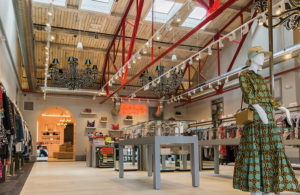 Shopping & Dining
Some of the best local shopping and dining options are available along the Main Line. Check out Lancaster Ave.'s assortment of unique boutiques, fashionable eateries and new brewpubs. From dining with history at Black Powder Tavern to the latest Cali-inspired Main and Vine, there's something for every taste. See our "Best of the Best" dining coverage.
For shopping, browse specialty shops along Lancaster Ave. in Wayne and Bryn Mawr, or stop in the shopping-centric developments of Eagle Village Shops and new-ish Bryn Mawr Village for destinations like Kirna Zabete and Athleta. Farther east is one of the country's first shopping malls. Suburban Square continues to evolve, offering everything from an Apple store to West Elm, and Lily Pulitzer to Soul Cycle, plus a new Life Time Athletic gym/spa/shared work space.
Area Gardens
Ready for a stroll? Visit one of several sublime public gardens in this leafy enclave. Wayne's Chanticleer Garden, a former private residence now known as "a pleasure garden," is a popular destination, as is Devon's Jenkins Arboretum with its collection of native plants, as well as Merion's Barnes Foundation Arboretum with specimen and rare plants. ChanticleerGarden.org; JenkinsArboretum.org; SJU.edu/BarnesArboretum. The Haverford College campus, which is open to the public, is home to a charming arboretum of stately historic trees along with a pinetum by the peaceful 2.2-mile nature trail. Haverford.edu/Arboretum.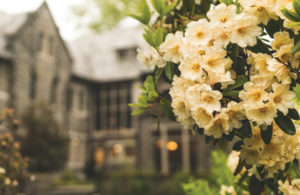 Stoneleigh
The newest addition, just opened in May, is Villanova's Stoneleigh: A Natural Garden. The 42-acre piece of paradise was once the Haas family home (of Rohm & Haas) and was left to the community to enjoy. Under the stewardship of Natural Lands, the property has been revived, showcasing the stately trees, winding pathways and lush gardens that were designed by notable landscape architects over the past century—including the Olmsted Brothers, sons of Frederick Law Olmsted. StoneleighGarden.org.
Visit Valley Forge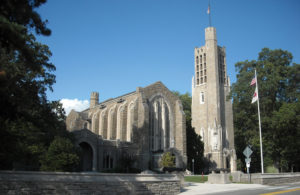 Although no battles were fought there, Valley Forge has a singular placein the story of the American Revolution. And so Valley Forge National Park preserves the heroic story of George Washington and his beleaguered Continental Army during the 1777-78 winter.
Take a ranger-led tour for an in-depth understanding on this place where history marches off the page. A walking tour from the Muhlenberg Brigade huts follows in the footsteps of the soldiers who fought to survive that terrible winter. Or a 90-minute trolley tour will give you an overview of the park's many highlights. If you have more time, a bike tour gives an even more expansive view on a five-mile loop.
Self-guided tours are another option, allowing you to choose from seeing the Visitors Center, Muhlenberg Brigade huts, National Memorial Arch, General Wayne's statue, Washington's Headquarters and more. Outside the park is another worthwhile stop, the beautiful 1917 Washington Memorial Chapel with its 58-bell carillon. In a nearby log cabin you'll find the Chapel Cabin Shop offering Revolutionary-themed gifts, artwork, books and snacks.
The Visitors Center offers maps, self-guided driving tours, ranger-led walking tours, trolley tours, podcasts and more.
TIP: Join Healthy Parks Healthy People for the '78 Mile Challenge—78 in honor of 1778 and Washington's army. Run, walk, bike, hike or paddle along the trails, roads, and waterways in Valley Forge National Historical Park. Reach 78 miles and earn a prize.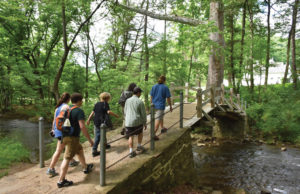 Nature is mixed with history and 75 miles of interconnected trails, including 20 miles in the Park, perfect for jogging, running, biking and horseback riding. With plenty of open space and picnic areas, the Park is meant for summer days filled with soaking up sunshine and history.
As you might expect, each year the park throws a massive community picnic on July 4th with a cookout, games, artillery demos and a reading of the Declaration of Independence.
Park grounds are open year-round, dawn to dusk. Days and times vary by attraction. ValleyForge.org.
See More Great Places for Outings in this Guide and our Best Local Events this month and every month.
Towns to Tour
Kennett Square
Historic Kennett Square's State Street is lined with specialty shops perfect for browsing. Visit First Friday Art Strolls, weekly farmers markets, The Creamery Beer Garden (outside town), and dining on State Street on Third Thursdays. Mark your calendar for the Mushroom Festival in September.
King of Prussia Mall & KOP Town Center
The huge, upscale KOP Mall is still glowing from its major facelift that added more luxury shops and luscious dining options a while ago. Nearby KOP Town Center's live-work-play community and dining hub keeps growing and offering everything from Nordstrom's Rack to Duck Donuts.
Malvern
Malvern mixes Victorian architecture with small town charm just off Route 30. Head for King Street to sip, shop and stroll on third Thursdays, aka the Malvern Stroll, when you can browse everything from art, furniture, clothing, gifts and food. Don't miss the outdoor murals on the sides of buildings throughout town.
Media
Shopping along State Street in Media lets you visit a variety of independently owned shops. You'll notice crowds out on Wednesday nights during warm months for Dining Under the Stars, when the many local restaurants expand into State Street. Head back for a show at the Media Theatre and see a trolley car that still runs through downtown.
Phoenixville
Yes, there's shopping in Phoenixville, a town with an artistic vibe and a neighborly spirit. But the real draw is a surprisingly varied restaurant row, plus a growing beer, wine and spirits scene. Per capita, Phoenixville ranks in the top 10 brewcentric towns in the
entire country!
Wayne
Wayne is more than a series of strip malls along Lancaster Avenue. Check out specialty shops, restaurants and other attractions—including an independent bookstore and new music venue at 18 North! Eagle Village Shops is worth a visit to see what's new at The Barn and Cottage at Valley Forge Flowers.
West Chester
A Great American Main Street award winner, West Chester boasts a university, plus historic buildings housing 75 upscale shops and 64 dining destinations. Gay and Market Streets run parallel and are filled with places for browsing and dining. One of our favorite places to spend time with friends and family.
back to top