Main Line & Beyond
Philadelphia's Main Line, as it was once known, refers to the string of about 20 suburban towns running along Lancaster Avenue (aka Route 30) to the west of the city. Encompassing parts of Montgomery, Delaware and Chester Counties, these 20 square miles are best known for their lush and affluent neighborhoods of old money, great shopping, fine dining and outstanding schools and universities, along with some of the county's wealthiest and best educated zip codes (Gladwyne and Devon).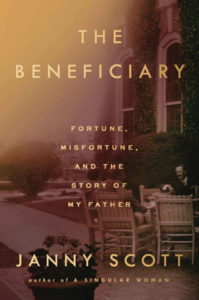 You may have heard the name Main Line has historical ties to the 19th-century Pennsylvania Railroad line connecting Philadelphia to the country estates in the western suburbs, defining the area geographically. Today SEPTA's Paoli/Thorndale line continues to run along these distinctive towns.
Most years we recommend roaming leafy lanes to glimpse the glorious Main Line mansions (no McMansions here). Drive mostly north of Lancaster Ave. through neighborhoods with charming signs for Rose, Laurel and Mulberry Lanes and a road that crosses a stream—that's Old Gulph Road at Williamson Road.
For an armchair tour of the old Main Line, read "The Beneficiary" by Janny Scott, descendent of Hope Montgomery Scott, the inspiration for the film "The Philadelphia Story." Get an insider's view from a Pulitzer Prize-winning journalist. It's the book of the summer.
Back on Lancaster Ave., you'll find wonderful local shopping and dining options. For recommendations, see our "Best of the Best" dining coverage along with our guide "Slipping Out: From Horses to Flowers, Beer, Music and Comedy."
Gardens Galore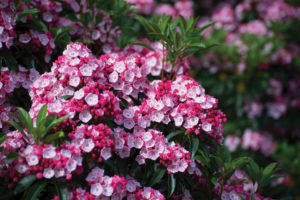 Amid the well-manicured grounds of private residences, the Main Line boasts several world-class public gardens. Though smaller than Longwood, each has a special character worth a visit.
Wayne's Chanticleer Garden, a former private residence now known as "a pleasure garden," is a popular destination, as is Devon's Jenkins Arboretum with its extraordinary collection of native plants, as well as Merion's Barnes Foundation Arboretum with specimen and rare plants. ChanticleerGarden.org; JenkinsArboretum.org; BarnesFoundation.org.
The newest public garden is a former Villanova mansion, now Stoneleigh: A Natural Garden. Under the stewardship of Natural Lands, Stoneleigh's 42 acres showcase native plants in a serene setting open to the public. StoneleighGarden.org.
History, Too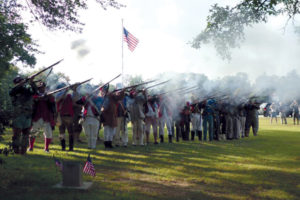 For some history, visit Paoli Battlefield Park, located in what's now Malvern (the battle was named after a nearby tavern). This 44-acre site is the most pristine Revolutionary War battlefield in the country, preserved for over 230 years. Known as the Paoli Massacre, this is where Washington's army, under the command of General Anthony Wayne, was routed in a surprise attack on September 20, 1777. The brutality of the British led the Colonial troops to swear vengeance, with the cry "Remember Paoli!" Info on lectures, re-enactments, monuments and more at PBPFinc.org.
The Nest Big Thing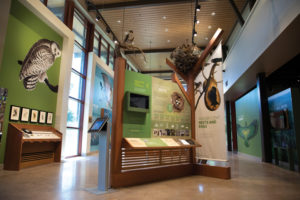 Nearby in Montgomery County, the new $13-million, 18,000-square-foot John James Audubon Center Museum offers art, conservation and education for all ages. Immerse yourself in the world of birds through interactive exhibits, modern technology and historic artifacts. Learn why not all eggs are shaped the same, how birds' wings work and trace migration patterns on flyway maps. At Mill Grove in Audubon, JohnJames.Audubon.org.
Trails on Tap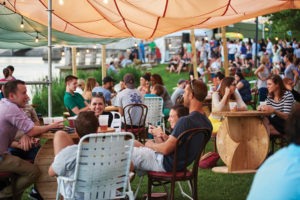 Philly's popular "Parks on Tap" series is bringing a mobile beer garden to riverside locations in our area this summer. For six weeks, the pop-up beer garden "Trails on Tap" will travel to Pottstown Riverfront Park, Valley Forge National Historical Park, Royersford Riverfront Park and Norristown Riverfront Park. Enjoy food, drink and natural green space at these locations near the Schuylkill River Trail and alongside the Schuylkill River. The beer garden will be a festive outdoor space featuring lighting, comfortable chairs, hammocks and restrooms. For dates, menus and details, TrailsOnTapPA.com.
Visit Valley Forge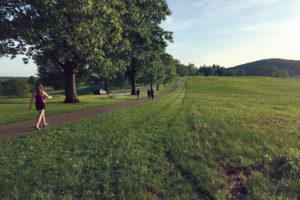 Nature is mixed with history and 75 miles of interconnected trails in Valley Forge National Park, including 20 miles, perfect for jogging, running, biking and horseback riding. With plenty of open space and picnic areas, the Park is meant for summer days filled with soaking up sunshine and history.
Valley Forge has a singular place in American Revolutionary history, and so this park preserves the heroic story of George Washington and his beleaguered Continental Army during the 1777-78 winter. Learn more on a ranger-led tour, walking tour following the footsteps of the soldiers who survived that terrible winter, a 90-minute trolley tour of park highlights, or a self-guided tour.
The Visitors Center offers maps, self-guided driving tours, podcasts and more. Park grounds are open year-round, dawn to dusk. Days and times vary by attraction. ValleyForge.org.
TIP: Each year the park throws a massive community picnic on July 4th with a cookout, games, artillery demos and a reading of the Declaration of Independence.
See "More Great Places for Outings" in this Guide starting on page 62, and check CountyLinesMagazine.com/events for the Best Local Events this month and every month.
Town Tours and Village Walks
Free summer strolls through historic neighborhoods, hamlets, villages and sites designed to inform, entertain and increase awareness of Chester County's rich heritage and historic landscape.
July 11 – Lionville c. 1712: A Tricentenarian Story
At the time of its settlement, the area now known as Lionville was called "Uwchlan Meeting" or Red Lion due to the Quaker Meeting formed in 1712 and the Red Lion Inn.
July 18 – Regenerate, Reinvent, Recycle:
The Village of Yellow Springs, c. 1722
With nearly 300 years of documented history, this village was everything from a Lenape Indian site to a movie studio.
July 25 – Marshallton Village c. 1731:
Drovers & Patriots, Artisans & Farms
Join the tour of this nearly untouched village, named for botanist Humphry Marshall (1722-1801).
August 1 – Doe Run Village c. 1744:
Tomahawks, Mills, Foxhounds, Cowboys and Kings
Ride along on a bus tour to this village set in former King Ranch country that has been home to tomahawks, mills, foxhounds, cowboys and Kings.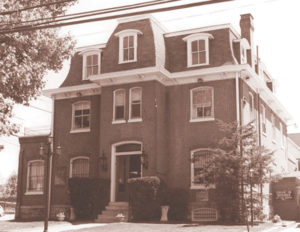 August 8 – Malvern Borough c. 1889:
From Crossroads to Powerhouse
Join the Malvern Historical Commission on a short walk that spans over 100 years of history, from the Borough Hall to the 19th-century bank that houses the same bank today.
August 22 – Johnsontown in Downingtown c. 1875:
A Town Within A Town
After World War I, Italian immigrants dominated this area, creating an entire community unto itself, complete with churches, stores, butchers and entertainment.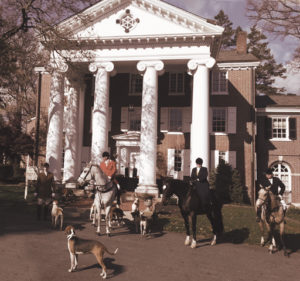 August 29 – Brandywine Meadow Farm:
Home of Charles E. Mathers Brandywine Hounds, c. 1901
Join the tour of this fascinating historic complex, located in the heart of the Brandywine Battlefield at the intersection of three townships.
Supper Lectures:
Held at Historic Yellow Springs, 1685 Art School Rd., Chester Springs. Advanced reservations required. $20 includes the lecture, supper and refreshments.
August 15 – Armchair Tour of the Village of Sadsburyville
Located on Route 30 about five miles west of Coatesville, the settlement began as early as 1729, but didn't grow until 1794 when the first macadamized road in the country was laid through the settlement.
October 10 – Armchair Tour of Historic Sugartown
The village, now protected under a historic district, remains largely untouched by modern development.
December 12 – Beware the Belsnickel
Rich Pawling will bring his talents as an educator, living history reenactor and presenter to the final Town Tour Supper Lecture.
back to top